---
Just How Republican Is Anne Arundel's 33rd, Bobby Neall Wonders
A sort of civil war ravages Anne Arundel's 33rd legislative district, where Senator Bobby Neall's defection to the Democrats threatens to divide district Republicans.


"He's an icon," admits his challenger, loyal Republican Janet Greenip.

Bobby Neall was once a regular Republican candidate. He was elected to the House of Delegates as a Republican in 1974, 1978 and 1982. He was elected Anne Arundel county executive as a Republican in 1990. He was appointed to the Maryland Senate as a Republican in 1996. And he won the seat as a Republican in 1998.

But a year later, Neall switched parties. He wrote a letter of explanation to the chair of the state GOP, saying he felt "uncomfortable and unwelcome in the Republican Party." So in 2002, he's running as a Democrat.

Toppling Bobby Neall from his pedestal won't be easy. District Republicans speak of him with the sort of reverent acrimony Bostonians reserve for Babe Ruth.

He doesn't look like much. He's neither tall nor broad-shouldered. But when he opens his mouth, he becomes a giant. Bobby Neall is one of Anne Arundel's most articulate speakers. He knows what he's talking about, and how to talk about it. Democrats and Republicans alike laugh at his jokes and listen to his opinions. If elections were based on debates, he could run for president.

But "Bobby Neall's victory is by no means certain," warns Anne Arundel's Democratic County Executive Janet Owens. "His fiscal knowledge is needed in his district, but people remember him switching parties, and the Republicans take a hard line."

None harder than Greenip.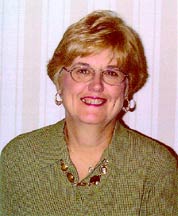 A delegate in the 33rd since 1994, Greenip campaigned with Neall in 1998, but she turned on him when he defected. She is, for the most part, a conservative's conservative. She has a people-kill-people attitude toward handguns and an alternatives-first attitude toward abortion. Now she believes Neall has turned away from what she sees as these traditional Republican values.

"I see him doing things as a Democrat that he didn't do before," Greenip says.

Neall actually sees eye to eye with Greenip on issues less controversial than abortion and gun control. Both authored bills lowering taxes on military pensions and outlawing lewd behavior in state prisons. He may support voting rights for convicted felons, but Greenip has her own liberal streak; she authored legislation requiring the court to consider medical conditions as a mitigating factor when prosecuting marijuana use and possession cases.

The real difference between the two lies less in their attitude toward legislative issues and more in their attitude toward the legislative process. Neall and Greenip authored a comparable number of bills during the 2002 legislative session, but only six of Greenip's became law, compared to 16 of Neall's.

"Legislation is a group activity," Neall says, and his success as a legislator hinges on his willingness to collaborate and compromise. He points out Greenip's response to the governor's budget as an example of her obstructive attitude.

"Other than voting no," he says, "she didn't lift a finger."

Neall spent 83 days helping revise the budget, but Greenip derides his efforts.

"Each version was worse than the one before," she says. "You have to draw a line."

For a Republican, that line can prove a barrier to effective representation in a largely Democratic state.

As a Democrat, Neall's been no lapdog — he garnered twice as many policy vetoes from Governor Parris Glendening as Greenip in the 2002 session — but he has accomplished more working with the administration — and the majority party — than against it.

His pragmatism doesn't extend far beyond the legislative arena, however. Democratic Senate President Mike Miller says Neall can be the ombudsman that forgotten reaches of the county crave. But he adds that Neall may need some coaching to be the kind of friendly and open senator people want — and he may need some tips on getting elected, too.

"His problem is that he doesn't campaign," Miller says. "He doesn't send campaign literature, so I've got to give him a kick in the rear."

Greenip needs no such kick. She campaigns tirelessly. Janet Owens says Greenip is "working hard at the grassroots level." And while Greenip isn't as articulate as Neall in public, she's more approachable in person.

There are 6,000 unaffiliated voters in the 33rd district — just enough to swing the election in Neall's favor. But if the district's conservative political climate holds sway over independent voters and Neall only secures a third of their votes, he'll have to secure a third of the Republican vote, as well.

That isn't out of the question. Neall built a strong base of loyal followers as a Republican, and there's a Republicans For Neall committee working to broaden that base.

"I have been a Republican all my life," says Ray Kenney, who chairs the committee. "However, there comes a time to put partisanship aside and do what is best for our community."

— Brent Seabrook
---
Earth Journal ~ Putting Summer Away
They say things happen in threes, but you and I know it's mostly twos going back as far as the Ark. The coupling is natural for most — not that all pairs work out. I think you know what I mean.

Sure, some things come in ones, like hammocks, strung out between two trees, of course. Adirondack chairs seem to always come in twos — as a motif in pop art, on Hallmark cards, on the porches of fancy B&Bs, on lawns of cottages by the sea. Even the sturdy, unpainted wood models the Amish make come in pairs, together forever, connected by a little table between the two.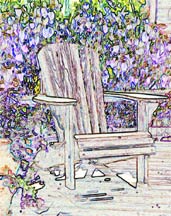 A pair of Adirondack chairs sat on my deck for a decade, side by side in summer sun, shifted sometimes to cool, leafy shade under Bay-loving gum and maple trees. A friend slipped into one once on a sultry summer day, body melting into the irresistible semi-reclining form and vowed never to leave. We've all made such promises at one time or another, and we mean what we say at the time.

Summer dreams are made in such chairs as the Adirondack. The very name conjures rustic settings and simple pleasures. Stretched out in this comfy perch, you can ignore children's antics. With only one eye open, spy a neighbor busy with chores. The bustle merely makes us drowsier and drowsier. In semi-conscious state, you drift into the background noise, the clack-clack of locust and the drone of bees working hard on a patch of black-eyed susies. Leaning back, gazing at treetops and clouds, we fix our only thoughts on icebox cookies and lemonade.

But now it's fall, and on my deck sits one Adirondack, ready to be put away for winter. If chairs had thoughts, they might wish for company. For while things often happen in threes and twos, they also happen in ones. I think you know what I mean.

— M.L. Faunce
---
Red Dragon Ate at the Baltimore Museum of Art
Dolarhyde enters the Brooklyn Museum of Art seeking his obsession: an intricate print featuring a dragon with horns of a ram and legs of a body builder. The suspense builds as he stares at the print, as though drawing its twisted force out and into his own body. Then, he swiftly tears it up and devours it, piece by piece.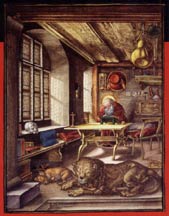 If this scene sounds familiar, you've probably seen Red Dragon, the newest Hannibal Lecter thriller to hit movie theaters. If you haven't seen it, here's fair warning: You may find this movie a bit close to home. Part of this prequel of Silence of the Lambs, directed by Brett Ratner, was filmed in Maryland, and our own Baltimore Museum of Art hosted the pivotal museum scene above.

"Cast and crew were very professional, despite the grotesque scene they were to portray," said museum public relations director Annie Mannix.

"Poor Ralph Fiennes had to eat [the print] over and over again," she said, as the director required many takes of each scene before moving on.

Scenes in the BMA were few, altogether about five minutes of the movie, but filmmakers couldn't skip the original foyer with its grand columns, and the front of the museum, where a sign proclaiming it the Brooklyn Museum of Art, was hoisted for filming. The paper conservation lab, a staff-only area, is where the character Francis Dolarhyde, played by Fiennes, eats the print that gives the movie its name.

Red Dragon, also starring Anthony Hopkins and Edward Norton, has earned more than $60 million since opening October 4. The film is about the frantic hunt for a killer — Dolarhyde — who murders whole families at a time. In desperation, the FBI enlists the help of Hannibal Lecter (Hopkins), who has already been imprisoned for heinous crimes of his own.

Scenes at the museum were shot April 15, Mannix said. Many locals played extras, including one museum employee.

The museum is coincidentally showcasing its print exhibit of some 100 rare prints from the 16th and 17th centuries. Painted Prints: the Revelation of Color in Northern Renaissance and Baroque Engravings, Etchings and Woodcuts. But remember, these are for your eyes only.

— Sarah Williams

---
Barbara Owen's Fountain of Youth at Maryland Hall
Three women dance their ways back to youth every Wednesday as they slip into leotards, straighten their backs and point their toes.

Nancy Proebstle, 45, of Millersville, gracefully arches her back and brings her head toward the floor. Nancy Wright, 57, of Arnold, glides like a swan. And Lavern Papian, 78, of Shady Side, leaps and bounds with head held high.

The three are among 50 students in six sections of 67-year-old Barbara Owen's 40-and-above weekly ballet classes at Maryland Hall for the Creative Arts in Annapolis.

"We know we want to keep moving," said Owen, an Annapolitan who has taught ballet for more than 50 years. She was once a soloist in the Civic Ballet of Washington; then, until 1995, she taught ballet to young girls. Her three 40-plus courses — Basics I, Basics II and Beyond the Basics — focus on flexibility, strengthening and balance.

Lavern Papian, Nancy Wright and Nancy Proebstle drink from the Fountain of Youth in 40-and-above weekly ballet classes at Maryland Hall.

photo by Rebecca McClay

"I'm refreshed for my two children when I pick them up at school," said Proebstle, a mother of two who attends a 1pm Beyond the Basics class. Classmates Papian and Wright say their bodies and minds have toned, too.
"You get a kick out of getting yourself moving," said Papian, who has taken Owen's classes for five years. She thanks ballet for stress relief, emotional uplifting and body strengthening. "It kind of makes you feel like you're young again," she said.
Many of Owen's students sign on for ballet for the first time, but Papian, Wright and Proebstle were serious dancers in their youth.
"Some people come back after they haven't danced in a while. They look in the mirror and they don't see the same person that they used to," Owen said. "In their mind, they can move, but they really can't move as they used to."
Owen herself occasionally takes courses to polish her ballet moves. During one, she was excited when her instructor assigned a complex routine she had mastered in her youth.
"I thought, 'Oh good, I haven't done this in awhile,'" said Owen. But she found her old routine difficult. "It was so much faster than I remembered," she said.
Papian knows what her teacher means. "For something so simple, it's amazing how difficult it is," she said during a floor routine.
When the semester begins, students note health problems, such as back aches, stiff shoulders or injured knees.
"We make adjustments," said Owen. "I try not to give too much because it should be enjoyable."
Though they are not as nimble as they were in their youth, the dancers say they have much more fun.
"We've made a lot of good friends," said Papian, who laughs with Wright and Proebstle over difficult routines.
Owen's class began with warm-ups at the ballet bar, where students develop balance and review a routine that changes every three weeks. Throughout class, Owen makes rounds to adjust heads and slightly move arms to perfect the body alignment of her concentrating students. They perform one at a time, then hear her critique.
Owen trains her students to release the tension in their necks and to sit their heads on top of their spines, to elongate their backs.
"As you get older, you sort of crunch down," she said. "If you sit your head on top of your spine where it belongs, you are much more stretched out."
At each semester's close, she sees significant improvements in posture and movements. One of her previous students, a tall woman with poor posture, gained a confident stance. "She must have grown an inch," Owen said.
Information? 410/263-5544.
— Rebecca McClay