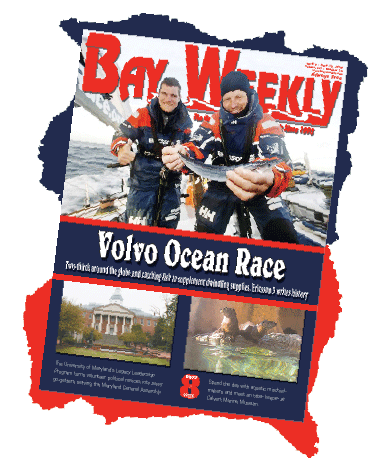 Volume XVII, Issue 15 - April 9 - April 15, 2009
---
Home \\ Correspondence \\ Letter from the Editor \\ Submit Letter \\
Classifieds \\ Dining Guide \\Home & Garden Guide \\ Archives \\ Distribution Locations
---
Search bayweekly.com
Search Google
Multi-Family
Yard Sale
Saturday, April 11th, 8-11am
2658 Carrollton Rd.,
Annapolis, Maryland 21403
This Week's Features …
Getting Cozy with
Political Animals

Behind the scenes in the Maryland General Assembly

by Grant Zeigenfuse

As graduates of the Legacy Leadership program, we're men and women, black and white, and one of us hails from Nigeria. We're a cross section of people over 50, looking to make the second half of our lives even more exciting than the first.
Two-Thirds Around the Globe

The Volvo Ocean Race,
Leg 5: 41 Days, 12,300 miles

by Steve Carr

What happened next will be talked about for years to come. World records are set in the Roaring 40s of the Southern Ocean. The Volvos are designed for these conditions: 60-knot winds and 20-meter seas blasting off Antarctica and pushing the boats east to Cape Horn like the hand of God.
---