Getting Cozy with Political Animals
Behind the scenes in the Maryland General Assembly
by Grant Zeigenfuse
Democracy is a device that ensures
we shall be governed no better than we deserve.
–George Bernard Shaw
If you had told me last year that I'd be working for a bunch of politicians, I'd have laughed you out of the room. Yet here I am waiting for the shuttle from Navy Marine Corps Stadium to take me to my job at the Maryland State House. Huddled with me in the chilly shelter are bleary-eyed college interns, legislative aides and lobbyists.
I am none of them. I am one of 22 senior interns working for free for a bunch of politicians.
I'm retired after 35 years as a senior lead engineer for Northrop Grumman. A couple more were also engineers. We're lawyers, professors, business owners — and maybe also empty-nesters. One started a $25-million company out of his trunk. We're men and women, black and white, and one of us hails from Nigeria. Four are from Anne Arundel County.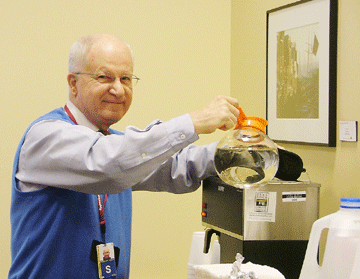 My chores are mundane but necessary. Food and coffee are Priority One at the delegation meeting, particularly food. Fruit, cakes and donuts make the delegates' pointed words a little more palatable to the people on the hot seat.

We're a cross section of people over 50, looking to make the second half of our lives even more exciting than the first.
We've all found purpose in the University of Maryland Legacy Leadership Institute on Public Policy.
Now, we're insiders. "We're getting to see how policy is ground into shape," said intern and retired sociology professor Jon Darling, of Shady Side. "Sort of like putting meat into a grinder."
Back in the Classroom
Before we were loosed on the Maryland General Assembly, we had to go to school. The Legacy Leadership Program has three months to turn political novices into savvy go-getters rather than getters-in-the-way.
"The program fills an individual's need for service and the Legislature's need for knowledgeable workers," says Wes Queen, Legacy Leadership coordinator. In nine years, the institute has given the General Assembly 225 interns. Some now work there.
Classes two days a week at University of Maryland's Riverside Campus were lively give-and-take sessions. Our teachers were delegates and senators, mayors, city council representatives and judges as well as college professors.
In the classroom, we got to know politicians as people: Why they got into politics, the things they're passionate about, the interplay between them and voters. They won our respect by allowing us to hit them with hard questions.
We also learned the way the game of politics is played.
One rule was taught by a delegate who'd learned the hard way that you don't challenge leadership openly. His audacity earned him a year's probation on the House floor.
We learned how the legislature works — from seating charts to how a bill becomes a law. We learned that the Assembly web site can provide powerful information — if you know how to use it. We even took a field trip to the State House complex to get to know the place we'd work.
In December, we were matched with legislators who'd be our mentors during the 90-day session from January to April.
To get the Anne Arundel County Democrat I wanted, I had to sell myself, just as I'd had to do on any job. Resume and hat in hand, I persuaded the gatekeeper, legislative aide Kay Reiser, to let me win over the chair of the Anne Arundel County delegation, Mary Ann Love.
A Daily Grind
"It's worth being here just to see the show," Reiser told me.
Friday is the best show of my week. I get on the shuttle at 7:45 to get ready for the 9am Anne Arundel County delegation meeting.
My chores are mundane but necessary. I make sure all the lawmakers have full briefing packets, and I set up the tape recorder to record the proceedings. Then it's off to help make coffee. Food and coffee are Priority One at the delegation meeting, particularly food. Fruit, cakes and donuts make the delegates' pointed words a little more palatable to the people on the hot seat.
At that weekly meeting, the 15 delegates and five senators representing the county hear testimony from county interest groups wanting state money — from the Annapolis and Anne Arundel County Conference and Visitors Bureau, wanting a much bigger share of hotel revenues, to Southern High School, wanting a field house.
Listening to the voice of the people means endless meetings and testimony enlivened with moments of controversy and laughter. We got more liveliness than usual when the county budget officer presented the good, bad and ugly (mostly bad and ugly) budget projections for 2009 and 2010. Pointed questions, controversy and laughter abounded.
Debate centers on the consequences of a $45 million projected shortfall in 2009 and $108 million in 2010 (recently reprojected at $150 million). Delegates want to know what actions the county is taking to mitigate the shortfall. Talk of departmental reductions, salary cutbacks and furloughs in 2010 help keep everyone awake through an otherwise low-key meeting.
Whether the speaker is John Hammond or Joan Doe, the lawmakers listen patiently. Then they ask questions and begin to consider how they'll vote when the bills are called later in the session.
With both county and state budget shortcomings, the lawmakers have to decide who will get what little money there is. Everyone wants their piece of the pie, and there are so many deserving charitable organizations.
Keeping the Promise
Being an intern means leaving your ego behind and being willing to learn from the bottom up. I walk the halls and tunnels connecting the state complex, picking up or delivering bills. I file, deliver, get signatures, research information and write introductory testimony on bills. Answering telephones and emails and attending hearings in the House and Senate round out my duties. This is certainly a far cry from my job as a senior lead engineer.
Different, too, for Onayemi Adejoke, who originally hails from Nigeria. Adejoke, who goes by Nora, is a widowed mother of three boys and part-time English teacher. After almost losing a house in foreclosure, she wanted to know how laws were made. "I get the most pleasure by using the power of my delegate's name to help constituents and actually get results," Adejoke says. "Just the other day I was able to cut through red tape and get a tree removed."
Interning also gives us new insight on politics. I've come to respect politicians for their work ethic, their concern for their constituents and their even-handedness. They are not perfect people, but I now see them as dedicated, hardworking individuals — for the most part.
In Del. Love, I see just how good a politician can be. She has driven down from Glen Burnie and has the coffee made before anybody else is in the office. She'll be off to a breakfast meeting, listening to citizens or lobbyists or working out problems in the delegation — all before the day's lawmaking starts. And she will be the last to leave.
Starting All Over Again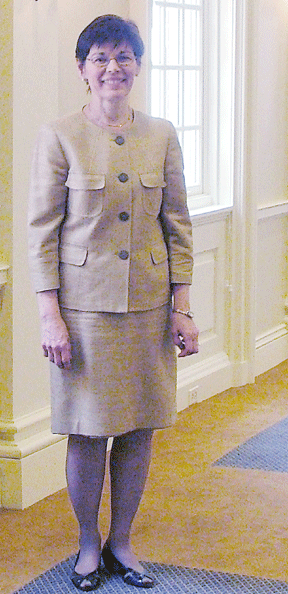 Growing up, says Ginny Goble, "My dream was to go to college in Washington and work on Capitol Hill. My life took a different turn." Her Legacy Leadership months gave her a second chance at that dream.
We've been busy, all 22 of us. We've lived the hustle and bustle. Television cameras stalk the halls, which never happened at Northrop Grumman. Around Lawyer's Mall, people carry signs and march to show the lawmakers how deeply they feel for or against bills from the death penalty to changing the words of our state song, "Maryland My Maryland."
Now it's even faster in the hurry-up to sine die, the couple of weeks when decisions are made on 3,000 bills introduced in the first 60 days. Only about a third of them will survive to become laws.
We're in the rooms — they're not smoke-filled anymore — where today's news and history is being made.
I've loved it. It's more fun than work ever was. Without kids to put through college and the routine of 35 years, I'm doing all the things I daydreamed about when I was working for a living.
That's how these months have been for Ginny Goble, too.
Growing up in Philadelphia, the Ellicott City grandmother wanted a career in politics. "My dream," Goble said, "was to go to college in Washington and work on Capitol Hill. My life took a different turn."
Her Legacy Leadership months gave her a second chance at that dream.
But in a few days, we'll all go on our separate ways. On April 13, the General Assembly will recess until January.
Legislators will keep their jobs; their next election isn't until 2010. We retired interns will have to make our own next steps.
Ginny Goble knows what she'll do next. It's Capitol Hill, for her.
Me? I'll be on my boat on Chesapeake Bay — daydreaming about what I'll make of next year.
Learn more about University of Maryland's four Legacy Leadership programs at http://sph.umd.edu/hlsa/aging