Bay Reflections
---
The Good Stuff
Halloween takes us off the beaten path, sometimes to the twilight zone
by Jane Elkin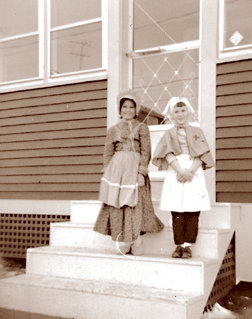 First frost comes early to New Hampshire, but the hard transition to overcoats was always softened by the sweet promise of trick-or-treat. For my two brothers and me, it was an adventure for the innocent. Halloween 1966 was about real make-believe that could be spooky without Jason's chainsaw. It was a children-only sport and a close second to Christmas. The night meant freedom: a rare treat for a little girl from a sheltered home.
When dusk turned to dark at five o'clock, I was free as a bat. Free to follow my brothers to explore new horizons. Single-digit midgets on the prowl, we hit every house in our historic half-mile.
The haul was good and the costumes fun, but my favorite part was meeting new neighbors. It was like a junior home-and-garden tour where indulgent couples sometimes traded extra Snickers for small talk through an open door. My brothers were after the candy, but I thrived on the attention.
That first unchaperoned Halloween, when I was not quite six years old, we met the occupants of the most elegant home I had ever seen. The house was a white Victorian perched atop a hill, with a turnkey doorbell whose metallic rattle summoned a century of footsteps. A spinster in a high-collared blouse answered the door, so excited it seemed she'd been anticipating our arrival for weeks. Her invitation to come inside was highly unusual, but being unfamiliar with Arsenic and Old Lace we were more puzzled than worried. Tainted candy was still unheard of, and we were greedy.
She hung our coats in a cavernous foyer and ushered us into the dining room, where her sister was putting the finishing touches on a confectionary feast. We were their first guests, and the massive mahogany table was piled high with homemade treats and set with a white lace cloth, real china and silver. There were cookies, cakes and fudge, all sprouting marzipan pumpkins and candy corns, and a big crystal bowl full of red punch. While one sister served up heaping plates of our choosing, the other settled us in red velvet chairs and plied us with questions about school and our favorite pastimes. It sounds like Hansel and Gretel in the fattening pen to tell it now, but my inner voice said this place was safe and special.
My eyes, already bigger than my belly, grew wider at the sight of the grandeur all around us. From my throne I admired velvet drapes, oil portraits, a gilt mantel clock flanked by porcelain figurines, a Victrola and an embroidered bell pull — a mystery to me.
I sipped my punch with an extended pinky, so intent on the décor I almost didn't hear them ask us to model our costumes. My brothers were dressed as knights in silver spray-painted long underwear with plumed Clorox bottle helmets and hobby horses. They hopped down from their tall chairs with mouths full, gave one perfunctory turn and a half bow, and then ran to the table for more.
I was already nauseous from too many candy corns and abandoned my cupcake to model the Red Cross nurse uniform my mother had sewn. I even knew a Word War I song to go with it, "The Rose of No Man's Land," and I sang for them. They liked that.
I dallied over my drink and prattled on about myself, trying to prolong our departure. We still had a lot of ground to cover before our 7:30 curfew, and other kids were arriving. The Knights of Clorox were squirming in their seats and trying to give subtle gestures that it was time to go, so I wiped chocolate frosting from my mouth with a real cloth napkin and thanked the ladies. One of them helped me on with my coat, and then we grabbed our pillowcases full of loot and said good-bye … forever.
Each Halloween for six years we returned, but no one ever answered the bell. We walked by that house every day on our way to school, but we never saw anyone peek out from behind the lace curtains. By the time I quit trick-or-treating, the house was boarded up. By the time I graduated, there was just a parking lot.
That party was like a mystical portal to the past: a tintype of another era, unique in my lifetime. Yet my brothers don't remember it. Did I dream it all? Were the sisters real? Was their reception a planned last hurrah or their outmoded custom? I'll never know, but I'll always love them for it.
Bay Weekly contributor Jane Elkin turned from analyzing presidential handwriting in September to creative writing in October, with a second reflection, following Oct. 16's "Easy Money."