Counter Bad Times with Good Fun
Invest in Calvert Memorial's Harvest Ball
The Great Depression distracted itself on screwball comedy, making that genre's golden age in Hollywood.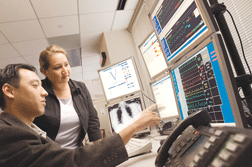 With its new eICU, doctors more than 100 miles away in Christiana, Delaware, will monitor intensive-care patients at Calvert Memorial Hospital.
That's one way of understanding why Calvert Memorial Hospital in Prince Frederick is "tickling pink" $40,000 worth of rented tents for one night — November 8 — of lavish dining and dancing.
There's another, serious explanation: In times like these, charities and non-profits have to work harder to raise money for their causes. There's less money to go around, competition is tighter and expenses are higher. For community hospitals like Calvert, managed care, physician and nursing shortages and rising costs make the job of saving and extending lives a constant challenge.
Galas like the hospital Foundation's annual Harvest Ball give a big push to keep the fundraising rolling. This year's volunteer organizers are shooting for $260,000. That's the amount they hope to give to subsidize eICU, a cutting-edge technology to help their hospital remain competitive and prepared to care for neighbors and loved ones.
Calvert Memorial will be Maryland's first hospital to supplement its on-staff expertise — and reduce overhead — with video- and computer-monitored intensive care. Starting in April 2009, the night shift in the intensive care unit will be overseen by an offsite team of specialists in Christiana, Delaware. Nine Maryland hospitals plan to follow Calvert to eICU.
About that pink: The theme of this year's ball is "revolutionizing critical care to the pink of health."
7-8pm reception; 8pm dinner; 10pm silent auction close @ College of Southern Maryland, 115 Williams Rd., Prince Frederick. $250/ticket; $450/couple; rsvp: 410-535-8178; www.calverthospital.com
Good as Silver
Cove Point opens Calvert's greenest building
Dominion Cove Point's new office building in Calvert County does not give away its secrets at a glance.
You wouldn't know by looking that the headquarters for the massive liquefied natural gas terminal and pipeline is Calvert County's greenest — and first LEED-certified — building.
"It doesn't look like a hobbit house," explained sustainable design consultant Elizabeth Floyd on an introductory tour.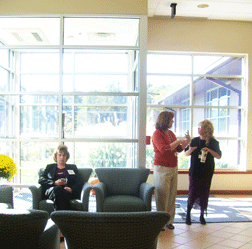 The new headquarters for Dominion Cove Point, which among other innovations makes optimal use of natural light, is Calvert County's first certified green building.
But it's earth-friendly enough to satisfy the demanding standards of the Leadership in Energy and Environment Design program of the U.S. Green Building Council.
Earning a LEED silver rating doesn't make the building strange. Peaked roof and glassy, it doesn't shout its bona fides — as does Chesapeake Bay Foundation's platinum headquarters, in Annapolis, with its towering external water storage tanks and composting toilets.
That silver rating does make the building hospitable. The space is flooded with natural light. Offices take the outside walls, with services in the core, bringing brightness in and giving outdoor views to everybody who works there. All the windows open, and lights shut off automatically five minutes after the last person leaves the room. Washing water in restrooms is also controlled by sensor.
It's comfortable beneath the threshold of observation, too, with low-emitting paints, adhesives and carpets.
As well as for the people who work there, the headquarters is easy on the earth we share. First, the structure is placed to preserve the open spaces and wetlands of Cove Point's 1,000-acre rustic campus. Native plantings make a sustainable landscape. Next, it's built with roof (steeply pitched red metal), walls and windows to maintain a comfortable temperature and reduce energy use. It uses close to a third less electricity and 40 percent less water than a conventional office building.
Materials were sustainably gathered. About a quarter of its construction materials — bricks, windows, cement — came from within a 100-mile radius. Eighty-five percent of construction waste was recycled.
The campus is self-sufficient, powered by the LNG it imports and treating it own sewage to low-nitrogen standards.
Here's another secret hidden behind the surface: The natural gas that helps pay for it spouts from deep wells above the Arctic Circle in the frigid North Sea.
Hilde Nafstad, president of the company that extracts that gas, Statoil Natural Gas, came from Norway to help dedicate the building. "To find solutions for tomorrow, we need to act today," she said.
But you'll have to take our word on how all these good ideas play out, as Cove Point is a closed campus.