The Liveliest Political Town on the Bay
After 25 years with one mayor, Chesapeake Beach inspects five
by Sandra Olivetti Martin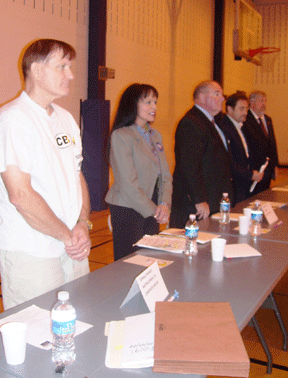 The five would-be successors to Chesapeake Beach's mayor of 25 years at a recent citizens' forum.
In Chesapeake Beach, born a century ago as a place to have a good time, the old American tradition of politics as entertainment is alive and well. Never has the game been more competitive — or entertaining — than this electoral season, when town government is up for grabs — along with opponents' political signs.
After 25 years as mayor of the Bayfront town, as well as its most prominent entrepreneur, Gerald Donovan — of Rod 'n' Reel fame — has retired his gavel. Five would-be successors are now wooing the town's 3,300 voters.
A dozen candidates are competing for the town council's six seats.
Of them all, only five are incumbents.
With the big election only days away and 16 candidates on the roster, a couple of hundred citizens showed up for a League of Women Voters forum over the second game of the World Series and CSI. The bleachers were hard and no beer was sold.
But nobody snored, and only a few sidled out early. Applause was forbidden by the stern League, but sometimes laughter couldn't be suppressed.
As when mayoral candidate D.F. 'Bart' Bartholomew — who dressed for the forum in shorts, T-shirt and flip flops — bent a question on how accessible he'd be around to the subject of dogs. The candidate invited citizens to "my house anytime during the day. Not at night. I've had some incidents. … You can come by any time. Have your dog pee on the grass. I wash it every night."
Between council and mayoral candidates, questions and answers went on for over three hours. But nobody complained — except the candidates.
Fixing What's Broken
Three mayoral candidates make fixing town government their platform.
Town bureaucracy bedevils Bartholomew, who complained that the "damn town has been fighting me on what my real name is. I've had to write five letters," he complained, to be 'Bart' on the ballot.
"I just want the road fixed in front of Windward Key," said candidate Margo Hughes of the Bayfront condo community where she lives. "I'll get that road fixed."
Joe Johnson, the only repeat candidate in the race, gave Mayor Donovan a close shave four years ago.
"I have seen children swimming in the Bay, then we find out they're swimming in sewage. I went to town hall and asked for a sign when sewage is spilled. I was completely ignored," Johnson lamented.
'If I'm your mayor, I will not wait for four days to notify you … of sewage spills," Johnson promised.
Building the Future
The other two of the mayoral candidates spent their answer time on solutions.
Jeffrey Krahling, who deals in real estate, from building to buying and selling, introduced himself as no public speaker and proved himself a man of few words. But with them, he laid out an agenda.
His vision, he said, is "to see the town grow, to see the railroad trail completed, crime and drugs under control — to take the town back; and move [alternate] town meeting to a weekend. With more citizens, you get more things accomplished."
More at home in public debate was Bruce Wahl, the only candidate who's worked at governing Chesapeake Beach. A town councilman for 20 years, Wahl had plenty to talk about, starting with his own resume of experience and achievement.
In experience, Wahl called himself a "leader" in the Maryland Municipal League who's earned a certificate in municipal governing from the University of Maryland.
In achievement, Wahl said that over 19 years, he's written grants that brought $1.6 million to the Chesapeake Beach Railway, following the right of way of the Chesapeake Beach Railway from D.C. Now, he said, "we finally have gotten [the trail] pushed through to only waiting for federal Department of Transportation approval."
Finishing that trail, he said, is his second promise to townspeople. First is "to keep government and services rock solid, without raising taxes."
Green or Growing?
Growing and greening the Beach filled in the outlines of the candidates' self-portraits.
On both scores, plans ranged from grand to elemental.
Johnson envisions a town fueled by the heat of the earth.
"There's millions of BTUs under this building. I don't see what we can't tap that," he said.
Hughes planned on a smaller scale, promising to "knock on whoever's door" to find "products to put on shrubs, bug spray trucks, to find something that shouldn't hurt us."
Most in favor of growth was Bartholomew, who advertised himself as contracting project manager with vast military and civilian experience, from consulting on the Woodrow Wilson Bridge to building Prince George's stadium for the Bowie Baysox.
"We're going to build a second town on top of the hill," he said, gesturing in the direction of his vision. "There's lots of opportunity."
Krahling identified himself as favoring growth — but not without citizen approval.
Wahl took the question of growth as moot. "The town is essentially built out," he said. "There's going to be infill, but there's not going to be more major subdivisions."
Voting for Change
Across the land, change is the mantra of the 2008 elections. One way or another, change is coming to Chesapeake Beach on November 4. At Town Hall, the only polling place for town elections, votes are counted Election Night and — unless a recount is called for — winners posted. Pick up next week's Bay Weekly to hear from the winners.
---
---