This Week's Features:
---
The plastic checkout bag has become our standby. They're comfortable and familiar. Less awkward than paper, with handles and durability. And lightweight. A bag caught by a breeze can travel as far as wind will take it.
by Carrie Madren
---
The fourth annual Flawless Music Festival features an urban lineup of local and imported hip-hop, R&B, rock, even go-go music.
by Rob Goszkowski
---
When you take to the highway, don't forget the maps. Without one, you may drive right by a scenic byway or historic site.
by Margaret Tearman
---
Once more this summer, Bay Weekly's "Indispensable Guide to Summer on the Bay" brings you 101 ways to harvest the delicious pleasures of summer. Again this year, kids get their own 101 Ways to Have Fun.
---
---
Your chances of getting a number are like odds at the track, about 50 to 1
Number, please.
You don't hear those two words much anymore, except perhaps at the pari-mutuel booth at the race track — though thank yous or pleases are about as common at tracks as 50-to-1 winners.
---
Winter vegetables grow hearty in mini-greenhouses
For fresh greens and green onions during the winter months, now is the time to prepare a cold frame. A cold frame is an enclosure with a glass or clear plastic-covered roof. Old storm windows or used sliding glass doors make good covers, but they are not necessary.
---
In the battle of the bags, which comes out greener?
Yes the city of San Francisco did recently ban plastic bags. Large supermarkets and pharmacies there must eliminate plastic shopping bags
---
The moon shines early but sets to reveal the Milky Way
A thin waxing crescent moon hugs the western horizon Thursday at sunset at 7:20. If you're able to spot the moon in the 30 minutes before it, too, sets, you can likely make out the blue-white star Spica higher in the sky and maybe even Mercury, closer to the horizon. A pair off binoculars will increase your chances.
Illustration: © Copyright 1925 M.C. Escher/Cordon Art-Baarn-Holland; Graphics: © Copyright 2007 Pacific Publishers. Reprinted by permission from the Tidelog graphic almanac. Bound copies of the annual Tidelog for Chesapeake Bay are $14.95 ppd. from Pacific Publishers, Box 480, Bolinas, CA 94924. Phone 415-868-2909. Weather affects tides. This information is believed to be reliable but no guarantee of accuracy is made by Bay Weekly or Pacific Publishers. The actual layout of Tidelog differs from that used in Bay Weekly. Tidelog graphics are repositioned to reflect Bay Weekly's distribution cycle.Tides are based on National Oceanic and Atmospheric Administration and are positioned to coincide with high and low tides of Tidelog.
---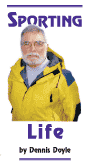 How to clean and cook these tiny morsels
Dove hunting has many rewards for its practitioners: The challenge of the marksmanship required to bring these birds to hand; the camaraderie shared in this, one of the more social experiences of the field; the superb table quality of the birds themselves.
---
Living shorelines are good for everybody
Exploring the Chesapeake for over a year aboard our trawler Bright Pleiades, we have watched the natural shoreline being armored at an alarming rate
---
A Labor Day outing turns into a close call for a trio of young boaters; The 56-foot survey vessel Bay Hydrographer docks at Calvert Marine Museum; Don Oswald prepares for a long-distance inline skates race; The 28-foot shallop retracing John Smith's journeys returns after a 120-day, 1,500-mile journey; A Kazakhstan zoo resembles a scene from the best-selling novel, Water for Elephants.
---
EnVISIONing Our Future
When you don't know where you're going, it's harder to get there. Even if you arrived, would you know?
---
We welcome your opinions and letters – with name and address. We will edit when necessary. Include your name, address and phone number for verification. Mail them to Bay Weekly, P.O. Box 358, Deale, MD 20751 • E-mail them to [email protected] or submit your letters on line, click here
We Can't Enjoy a Fouled Bay
Oyster Reef Endangered
---
Onward!
Following our map to the middle of nowhere
by Margaret Tearman
---
2nd Star Productions Miracle Worker
reviewed by Jane Elkin
---
---
---