This Week's Features:
---
These horse races are brought to you by a fox and the hounds
by Aubree Stafford
---
Rural County to be left with no farmers' market
by Margaret Tearman
---
At first checkpoint, Costa holds his ground while Reilly takes his belt in a notch
by Bethany Rodgers
---
Jonathan Edwards: From "Sunshine" to Cruising America's Waterways to Annapolis. reviewed by Theodore Thimou
---
Almost everything tastes better when it's cooked on a wood fire
Ughhh, this tastes like pasture pie! But it's good, though. Awful good!
In hunting and fishing camp, or any kind of camping among men, not infrequently one is chosen by drawing the short straw to serve as camp cook. It's a thankless chore.
---
Get coles in the ground now
Plant cabbage, broccoli, cauliflower, kale, radish, kohlrabi and collards early for a bigger harvest this summer. Early planters also include onions, peas, Swiss chard, beets, Chinese cabbage, celery and lettuce. These salad favorites grow best in cool weather; most are generally immune to late frost damage, especially without mulch. Heat released from the ground during frosty nights provides adequate protection.
---
Clean-energy turbines could be more bird friendly
It is ironic that non-polluting, renewable wind energy, long touted as a potential savior in the fight to stop global warming, is getting a bad rap for killing wildlife. High profile examples such as at California's Altamont Pass — where outdated, oversized wind turbines kill some 1,000 birds of prey each year — plague the growing wind power industry — even though more modern, better-sited wind farms kill far fewer birds.
—Dan S., via e-mail continue reading...
---
East to west, sunset to sunrise, there are plenty of sights to delight
Sunset falls at 7:36 Saturday and a minute later each night, revealing Saturn almost directly overhead. A bright, steady light between the winter constellations of Leo and Cancer, the ringed planet makes an easy target before setting around 4am in the northwest. continue reading...
Illustration: © Copyright 1925 M.C. Escher/Cordon Art-Baarn-Holland; Graphics: © Copyright 2007 Pacific Publishers. Reprinted by permission from the Tidelog graphic almanac. Bound copies of the annual Tidelog for Chesapeake Bay are $14.95 ppd. from Pacific Publishers, Box 480, Bolinas, CA 94924. Phone 415-868-2909. Weather affects tides. This information is believed to be reliable but no guarantee of accuracy is made by Bay Weekly or Pacific Publishers. The actual layout of Tidelog differs from that used in Bay Weekly. Tidelog graphics are repositioned to reflect Bay Weekly's distribution cycle.Tides are based on National Oceanic and Atmospheric Administration and are positioned to coincide with high and low tides of Tidelog.
---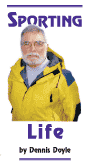 Two knives and a scaler cut the work of cleaning fish
With fishing season upon us, make sure your gear is in shape for the coming months of fish fries, fish barbeques and extraordinary fish dinners. Begin with knives and fish scalers.
---
Yellow Buoys Signal Better Bay Forecasts Ahead
New system to provide real-time picture of wind, waves and water-level elevations
Our trawler Bright Pleiades is trundling up the Bay off Smith Island. We're ticking off the green and red buoys that define the main shipping channel when we spot a buoy of a different color. Banana-yellow, it's embossed with four mysterious letters: CBOS. Continue reading...
---
Another loss in the Bay: underwater grasses down 25 percent from 05 … Averages are deceiving: South River grassesfail while Susquehanna Flats grasses thrive … With a lot of help from its friends, Potomac River loses 103 tons of trash cleaner … and last but not least, this week's Creature Feature: If we catch all the sharks in the ocean, we'll have plenty of cownose rays but fewer scallops, oysters, clams and crabs.
---
Ode to Bay Spring: A World Worth Wordsworth
This week, we intended to give you 10 Reasons Everybody's Feeling Better Than We Felt on Groundhog Day. But describing near ecstasy with so measly a number is like comparing a match to sunrise.
---
Green Fund Misses the Point: Corporate Agriculture

Good Advice Lives on On Line
---
The Passing of Maryland's Tobacco Calendar
What does Spring care about an old barn?
by Elizabeth Ayres
---
---
---
---
---