---
Way Downstream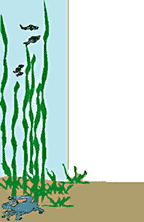 In Annapolis, the Chesapeake Bay Program reported disturbing news last week about the progress in restoring the underwater vegetation that once covered 200,000 acres of shoreline and shallows, filtering the water and providing cover for Bay creatures. Bay grasses declined by 25 percent between 2005 and 2006, from 42,320 to 32,586 acres, losses attributed first to a dry spring with extra salty water and later to big June rains that muddied more than the water …
Submerged grasses fare worse in some tributary waters. The South River Federation rated aquatic grasses a one out of 10 on its 2007 Score Card, which rated nine other indicators of River health, like oysters, water clarity and dissolved oxygen. Farther north, however, the Susquehanna Flats recorded a bumper crop of water grasses — its largest since 1984, when such surveys began …
Along the Potomac River, 4,082 volunteers hauled more than 103 tons of trash out of the river and its tributaries. The 19th annual Potomac River Cleanup, sponsored by the Alice Ferguson Foundation, rid 363 different sites of debris, moving forward the goal of making the Potomac trash free by 2013. In addition to 10,645 plastic bags of dump-bound trash,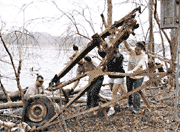 workers uncovered 915 old tires and 92,700 recyclable beverage containers. Among the more unexpected finds: a 1952 Chevrolet, a Little Tike playhouse, an artificial Christmas tree, a television, a handmade machete, boxes of toilet paper, an ice cream freezer, a wig, a fire extinguisher, toothbrushes, a grill, dog toys, a King Kong DVD and more.
Our Creature Feature is about the interconnected web of marine life and human greed. We all know about the rapacious harvesting of Bay menhaden by Texans, but there's a taking toward the other end of the food chain that may be just as serious, according to a new report in Science magazine.
The new study concluded that 99 percent of big sharks in our part of the Atlantic Ocean have been killed a

s the price for shark fins in Asia has rocketed to $22 a pound. With fewer natural predators, cownose rays have prospered. The ravenous rays have destroyed the bay scallop industry, the magazine reported, and now threaten crabs.
"We know that once they [rays] eat the things that are the most easy, evident and obvious to get, which are those on the surface of the bottom like a scallop and an oyster, they turn to digging in the bottom to get buried shellfish," biologist Charles Peterson told Reuters.