Rocked in the Cradle of Invasion
This weekend, I follow my father back to the weeks before my conception, when he trained at Solomons for hitting the beaches of Sicily.
by Russ Barns
Sometimes understanding dawns on you in unexpected, synchronous places. Two years ago, at Calvert Marine Museum on Solomons Island, a series of insights illuminated my past, my present, where I am headed, my country — and my father.
Across Back Creek, Doug Alves, the museum's executive director, pointed toward the Dowell Peninsula. "There's an old Chesapeake amphibious training base there," he said, "where U.S. Marines and army soldiers prepared for amphibious invasions in the European and Pacific theaters of military operation during World War II."
As Alves spoke, it dawned upon me that it might well have been at this very spot where, in 1942, my father trained — just before my conception at Fort Bragg, North Carolina — for his World War II career in Europe. The simulated training off Solomons prepared him for hitting the beaches during the Invasion of Sicily.
At this very spot, from Friday, August 4, through Sunday, August 6, Calvert Marine Museum and the U.S. Marine Corps Historical Company will dramatize an amphibious invasion of the sort my father and 67,700 other solders and marines trained for between July 3, 1942, and February 6, 1945.
That long-ago invasion became the first Allied incursion into the Nazi- and Fascist- dominated European continent.
The person carrying half my DNA, my father, had, right here near Solomons, likely climbed over the side and waded in the wet sand to the beach.
Chesapeake training is recorded in his diary. He named Solomons Island as one of the training locations. Alves confirmed that my dad's division, the 45th, did indeed train at Solomons.
My Father's War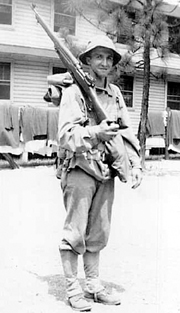 Clayton Junior Barnes, trained in Solomons in 1942 for the amphibious assault on Europe. He kept a detailed diary of his time in the service, above.
Each year in August, reenactors come together to celebrate, commemorate and recreate Solomons' role in the war.
My dad, Clayton Junior Barnes — nicknamed Barney — kept a rather meticulous diary documenting his daily grand tour of Europe from Sicily to Munich. Immediate, direct and factual, the diary is recorded from the perspective of a foot soldier. Discovered by my brother at our father's death in 1991 and since preserved in digital format, it provides a rare eyewitness and primary documentation of the war.
My dad left New York harbor June 8, 1943.
June 8. The convoy formed and we set sail for an unknown destination. I was feeling very bad here as I was standing by the rail watching the shores of the good old USA disappear from view, leaving Helen behind with a baby to be born soon. It sure is a tough life.
The ocean he was crossing was riddled with German submarines and torpedoes. The ship he was on was loaded with large supplies of gasoline and ammunition. One spark would send him to the murky depths at the bottom of the Atlantic.
What could he have been feeling as that ship reached the high seas from the port of New York? I can imagine him thinking, I am 22, the whole world is in chaos, and I'm in the middle of it all.
Barney was part of the U.S. Army 45th Division, 171st Artillery Batallion. The division was made up of civilian soldiers and was mocked by both the British and the Germans for not being a professional fighting force. General George Patton, commander of the division, spoke to the troops by radio as their ship disembarked from Algeria in Northern Africa to land they knew not where. Here is part of Patton's speech as my dad recorded it:
We are indeed honored in having been selected for this new and greater attack against the Axis … When we land we will meet German and Italian soldiers whom it is our honor and privilege to attack and destroy.
It was in this speech that the soldiers learned that they would be the first to invade Europe at the island of Sicily in Italy.
July 9. At 12 o'clock we glided into our position near the shore of Sicily. Planes were flying over our heads, and our ships were laying fire on the shore batteries. Anti-aircraft fire was very heavy.
July 10. We went over the side of the ship, with a combat pack and 120 rounds of ammunition, ready for the real thing now. We went into position two miles from the shore, near Gela, Sicily. It was a long ride. Once on the shore we were pinned down. I caught the first shelling on the 11th as a shell landed within a few feet of me. I heard the shrapnel fly by my right ear and it landed in my foxhole.
Invasion
photo © Christopher Barnes
Soldiers in France in 1944 lounge on an amphibious vehicle, much like those used for training at Solomons Island.
My mother, Helen, gave birth in Pennsylvania several days after Barney hit those Sicilian beaches.
I was born July 28, 1943. Shortly afterward, Barney, still in Sicily, summed up his invasion experience in a letter to his mother and father-in-law, in whose house I lay in my cradle, having made a kind of invasion of my own upon this earth. The following letter was also recorded in Barney's diary.
Dear Mr. and Mrs. Cluss,
I meant to write to you sometime ago, but between this actual combat and hearing about my son at home, I have been almost too darned excited to do much of anything. I received your cablegram on August 11.
I really can't express how I felt, but I will bet I was the happiest soldier on this island, and I haven't settled back to normal yet. I am so darn proud of Helen as she has taken everything so swell. She is a wonderful girl.
It seems like years since I saw the United States fade out of view. I just stood there on the bow of the ship thinking of a million things. After we had been at sea for a few days, I was beginning to wonder if I would ever see land again, for more than one reason!!! The ship itself was fairly decent, but it was pretty foul at times. We were just jammed down in the holds. In fact, I had four men sleeping above me.
photo by Jack Gates
Russell Lee Barnes invaded Uniontown, Pennsylvania, around the time his father, Barney, took part in the amphibious invasion of Sicily.
We pulled into Oran Harbor around June 23. We made a practice landing, and went over the side of the ship like a real invasion. We stayed on land for one week for hardening exercise. I still did not know where we were headed.
After we pulled out for Sicily, they told us the purpose of our mission. On the night of July 9 we were close to the shores of Sicily. The Navy started to fire the large guns, and our planes started bombing. The anti-aircraft fire almost lighted the sky with tracer bullets, and at this point I knew this was the real thing.
The next morning I went over the side for the shore landing. When we got about 100 yards from shore, we got stuck on a sand bar. While on the sand bar an enemy plane dropped down and strafed us, but I finally made the shore okay!
The second day we were shelled out of position by German artillery, and the shells landed within a few feet of us. I can't say I wasn't scared as I sure did a little praying in that foxhole.
Sicily is a very pretty country, especially around the shoreline. The Mediterranean Sea is a sight as it is about the deepest blue I have ever seen. But they can have it all, as I'll still take the USA. I would sure give anything to see you all again, but maybe one of these days I will be home again to pick up things where I left off, and start raising my family. Take good care of Helen and Russell Lee, and thanks a million for everything.
Love, Barney
War was the cradle of my existence. I remember none of it except for some lingering rationing stamps afterward, but my attention has always been drawn to things World War II: films, biographies and speaking with the now fast-departing veterans of the war itself.
When I heard about the Marine Museum's Cradle of Invasion dramatization, I was hooked. I wanted to be on board. I wrote to Sherry Reid at the museum, key organizer of the event, describing Barney's war diary. With my promise to bring free copies of the diary to the Cradle of Invasion, I was given the honor and privilege of a spot in a Remembrance Roundtable on Friday, August 4, with four veterans.
The Cradle of Invasion
Displays and programs begin at the Calvert Marine Museum, with visitors shuttled by bus to nearby locations. All events are $3 with no reservations needed unless otherwise noted. The on-going displays show how marines lived in the field during World War II and how they live today in places like Afghanistan and Iraq. They include a mess tent, medic unit and typical marine's sleeping tent.
Friday, August 4:
• 1pm: From Solomons to the Pacific, lecture and demonstration.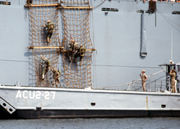 • 2pm: The Recollection Roundtable, in which I will join.
• 4pm: Groundbreaking ceremony for a memorial statue of a sailor, On Watch, at the end of Dowell Peninsula.
Saturday, August 5:
• 1pm: From Solomons to the Pacific, lecture and demonstration.
• 1:30-3pm: Demonstration of how a marine exercise is set up at the Naval Recreation Center.
• 3pm: Dramatization of an amphibious landing exercise. For an excellent description of what you might see, take a look at a 1998 Bay Weekly archived story by contributor Mark Burns at http://bayweekly.com/year98/lead6_31.html).
• 5pm Navy Commodores Jazz Band in the museum's Waterfront Concert pavilion. Bring lawn chairs. Food and drink for sale.
Sunday, August 6:
• 1pm: Driving tour of Solomons, guided by Richard Dodds, curator of Maritime History, Calvert Marine Museum.
• 2pm: From Solomons to the Pacific: US Marines in WWII; museum auditorium.
• 3:30-5:00 pm: Cradle of Invasion Cruise on the Wm. B. Tennison. Guided cruise down memory lane. Light refreshments served: rsvp; $18: 410-326-2042; www.calvertmarinemuseum.com/events.htm#Cradle_of_Invasion_Weekend_2006.
Out of the Cradle
Barney was careful. Not a particularly religious man, he nonetheless believed in his own luck. He wanted to live, to see his wife again — and me for the first time.
December 30. I took the payroll and money to the Battery in Venafro, and the town was shelled right after we left. Boy was I lucky today.
December 30's entry is typical of his feeling that somehow he was specially protected, destined to come home to lead a peaceful life of domestic pleasures.
Barney always pooh-poohed the title of hero which we, his sons, my brother and me, tried to push on him. I've concluded he was right. He was not a hero. He was rather a warrior, and he did his duty as a warrior.
As I have grown older and looked for my own meaning as a man, I have looked to my father and what it is to be a warrior — not just in government-sponsored wars, but in the wars — psychological, social and personal — we all face.
What are the qualities of a warrior that we can see through the diary of this common foot soldier, this everyman in the trenches of World War II? Certainly they included alertness: being awake; being present, focused. The warrior adjusts to the situation on the ground, developing a sense of reality more fine-tuned than the ordinary sense of those of us who have never formally served. Warriors are people on whom one can depend, as I depended upon my dad.
When the war was over and Barney was being discharged, his buddies wrote a letter to me, a two-year-old back in Pennsylvania. It's tongue-in-cheek, but it says something about the warrior. To understand it, you'll need to know that the 45th Division that my father was part of was an Oklahoma Division with many Native American soldiers who often wore full warrior head-dresses into European battle.
Dear Russell Lee:
This letter will introduce you to ex-Technical Sergeant Clayton Junior Barnes, veteran of the European theater, World War II, wearer of the E.A.M.E. Ribbon with six battle stars and one Bronze Arrowhead, the Good Conduct Medal Ribbon, the Bronze Star Medal Ribbon, the Thunderbird patch on the upper right sleeve, the Cactus patch on the upper left sleeve, four overseas bars on the lower left sleeve and various other folderol.
Unless you've seen an Oklahoma Indian or General Patton in full battle dress, you've probably never seen anybody as bedecked and adorned as this warrior. Do try, however, not to manifest any agitation on first sighting this formidable specimen of the human race.
Doubtless, your mother has already sought to soften the shock of the meeting by showing you at tactful intervals reasonable facsimiles of this man, and furthermore has probably told you with due apologies that he's what is known familiarly as "your old man." We who have been with him during the arduous days of combat feel duty bound to warn you that "your old man" is exceedingly brittle, and must be handled with care …
In closing, we're turning ex-Technical Sergeant Clayton Junior Barnes over to you and your mother, and only hope that you'll get to be as fond of him as we are. Frankly, he's ceased to be of any use to us, as he won't do a lick of work. See what you can make of him. Uncle Sam tried.
Best Regards from Fre
Not for the faint of heart, the reenactments at Solomons offer a glimpse of what the soldiers actually went through.
d A. Knowles, Charles R. McNabney, Floyd E. Higgins, Leslie E Schofield, Drexler E. Kent
From the Diary…
September 1: I left Le Grand at 7 o'clock this morning and load on a Liberty Ship named the William Floyd at 11 o'clock.
September 3: We arrived at Swansea, Wales, at 3:30 this morning, and the ship is taking on ballast for the trip across the ocean.
September 4: We left Swansea, Wales, at 7 this evening. Our rest stop will be New York, and the crossing will take 10 to 12 days.
September 8: We hit a storm and everybody is sick. I am feeling pretty bad.
September 14: We are now 388 miles from New York. Gee, I am happy. We should dock on Saturday or Sunday.
September 15: This is the happiest day of my whole life. I am back in the USA.
We disembarked from the S.S. William Floyd at 8pm this evening in New York Harbor and were received by the American Red Cross with coffee and doughnuts. I then boarded a train for Camp Kilmore, New Jersey. I put in a call at 12:55 and talked to Helen at 1:15am. Gosh, the sound of her voice was Heaven, not to mention the feeble attempt of Russie to say Hi Daddy. Boy, this is all too good to be true.
September 16: I left Kilmore at 6pm and arrived at Indiantown Gap, Pennsylvania, at 11. We were broken up into groups for discharge. We have nothing to do now but wait!!
September 17, 18: Still waiting.
September 20: I went to Headquarters to meet Helen. I was never so excited in my life. She looks wonderful, and I am a lucky fellow.
September 22: I was discharged today at 11:30.
September 24: Helen and I left Harrisburg, Pennsylvania, today and headed for Uniontown to see Russie. I can hardly wait to see that little fellow. Mr. Cluss met us in Pittsburgh, Pennsylvania. I saw Russie around 8pm standing on the corner of Eggleston Street and Dixon Boulevard. I shed a few tears when he called me Daddy. I guess I am the luckiest fellow in the world!! Well, this brings to a close my Army career, so I will end this, September 24, 1945.
Returning to the Cradle
In my 40s, I visited my father and mother at their home. In their attic, I found a yearbook with a picture and a write-up of every soldier in the county who fought in World War II. Barney was there. So was General George C. Marshall, U.S. Army Chief of Staff during World War II. He grew up less than a mile from where my dad grew up. As secretary of state, Marshall launched the Marshall Plan to rebuild Europe, and finally, after centuries of fighting, his plan brought peace to the continent.
There are many ways to conduct war. One way is through action — guns and bombs. Another is through expression of ideas. My dad did both, as his diary illustrates. General Marshall, both a warrior and diplomat, used words, ideas and motivation as fire-power. John F. Kennedy said about Churchill, "He mobilized the English language and sent it into battle."
And so my heritage? In these somewhat later years of my life, I've dedicated myself to my writing, both plays and articles, than to the corporate life of my former years. It is a stretch as well as a kind of internal war to express oneself. I've learned from my father who trudged through Europe about that.
These are some things I want to contemplate at the Calvert Marine Museum's Cradle of Invasion.
Russ Barnes is a journalist and playwright. One of his stage plays, Red Dog Dirt, played last fall in Bowie. (See Kat Bennett's profile at www.bayweekly.com/year05/issuexiii42/jobxiii42.html.)
The full text of his father's World War II diary can be found on-line at http://home.earthlink.net/~rbarnes7/Diary.htm. The diary is copyrighted 2005, Christopher Barnes.