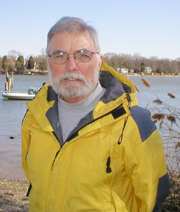 The Sporting Life
by Dennis Doyle
Summertime Perchin'
In this game, close is not good enough
The rockfish have lockjaw, crabbing has slowed with the heat, there are no croaker to speak of and bluefish are scarce. It's the perfect time to go perchin'.
White perch can be the most reliable fish in the Chesapeake this time of year. You can tilt the odds further in your favor if you pick your conditions. An overcast day with a late afternoon high tide and low winds is perfect for the way I like to fish for them: casting light-tackle lures.
A pair of six-foot ultra-light spinning rods and six-pound-test line are a good match for the perch's pulling power. If I can get time on one of my kids' busy schedules, I'll include a similar rod or two for them. Perch are a super fish for keeping youngsters interested, for there is usually plenty of action. Late afternoon about 5pm is the time to head out.
I like to begin by fishing the rocky jetties along the Bay front and in the rivers. Structures that are nearest to deep water are best. The bigger perch will move into these areas with an evening tide to feed on shrimp and small baitfish that shelter there.
I'll start by using a one-sixth ounce Super Rooster Tail in a Clown Coach Dog Pattern. It's a safety pin-type spinner bait, florescent yellow with iridescent orange spots and a silver blade. What it looks like to the perch is beyond me, for there is nothing in nature that even comes close, but they attack it with abandon.
As backup, I also have some Rooster Tails in chartreuse, a few gold Kastmasters in one-eighth ounce, and a couple of small Beetle Spins in white. Some days are better than others, but I've never been shut out relying on these lures, and often it's been gangbusters.
After I've worked the jetties and any adjacent rocky structures, and assuming I haven't already filled up my box with jumbos, it will usually be evening, an hour and a half or so before sundown. That is the prime time to visit the piers and docks that crowd the bayside. Perch love to congregate under and around these structures at this time of day, and you will find some outstanding fish there, especially if the dock's owners don't fish it frequently themselves.
How to Catch 'Em
It will test your casting accuracy to place your lure under and around these structures where the larger fish lurk. In this game, close is not good enough. You've got to drop the lure right in a big perch's kitchen to get their attention. When you do, you'll be immediately rewarded with the most jarring strike you've ever had from a fish their size.
Don't forget to tighten your drag down. You can't afford a sizzling run under these conditions. If they take any line, they will immediately wrap you off around a barnacle-encrusted timber. It's a tug of war. You'll undoubtedly lose a few of these battles under the best of conditions, but that only makes it more interesting.
I also carry my crab net on these outings. It's the perfect size for any whopper perch that you connect with, and the long handle allows you to reach out and around the boat with ease. Most perch up to 10 inches can simply be hand-lined into your cooler, but a jumbo can be easily lost at boatside. I've heard countless tales of 12-inch and larger perch that were lost for want of a net. Don't let it happen to you.
Also carry a few pieces of thick towel so that you can use them to grab the perch while unhooking them. They have devilishly sharp spines, and their gill plates are like razors. You can easily end up bloodied during a flurry of exciting perch activity, so remember to exercise care in handling the fish. Wet the towel to minimize harm to released fish.
Ice your catch down immediately for the sake of their table quality. A fish that is chilled promptly will provide superior flavor to one that languishes in a bait well or anywhere else without ice.
I prefer to scale my fish, remove the head then the dorsal and anal fins, and eviscerate it, rinsing it thoroughly. I believe that perch cooked on the bone have a better flavor than those that are filleted. But some diners, particularly youngsters, object to the bones, so filleting may be your only option. In either case, the product of your efforts will be outstanding.
Fish Are Biting
FFor whatever reason, rockfish are on strike on the Western Shore and none too cooperative on the Eastern Shore side. There are large schools holding in many locations, particularly the channel edge off of the mouths of the tributaries, but the fish aren't biting. Trollers are probably scoring better than most, but success is infrequent and inconsistent.
Perch and spot are biting over hard bottom and around structure both in the main stem and in the tributaries. Rays remain a nuisance. There are vague rumors of sea trout to the south. Bluefish remain smallish and elusive, but crabbing is decent. In all cases, patience is necessary.