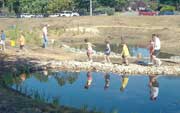 First graders cross between two ponds to take part in restoring the site's ecology, above.
Editing Edgewater's Ecology
Earth lessons planted in young minds

story & photos by Carrie Steele

In their first days back to school, kids traded in pencils for trowels, textbooks for tiny cranberry plants. These Edgewater Elementary schoolers weren't just gardening: they were helping to solve a community problem they've been learning about for a year.
Edgewater is one of many schools teaming up with Arlington Echo Outdoor Education Center's Chesapeake Connections program to turn students into stewards. Its latest mission: to transform what was once a major byway for dirty runoff water into a wetland, halting the flow of dirt from entering nearby Warehouse Creek.
"This is a stormwater treatment area," said Steve Barry, director of Arlington Echo. "What we're trying to do with it is develop an ecosystem."

Edgewater Elementary schoolers plant blue flag iris at water's edge
Before kids could come in to breathe life into the new ecosystem, earth-moving engineering had to lay the foundation, altering the lay of the small pocket of land that had a big effect on the local watershed.
Edgewater Elementary has been buffered from Mayo Road by 1.7 bare acres where thousands of gallons of fast-moving water collected during storms. Funneled by a storm drain under Washington Road to the east, water chock full of sediment and pollutants then ran into Warehouse Creek.
Warehouse Creek was once a major port for part of Chesapeake Bay, where 20-foot depths allowed ships to navigate. Now the average depth is seven feet, and the creek is 1,000 feet shorter due to sedimentation.
The flow changed this summer before back-to-school time, as a $400,000 re-engineering project designed a seepage wetlands. Now the water runs into perimeter moats. The water slowly seeps through sand and gravel berms to infiltrate the ground.
In really big storms, great flows of water can overflow the moats into a series of three ponds.
"It's unique," explains Barry, whose Arlington Echo staff worked with both the county, Edgewater Elementary teachers and Keith Underwood & Associates in designing the new wetland.
"Keith has engineered an ecosystem: It's meant to maintain itself. It might need help the first couple of years, but after we get it functioning, the wetland should take care of itself," says Barry.

The new ecosystem will absorb water much faster than the previous grassy field, leaching heavy metals, phosphate and nitrogen from the water.
"The whole system mimics nature, restoring what would have been there naturally," says Underwood.
Finishing the job on September 10 were 500 kids from every grade, 35 teachers and custodial staff, an administrator, 150 parents and nine Echo staffers. All hands helped plant the new bog.
Some of these thirsty plants had a head start. Kids planted 75 Atlantic white cedars at the site last spring and another 50 at the restoration, along with 800 cranberries, bog plants that work as groundcover and nutrient collectors. Also growing in the ecosystem is a meadow of young native plants: black-eyed Susan, black needle rush, blue flag, broomsedge, calico aster, cardinal flower, cinnamon fern, green-headed coneflower, little bluestem, pink coneflower, purple-top grass, smooth alder, spaghnum moss, switch grass, Virginia rye and a native species of bamboo.
Students grew cranberry plants in a greenhouse before planting them into the wetlands' banks,
These are plants that the elementary schoolers are already familiar with, because they started growing the greenery last year at the Anne Arundel school system's greenhouse.
That greenhouse field trip was one part of the preparation for this big wetland project. Anne Arundel County's Arlington Echo environmental teachers also went into each classroom to gear the kids up. One of the teachers, Gerry Duket, greeted classes as Ms. Chesapeake.
"I came to their classes in costume, with a crab hat, underwater grasses and a shell necklace," says Duket. "We wrote a story about Edgewater history to help the kids understand how it changed over time from being a natural wetland area to farmland and a woodland stream."
Coming full circle, the kids learned, the area will return to wetlands once again.
"When it was a stream, it flooded," says Duket. "The kids remembered what happened with Isabel last year."
Kids are also sharing these lessons with their parents, says PTA president Laura Carr. "It's a win-win situation. The school gets an outdoor classroom, and Warehouse Creek gets cleaned up. Before, this was just a field."
On the minds of parents, too, was the danger posed by swift-running, polluted water.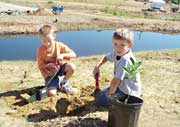 Students learn stewardship planting and tending native plants
"It's going to be much safer than what was here before," says Lou Ann France, who helped coordinate parent volunteers.
Before the festival of planting, the Arlington Echo team created a project that brings many lessons for students by helping teachers combine environmental lessons with math, reading, social studies and history. Students learn these related environmental lessons spread out through the year, not just one time.
"You can't just do a one-time thing: a 'feel and squeal' in the outdoors, where you feel good about an experience but it's superficial and short-term," says Barry. "Our staff goes into the classrooms and teaches, then we make it hands-on in the greenhouse, and with the plantings. That's what we find to be the most exciting part."
Students were glad to get their hands dirty while outside on a late-summer school day, as they put in the grasses, trees and flowers.
"The three-foot-high cedars that they plant today will be 15 feet by the time these kids enter high school," says Barry. Like the wetland absorbing the water, Edgewater's children absorb a positive environmental ethic.
"Stewardship is not just action," says Barry. "It's a sense of responsibility."