Dock of the Bay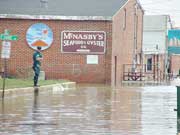 Museum Chair Looks Back and Forward

A year after Isabel tore through the area, the Annapolis Maritime Museum is taking a break.

With its building gutted and its collection scattered throughout Annapolis, you might think the museum had had enough downtime over the past year.

You would be wrong. The museum has been busier than ever.

"Isabel was a real blow," says museum chairman Buck Buchanan. "But we haven't let it stop us."

On September 19, 2004, Buchanan woke to the wrecked remains of the Annapolis Maritime Museum's two buildings: McNasby's Seafood and Oyster Company and the Barge House. Unrelenting winds had smashed the buildings; six feet of water had poured in.

A year later, engineering plans are complete for rebuilding McNasby's; specs were sent out for bidding earlier this month. Construction is scheduled to begin this fall and should be completed by spring.

As buildings rise, spirits recover.
"I felt terrible," says Buchanan as he remembers surveying the damage that day. "I knew we weren't going to be able to have the kids. There was this terrible regret that we weren't going to be able to do this anymore."

Before Isabel, the museum had been a popular spot for field trips, where kids could come and see the life their grandfathers lived as watermen.

Within weeks of Isabel, the museum — which had evacuated much of its collection before the storm hit — moved to a small office in Eastport to rebuild.

"I looked at all the damage with sorrow," Buchanan adds. "Sorrow for all the people and all the energy that was moving us forward."

From regret came commitment.
"I think what Isabel did was galvanize us," he says. "She stimulated us into action and was beneficial in the sense that you build committed staff in the face of something like this."

Buchanan calls what's happened over the last year a renaissance for the museum.

"Our membership has tripled," he says. "We've logged more than 2,000 volunteer hours."

With the excess energy, the museum has started the Chesapeake Music Institute to "preserve and present the indigenous music of the Bay with live music and CDs."

The just-ended summer concert series at City Dock is part of the institute. This winter, the museum continues its outreach with a lecture series on maritime lore.

In addition to the construction on the buildings, work on the docks is scheduled to begin in October. The rebuilt docks will jut out farther from the back of McNasby's than the originals to accommodate the water taxi that will travel between McNasby's, City Dock and Thomas Point Lighthouse. Next year, visitors can take the taxi out to the lighthouse to see it close up.

At the lighthouse — signed over to the City of Annapolis earlier this year and put under the care of the Museum — the Coast Guard is finishing work on the landing dock. In October, work parties with volunteers will travel to the lighthouse to make repairs.

Also, restoration of the park adjoining McNasby's and the Barge House will begin so canoes and kayaks can once again be launched from the property by spring.

All of this has been done while raising money to develop a Thomas Lighthouse display in McNasby's and to build an exhibit called Oysters on the Halfshell, which will be on permanent display, also in McNasby's.

So staffers are eager for the break they'll get September 19 at the Hurricane Party to commemorate the work over this past year. But it won't be all play. They'll also be signing up volunteers, promoting the museum and soliciting donations.

Post-Isabel, Buchanan says, "We're doing all we can to keep the museum active."

—Louis Llovio

---
Are rising seas resulting from climate change threatening to consume coastal communities like Smith Island?

Local Film Sounds Alarm on Sleeping Monster

Climate Changes Are Reshaping Chesapeake

"When you talk about global warming and you talk about ice caps melting, peoples' eyes glaze over," says Mike Tidwell. "The natural reaction is to shut down and deny it. It's too big and it's too freaky."

To Tidwell, the director of the three-year-old Chesapeake Climate Action Network, climate change is big and freaky, like an elephant under the rug.

To shine a spotlight on the lump, Tidwell has made a movie.

In it, climate change consumes the last island in Maryland's Chesapeake Bay.

We Are all Smith Islanders, which premiered in April, shows how rising seas can consume wetlands and, still hungry, make its next course out of low-lying solid ground.

Smith Island is a small Chesapeake fishing community whose dry land is being devoured by choppy waves, themselves offspring of global warming. In the film, Smith Island becomes the caged canary, whose fate reminds us that land-gulping water changes may rap on Western Shore doors soon, too.

"The Bay has already experienced a one-foot change in water level in the last 100 years," says Tidwell.

Thus in our own time, we're seeing at work the legendary forces that swallow up islands.

Of course, rising seas are only one of the ways climate change takes its revenge.

In Chesapeake Country, global warming raises water levels, erodes shorelines, fouls the air, makes heat waves hotter and brings frosts earlier. The changing climate may be the sleeping giant, but other related monsters are wide awake: erratic, wilder weather and more intense hurricanes.

Uncovering these clues of climate change in the Chesapeake region, the filmmakers followed many paths.

Anecdotal evidence along with the hard facts helps them tell the story of climate change in Maryland, too. Bearing
witness to the signs surrounding us are the voices of innocent bystanders: local watermen, scientists, environmentalists and public officials. A waterman interviewed in the documentary reports direct experience of global warming. Winters and weather are less severe than in years past, when ice used to prevent more boats from passing through. It's not just Smith Island: D.C.'s cherry blossoms now bloom three days earlier than in the 1970s.

The first goal of the film, says Tidwell, is to help people realize what this freakish global warming phenomenon is and to understand that global weather effects are snowballing, even if the effects aren't as noticeable as if we lived on Smith Island.

Then, lest his audiences' eyes glaze over, "To keep people from being overwhelmed, the film also tells them about local solutions."

The film motivates you as it provides actions you can take to help slow the environmental, economic and health effects. So you can be a hero in this story.

The most important individual action you can take is to drive an energy-efficient car, the film advises. Islanders also urges you to talk to your local leaders and insist that Maryland adopt clean energy solutions.

"It's also very easy to buy wind power," says Tidwell. "You can buy it no matter where you live, whether you rent or own."

The film sounds the alarm: but leaves you feeling empowered.

"Once people are truly aware," says Tidwell, "They can make changes in their personal life: Use energy-efficient light bulbs, refrigerators and cars."

We Are All Smith Islanders shows Wednesday, September 22, 7pm at Chesapeake Bay Foundation, 6 Herndon Ave., Annapolis; Free: 410-268-8816.

Also showing Thursday, September 23, 7pm at St. Mary's College Campus Center Theater; Free: 240-895-2000.

—Carrie Steele
---

Where Fauna (And Byproducts) Must Not Go

Q I found a dead creature by an indoor plant. It looks like a one-inch lizard, with froggy back legs and a long curvy tail. How do I send it to you for identification?

A We take insect and plant samples. No dead animals, please! However take advantage of our new on-line feature and send us a digital photo. This has proved highly popular for diagnosis as well as for identification. You probably encountered a baby lizard or salamander, both harmless.

Q Can I dispose of used kitty litter in my flower garden?

A No. The feces of cats can contain dangerous pathogens and should be avoided, especially by children and pregnant women. Dispose of used kitty litter in regular garbage. Unused kitty litter has many uses, but, please, discard used litter.

Ask the Plant and Pest Professor is compiled from questions sent to the website of the Home and Garden Information Center, part of Maryland Cooperative Extension, an educational outreach of the University of Maryland. Ask a home gardening or pest control question and find other help: 800-342-2507 (Mon.-Fri. 8am-1pm) • www.hgic.umd.edu.
---
Around Chesapeake Bay, scientists are coming to a conclusion that fishermen reached two or three years ago: There are too darn many rockfish competing for food. Referring to the declining survival rate of striped bass, Delaware state biologist Desmond Kahn told the Associated Press: "We've got a rare case of a species coming back to high abundance and are now seeing things that may be problems caused by this high abundance."…

In Louisiana, soldiers at the Army's Fort Polk have been doing some unanticipated duty: More than 100 of them, assisted by trackers, trappers and military helicopters, have been searching for a Bengal tiger that apparently escaped from a private keeper …

In San Francisco, the maker of Dockers clothing discovered in a poll that no matter your political party, the people don't like their politicians sweaty. The poll accompanied a new line of Perspiration Guard shirts, which were provided to two politicians with reasons to sweat: President George W. Bush and Sen. John Kerry …

In Britain, scientists are developing a robot that puts any bug-zappers to shame. The robot, called EcoBot II, generates its own power by eating flies. But there's a problem scientists haven't solved. Barring a bioengineering solution, it will take raw sewage or human waste to attract the flies. And who wants a smelly robot stalking about?…

Our Creature Feature, for the first time ever, comes from Transylvania, where there's a problem that Maryland kids could only dream about.

No, it's not vampires. It's about 30 brown bears that have become so fearless in this Romanian mountain terrain 100 miles north of Bucharest that they're attacking pets in broad daylight. Local officials are so worried that they were considering delaying the school year, which was supposed to begin on Wednesday. Stay tuned.