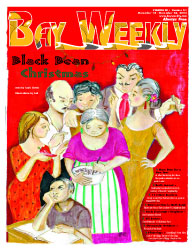 On Our Cover
Black Bean Christmas
Original watercolor by Annapolis artist Lali
"It doesn't matter where we're from," said my grandfather, in his hand a glass from the bottle of rum that had been passed around the table. "What matters is we're together with the people we love."

More Days for a New Year
They missed our deadline but these Chesapeake calendars
are too good to miss
by Louis Llovio

In Washington, Chesapeake Bay's blue crabs win friends at the National Zoo…
and Green Party's Ralph Nader, spoiler in the '00 presidential elections, says there's a "high probability" he'll run in '04…
From Austin, glow-in-the-dark, genetically engineered tropical fish now on their way to pet stores…
This week's Creature Feature: In New Jersey, the state's first black bear hunt in a third of a century scores 328 dead bears — and a public relations nightmare.