Dock of the Bay
More Days for a New Year

In after the buzzer, but these Chesapeake calendars are too good to miss
In after the buzzer, but these Chesapeake calendars are too good to miss
Annapolis with Love

Artist Daniel Vong's 2004 wall calendar, Annapolis with Love locates sweetly caricatured people in watercolor scenes of Annapolis' familiar places: the Bay Bridge, Annapolis City Dock, the Naval Academy, the U.S. Sailboat Show, First Night Annapolis and more. But in October, there are no people. Instead, an array of shoes lines up on the dock at Boat Show.

Familiarity and a good eye for local color make this calendar a fond trip through the seasons of our capital.

Purchase calendars for $19.95 at four Annapolis locations: Anne Arundel County Visitors Center, The Museum Shop, Chesapeake Trading Company, and Tin Can Allee.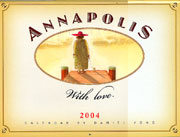 Chesapeake Bay Retrievers
Longing for the dog days of summer won't get you far in the middle of winter. However, the Chesapeake Bay Retrievers 2004 wall calendar will lend a best friend for every season. Puppies and adult retrievers at work and play all put their best paw forward.

Willow Creek Press, Minocqua, Wisconsin. $11.99: 800/850-9453 • www.willowcreekpress.com.

Chesapeake Beach

Each year, the town of Chesapeake Beach assembles a photo chronicle of the past year, where, says Mayor Gerald Donovan, "we showcase our citizens, show off our photographers and boast about the way of life in Our Town."

We can't tell you what you'll see in 2004, because the town keeps its calendar under wraps until December 20. We do know that this yearly tradition will be worth the wait if last year's calendar — which took us from the Calvert Cliffs to the views and people of Chesapeake Beach — is any indication.

Town residents receive theirs in the mail. Live elsewhere, and you'll need to swing by Town Hall for a copy. 410/257-2300 •
www.chesapeake-beach.md.us.



Maryland
With pictures by former National Geographic photographer Steve Uzzell, Maryland is a trip through the seasons and the natural bounty of the Free State. From Baltimore's Inner Harbor filled with sailboats on a summer afternoon to Calvert Cliffs State Park on a crisp autumn day, this calendar is for those who take the lyrics of "Maryland, My Maryland" to heart.

It's too late now to take advantage of a special feature of this calendar: It's a 16-monther, beginning in September. But that was September, 2003. Still, you'll find the 12 months of 2004 ahead pretty enough to pay the price.

Graphic Arts Center Publishing, Portland, Oregon. $13.99. Available at local bookstores or on-line at www.gacpc.com.


Save the Bay
It's not just a slogan. It's also a plea for help. Chesapeake Bay needs all of our help, and signature Bay photographer Marion Warren is doing his part. He's donated several of his first-time-printed color photos of the Bay to Chesapeake Bay Foundation's 2004 wall calendar.

The single-sheet centerfold opens up to reveal two large Marion Warren photographs bracketing the 12 months of 2004 at a glance, making this a good calendar for those who want the big picture. On the flip side, you'll learn how to work with Chesapeake Bay Foundation to help save the Bay.

A small initial print run has been given away, so you'll have to know someone to get one.

— Louis Llovio

---
111/2-Hour Reprieve
Surely a Wye Oak leaf pin is as good an engagement ring

I've gotten a lot of grief since writing last week that instead of getting my longtime girlfriend an engagement ring for Christmas I had decided to buy her a sweater.

Because of the negative reaction, mostly from co-workers, her family and, well, her, I have changed my mind.

So as not to spoil the surprise, I hope she is not reading.

I am still not buying her a ring, but I have found a nicer gift.


I am buying her a Wye Oak leaf pin.

This gift, straight from the 460-year-old Wye Oak, is an actual leaf from Maryland's Quiet Giant, which survived the Revolution and the Civil War but was felled during a thunderstorm in June 2002. At 104 feet tall and 32 feet around the base, this two-ton behemoth was the largest white oak in North America at the time it fell. But rot and age left it so vulnerable that an armature of wires helped hold it up.

The great white oak was in full leaf when it fell. Along with 20 logs of salvageable wood, many leaves were saved. Some have been covered in copper, finished in green-and-blue patina and made into pins. They range from two to five inches and from $36 to $76.

This gift is rare, has a sense of history and benefits the Maryland Department of Natural Resources. More importantly, it's sure to get me out of the doghouse.

Order on-line at www.wye-oak.com.

— Louis Llovio

---
Earth Journal
Redheaded woodpeckers move in, courtesy of beavers and engineers
On a small tributary of the Patuxent River in southern Anne Arundel County, about a quarter mile from the confluence of the small stream and the big river is a beaver dam. On the upstream side of the three-year-old dam, water spreads about 300 yards, covering the flood plain. The pond, created by the spreading water, drowned the roots of the red maples and other trees that used to grow there.

Eventually the pond will fill in and the beavers will look for another stream where they will repeat a pattern: Cut trees, build dams and lodges, move on when the pond fills in. Hundreds of years ago, before Europeans arrived, beavers were abundant and the wooded streams that made beaver habitat were plentiful. So beaver populations had a fairly easy time finding new places to build their dams and lodges and could live for a number of years before moving to another new place to repeat the pattern again.

Beaver pelts were one of the most valuable animal products to early settlers, so valuable that beaver populations were wiped out as trappers pushed westward. For centuries thereafter, beavers were largely absent from places that bore such names as Beaver Falls, Pennsylvania; Beaver Creek, Colorado; Beaver, Oregon and Utah. In recent decades, beavers, like white-tailed deer, have experienced dramatic population revivals, so they increasingly come in conflict with humans.


artwork by Gary Pendleton
But today's story is about the redheaded woodpeckers that have taken up residence at the beaver pond. Nobody could have predicted their arrival, though I, for one, hoped they might discover the stand of dying trees. I have observed that a few years after engineers — beavers or human — create a new, wooded, wetland, it seems to become ripe for this wandering species. Within a year or two, maybe sooner, they move on. Their leaving might be spurred by competition with other birds or by habitat changes as the dead trees decay.
Redheaded woodpeckers are common in southeastern states, less so here in Maryland. They are considered in decline due to loss of habitat and because of competition for nest holes with starlings, a species originally from Europe but introduced here centuries ago.
Today, on Two Run Creek, two small communities of beavers and woodpeckers share a tiny spot on the map, a small place in time. But that is just a snapshot. In reality, their communities exist over time. Previous generations lived elsewhere, and the next generation will to need to occupy a different place to survive.
A healthy environment for woodpeckers and beavers — as well as frogs, salamanders and other species, including plants — has more than isolated habitats. A healthy environment offers resilience. That means habitats with adequate buffers and corridors to connect one habitat with others. A healthy and resilient environment has surplus; it provides refuge and room to expand. Through conservation efforts to preserve resilience in the environment that we share, we gain the opportunity of experience. We receive the gift of seeing, nearby, the lives and the patterns that we hope will continue indefinitely.
— Gary Pendleton

---
The Train's on Time in North Beach
Tickets are free on Tom Crockett's 13 miniature lines
Tom Crockett has a hobby.

It's a hobby that many people share, for at Tans Motorcycles in North Beach, Crockett sets up his hobby for perfect strangers to admire.

This time of year, model trains displace the motorcycle dealer's wares. His huge showroom is crisscrossed by 425 feet of track supported by 900 feet of wire on a 20-by-20-foot table displaying 13 separate trains, four working villages, two working waterfalls and a functioning airport.

"So many people came last year," says Crockett amid his toy trains, "that we needed to keep it up until March. We had been planning to put it away at the end of January."

In its fifth year, Crockett's display has grown from a small table behind the counter to today's railroad sprawl.

"People kept us asking about it," Crockett says with a quiet shrug. "So we moved it to the front so they could see it better."

Whatever trains ask, Crockett will give.

Crockett and his friends labor a full week from noon until five in the morning to put the exhibit together. The first day is spent bringing the 75 panels down from their specially built storage room he added over the back of the shop.

"It's worth it," says the hobbyist. "People really like to see it and enjoy it."

Crockett's fascination grew from his childhood visits to the department store windows full of working trains and Christmas scenes.

"Nobody does that anymore. So I figured I would."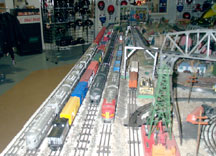 photo by Louis Llovio
More than 400 feet of track carry 13 trains through Tans Cycle Shop in North Beach each Christmas.
The invasive display grew from Crockett's personal collection, including the first train his grandfather gave him, in 1956. It keeps growing with gifts from entranced visitors. One railway buff sent a model truck that she had given to her children many years ago. When they outgrew the model, she wrote, she couldn't think of a better place for it than Crockett's little world.
More than 3,000 enthusiasts, including a tour group from England, visited last year.
By far, though, Crockett's favorite visitors are the children.
"Kids really seem to love it," he says. "They stand and just watch and have so much fun."
All this must cost a fortune.
"Wow," says Crockett, looking over the scene spread out in front of him. "I have no idea. But the love it's given is priceless."
— Louis Llovio

---
In Washington, the National Zoo is doing its part to publicize the plight of Chesapeake Bay crabs. A new blue crab exhibit highlights the crustacean's life cycle and the threat to its existence from water pollution. The zoo is open until 6pm every day except Christmas into the new year …
Also in Washington, reviews were mixed when consumerist Ralph Nader declared last weekend that there's a "high probability" he will run again for president in 2004. Many Democrats believe that Nader cost their party the White House in the last election …
In Austin, a company called GloFish plans to begin sending glow-in-the-dark, genetically engineered tropical fish to pet stores immediately. The FDA said last week it wouldn't regulate the gene-altered fish even though some scientists worry that they might pollute the gene pool of wild fish if the mutants escape or get flushed down the toilet …
Our Creature Feature comes from New Jersey, where the state's first bear hunt in a third of a century concluded last Saturday with at least 328 dead bears and the scandal of a wounded cub dying in a very public way.

The state Division of Wildlife authorized the six-day hunt to trim a population of about 3,000 bears, some of which were aggressive. Critics note that an inordinate number of females were shot — nearly two of every three were females — and their cause was aided when a mortally wounded cub staggered out of the woods and died along a busy highway. When anti-hunt activist Lynda Smith was told her views were extreme, she replied: "The crazy extremists are the ones in the woods, killing cubs."