I am not like other people. I don't look like they do, I don't think like they do, I don't dress like they do and I surely don't speak like they do.

I am 12 years old, and I am a Cuban.

Once Thanksgiving has passed, the malls fill with jolly holiday shoppers singing along to Christmas carols playing over PA systems. I am not like any of them.

My schoolmates' families shop at the mall; my family cleans the bathrooms and wipes down tables in the food court.

It's hard enough to fit in when you are 12 years old. It's impossible when you are 12 and the only one in your family who speaks English.

The toughest thing about being an immigrant's child during the Christmas season is being an alien in the only world you know. My parents have the old world they can dream of fondly, remembering better days.

These are my better days.

Dreaming of My Own Christmas
"Do you think Santa is going to bring you what you asked for?" my brother asks me.

"I hope he brings me my own bed. Go to sleep."

I hate Christmas Eve. The Christmas I want isn't in this dingy little house or my cramped bedroom with bare walls and no carpet.

The Christmas I want is far away in one of those magical houses on the water.

"You're not very nice."

"It's not my job to be nice. Go to sleep."

"I didn't ask for a lot," Albert said minutes later. "I know Santa has a hard time carrying all those presents. That's why he can't always get us everything on our list."

"Shut up or I'm going to tell Santa not to leave you anything. I'll tell him you were bad all year long and didn't listen to your elders. Me specifically."

"He won't listen to you. You're a kid, too." There was enough doubt in Albert's voice that I knew even if he didn't go to sleep he would at least leave me alone.

I dreamed that night of what our life would be like if we were normal people. I saw my mother in her handsome new dress, her hair pulled back and serious, the permanent smile shining bright as she slips in and out of the kitchen where she is preparing the meal she has slaved over for days. I can almost taste the turkey and the sweet potatoes; the sweet smell of baking bread fills the house.

In our book-lined living room, I am playing with my new toys, and my father in his fine leather chair is warming himself by the roaring fire. Behind him, through the picture window, snow falls on our little parcel of land, covering with a light dusting the wooden jungle gym that came last Christmas.

In a little while, cousins, aunts, uncles and grandparents who have flown in from exotic worlds like Boston and New York will join us to sing Christmas carols over the piano my mother plays. We will toast our blessings over eggnog — grandpa's with a little something extra in it this year since he isn't driving — and beg mother to let us grab our sleds and head out back to slide down the hill that connects with our neighbor's property.

She refuses with a smile. "Today is Christmas," she'll say, "and you can't get your clothes wet. Tomorrow." she'll say. "Tomorrow you can sled to your heart's delight."

Even in my dreams, I measure the hours until morning, counting as slow as I can because — as much as I want to glide through the snow — I don't want my magical Christmas to end.

A Real Christmas
Albert runs down the stairs at the crack of dawn; at least it seems like the crack of dawn.

"Santa came, Santa came!" he shouts. I bury my head under my pillow.

With every new discovery comae a new burst of excitement, which drives me deeper under the comforter.

By the time my mother comes into our room, I am crouched in the fetal position in the far corner of the bed, nearly suffocating myself.

"Merry Christmas, Luli," she whispers, walking over to where I lie, pretending to sleep. "Come on, mi hijo, we need to get downstairs. I don't know how much longer your brother can wait. And your father has to go to work this morning."

My father, who sells cars at a used car dealership on West Street, has volunteered to work part of the day today. With my mother, brother and I, plus my grandparents and my father's aunt all living under one roof, he needs every sale he can get.

I stir, acting as if I am barely awake. "Start without me. I'll come down later."

"No, baby. Now."

If I ignore her, maybe she'll just go away, I think with the logic of a 12-year-old boy.

It doesn't work. "Luli, it's Christmas morning. Get up."

She tears the comforter off me. "You will not make me angry today. Get up and get downstairs."

I roll out of bed, knowing better than to push my luck but with enough gruff from my barely formed Cuban machismo to let her know I am none too happy to be up.

"Now tell your Mami Merry Christmas and give her a kiss."

Downstairs my father is restraining Albert while my grandparents look on, amused. Whenever Albert turns to look at one of his presents, my grandfather playfully encourages him with a nod of his head to go after it.

Neither my father nor grandmother seems amused by this.

My great aunt is never amused.

They welcome me with kisses and jokes about my tardiness. My grandmother squeezes tighter than usual. "Merry Christmas, mi Luli."

Everyone calls me Luli, from my grandparents on down, and I hate it. My name is Louis. Not Luis and definitely not Luli. But when my grandmother calls me her Luli and holds me close, the smell of her perfume heavy even on her nightgown and robe, it's okay, and it makes days like this one a little easier.

I need the help. In a few hours, the house will fill with my aunt, uncle and cousins, and the party will start, the sound of Spanish will fill the air almost as thick as the smell of the heavy exotic food.

I wish I could go back to bed.

Preparing the Feast
When the neighbors saw my uncle digging a hole in 20-degree weather yesterday, they probably thought he was crazy. When they see him roasting a pig over hot coals today and begin to smell the lemon and garlic as it roasts and seeps into the pig, they probably will think we are crazy.

Albert, Annie and Rafael chase each other around the backyard as far from the pit as they can get.

In the kitchen, my mother, aunt and grandmother prepare the feast.

A pot of yuca — a starchy potato-like root — boils on the stove while mother and aunt cut a mountain of plantains — a sweet banana — they will drop in a pot of boiling oil when the meal is close. Enough rice to feed a small village cooks on a back burner.

My grandmother stands over the stove, frying chopped-up garlic cloves, onions, bacon and bay leaves, swirling them in the pan with the wooden spoon she will smack our hands with later when we try to sneak a plantain. The contents from the frying pan will be poured into the vat of black beans that had simmered overnight.

The overpowering smell of the garlic and onion fills the house.

In the living room my grandfather talks politics with my great aunt, playfully goading her, disagreeing with her as she becomes more and more animated. On the coffee table is his first beer of the day. He grabbed it out of the refrigerator as the clock struck one, the hour my grandmother allows him his first beer on a holiday. He will nurse it for hours, unlike my uncle who seems in a race against some invisible force to see who can drink the most.

I sit on the stairs reading from a collection of short stories by Hemingway that my grandfather gave me for my birthday this year. "You know he used to live in Cuba," my grandfather says proudly every time he sees me with the book.

"Si, Wiwito," I roll my eyes. "You've told me this before."

He smiles and gives me a kiss on the forehead, "Be proud, Luli."


The Outsider
Sitting on the stairs with my book, I feel terrible.

Even in my own home with my own family I feel different, like an outsider.

"There is nothing wrong with being Cuban," I try to tell my mother when she gets mad with me because I'm walking 100 yards behind her and my aunt at the mall. "But we're not in Cuba."

That's when she lets me drift back again, stops, turns around and shouts in her loudest voice: "Luli, catch up so you can hold your mother's hand."

She shouts it in Spanish and English so as to embarrass me completely.

My greatest fear is meeting a girl I like and having to bring her home, or worse, having her family invite mine over. Visions of that fiasco keep me up at night.

All I want is to be normal, to blend into a crowd and get swallowed up in a sea of sameness. I want to be able to go to the grocery store and not stand out because my mother and grandmother speak a strange language.

When I translate at the doctor's office for my grandparents, I bury my head in a book in the waiting room and pretend I am with another family while my grandparents speak to me. When they are finally called and we make that long walk from our chairs to the door, I can feel every eye on me.

Even at 12, I know that I am going as far away as I can to college.

Christmas Dinner
Our table isn't large, but somehow we manage to fit 13 people around it. As if room weren't already an issue, my father brings two co-workers home for dinner.

Mounds of steaming fried plantains, mountains of rice and black beans and sliced roast pork are piled high on mismatched serving dishes and bowls. The noise is deafening as they all battle to be heard. But that doesn't slow the rate at which we eat. For the first time, I keep up with the men when it comes to intake, but after the third plateful I have to give up.

"No seas cobarde!" my uncle shouts after I turn the fourth plate down — Don't be a coward.

"I can't, uncle."

"Call me tio," he says.

I look down at my empty plate.

"You see this one," my uncle says to the table, pointing at me with his paw of a hand. "He's too good for us now. He forgot his roots. He's an American now."

"We're all Americans," my grandmother says, more as a statement than in my defense.

"We are," my uncle responds. "But we are still Cubans."

"I'm an American first," my father pipes in, "but a Cuban always."

"Why can't you think more like your father?" My uncle laughingly taunts me.

"It doesn't matter where we're from." My grandfather stands up, in his hand a glass of rum from the bottle that had been passed around the table. "What matters is we're together with the people we love."

The table cheers and glasses clink.

"I'd be happy if we were on the moon as long as I was with you people!" my uncle toasts.

"You have another drink and you will be on the moon!" my aunt chides.

A roar of laughter rises from the table, my uncle laughing the loudest of all.

I smile softly.

Christmas Gifts
My cousins and Albert open their gifts from Santa in the morning, so after dinner it is the adults' turn to open theirs.

In the last few years, the family made two discoveries that changed our Christmases forever. I benefited from one of these advances.

The first discovery came when my father's car dealership invited him to a Christmas party two years ago. He was a car washer back then, when his boss handed him a flyer with all the details of the party. On the bottom of the flyer he read that this year they were going with a secret Santa.

He thought that meant they weren't going to tell anyone who was dressing up as Santa at the party. It was going to be a surprise.

He was upset when only one person, a grumpy old woman in accounting he didn't even know, gave him a gift. He had spent $100 he didn't have on gifts for coworkers.

After he figured out how he had been bamboozled, he brought secret Santa home. All the money the adults saved went for the kids, which is how I benefited.

The second discovery was the dollar store.

I enjoyed getting most everything on my list last year and looked forward to abundance again this year. Then my mother decided that a 12-year-old should know the truth about Santa.

She was so scared of breaking my heart with this devastating news that I couldn't bring myself to tell her I'd known for four years. On the downside, it meant that this year was my turn to be bamboozled.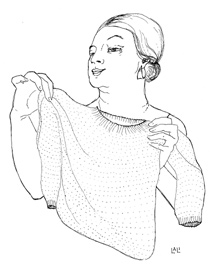 My great aunt Eloisa, a notoriously bad gift giver, has drawn my name, which is great fun for the adults who call having Eloisa as my secret Santa my initiation into adulthood.

"For everybody else we set a maximum so they don't spend too much," my uncle laughs. "For her we set a minimum!"

The adults are having a rollicking good time opening their cheap gifts with the joy of five-year-olds. Each year I hear about people going to bed hungry in Cuba and how they lack all the modern necessities we take for granted. These cheap dollar store gifts mean more than diamonds because they are the bittersweet symbols of the freedom we have.

I feel guilty for being angry that the only gift I get is the book 999 Things to Do In Case of An Emergency instead of a new bike. I am angry with myself for being ungrateful, but I am also angry that I have to ride my thrift store bike one more year.

"Te va a salvar la vida un dia," Eloisa, sensing my unhappiness, says with conviction. This book will save your life one day.

Grandpa's Wisdom
"Que te pasa, mi hijo?" My grandfather asks me. What's wrong, son?

I shrug.

I am sitting on the back steps, the smoldering coals from the open pit keeping me warm.

"Can I join you?"

I slide over on the step to make room for the big man. He sits with great effort. At 76, this former dockworker is not as strong and agile as he still thinks.

He holds the remains of his cigar between his fingers, the overpowering smell of it on his clothes.

Inside, the party is getting loud. The music plays at full volume as the adults, now that the kids are asleep, dance and sing.

The neighbors will end up calling the cops, I think.

"You know, mi hijo," my grandfather says. "You're not alone."

"I know that, Wiwito."

"We're all lonely here, we all miss home."

I try to figure out how this funny old man and his cigars could ever be lonely. "The problem is, this is my home."

"You're right, it is your home," he lets out a warm understanding laugh. "Do you hear those people in there?"

I roll my eyes and nod.

"Those people in there think you are the luckiest person on earth."

"How can you call me lucky? Seven of us live in a house that's falling apart. My father works on Christmas and my mother cleans bathrooms. The only gift I got for Christmas is a book on what to do in an emergency."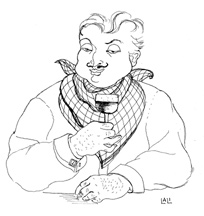 "Getting picked by Eloisa was pretty unlucky," he laughs again and chomps on his cigar as he stares into the pit. "Do you know why they think you're lucky?"

"I have no idea."

"Let me let you in on a little secret. Every single person in this house from your grandmother down to your cousin Annie wishes they were somewhere else for Christmas. They all wish we were down in one of those fancy houses I see you ogling. They all wish we got better gifts and wore nicer clothes. We all wish we didn't stand out in shopping centers. Every single person in this family wishes we were living another life. But do you know why they think you are so lucky?"

"Why?" I ask, taken aback by this revelation.

"Because you, mi hijo, as the oldest, are the first one in this family who will be able to live this life we all dream about. It is in your power to make all those dreams come true. Everyone in there knows that they will never get to, but they work hard and sacrifice everything they have so you can. Don't be embarrassed by them, by us, by who you are. We are all here so you can have a better life."

A roar of laughter comes from the house.

"How can they be so happy?"

My grandfather puts his arm around me and kisses me on the forehead. "I have something for you, but you need to understand one thing first."

"I'll try."

"Those books you read, they hardly ever talk about how families love each other. When you grow up and write books, I want you to write about positive things, about love, about hope, about families. Use the gift God gave you for good. Write about those people in there who gave up everything, who struggle for their children. Write about these people, Louis. They are happy because they are together. Rich or poor doesn't make a difference to them. They are together and that is all that matters. Write about that and make sure the world knows that these strange olive-skinned people talking funny in the shopping centers are good, hard-working, proud people who gave up everything for their children."

I nodded. "I promise, Wiwito."

"Good."

He leads me into the house, past my crazy family and up the stairs. My father dances with my great aunt who, in spite of herself, smiles, and my grandmother tries to grab me for a dance, but my grandfather saves me.

I sit on my grandfather's bed as he rummages through his closet.

"A-ha," he finally says, pulling out a large, beige box that lowers the bed half an inch when he lays it down.

Inside is a simple, old-fashioned, steel gray Royal typewriter.

"Thank you, Wiwito," I say, throwing my arms around his neck.

"You need this more than me," he says. "Find what you're looking for through these keys."

Christmas Today
My grandfather would have been a hundred this year. He hung on for several more Christmases, enough to embarrass me by dancing with the first girl I brought home for the holidays.

She didn't mind. I, of course, did.

But I don't anymore.

As I write this, pressing down on those impossibly hard keys from the old typewriter, I look out the window and see the life I dreamed of.

I don't have a fancy house on the water like I thought I would, but somehow that's okay. This one will do just fine. My son running around downstairs playing with his gifts is more than I could ever have asked for.

My fiancée — she'll be my second wife; after all I am a writer — is running around trying to get everything ready.

My aunt is coming this year; it's her first Christmas alone. My cousins and their kids are coming too.

Albert is in Florida with his family, so we'll exchange a phone call.

My parents, who live a few miles down the street, are already here. My mother rang the doorbell at 6:45am and woke us all. She had to be here to watch Duncan open his presents from Santa. He's 12, and she thinks maybe it's time I told him there was no Santa.

Though I've had my share of good times and bad, I have to admit I'm a lucky guy — though luck had nothing to do with it. I had good people who loved me very much and sacrificed everything so I could have this life.

I would give everything I have for just one more Christmas in the old house, though. To hear my uncle's laugh, to smell my grandfather's cigar. I'd like to thank them all and tell them I love them. More than that, selfishly, I'd like to go back and enjoy myself with them and not worry about what anyone thought.

I even wish Eloisa, who didn't make it to the next Christmas, would be my secret Santa again.

For now, the smell of chopped-up garlic cloves, onions, bacon and bay leaves is coming in under my office door. That's the sign I've been waiting for: My grandmother is in the kitchen making black beans.

It wouldn't be Christmas without black beans.