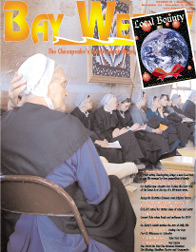 On Our Cover
Stitches of Awe
Photo by Betsy Kehne
As English bid and covet from the hard-worked folding chairs that are the center seats, Amish watch from the sidelines. On a long bench, matriarchs sits amidst a row of daughters and their babies. The dark colors, mostly black, of Amish dress make a foil against which the rainbow-hues of the quilts play.

by Nancy Hoffmann

For Phil and me, this Thanksgiving brings a new home, a new life warmed by four generations of family under our roof.
Bay Life ~ A Head in the Clouds
by Maureen Miller
For Smithsonian scientist Jess Parker, the best view of the forest is at the top of a
28-meter crane.

Counting Isabel's Blessings
Annapolis Maritime Museum sees brighter future
by James Clemenko

In Virginia, preserving land like Maryland used to…
In Washington, can Congress say Blue Ribbon Commission on Chesapeake Bay Nutrient Pollution Control Financing?…
In Spain, hundreds mourn the death at the Barcelona Zoo of Snowflake, a unique 310-pound albino gorilla…
This week's Creature Feature: In Hong Kong, Aussie crocodile hunter John Lever's caught no croc yet. Read updates here.