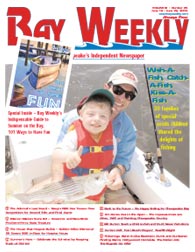 On Our Cover
Wish-A-Fish, Catch-A-Fish, Kiss-A-Fish

photo by Eric Smith

Five-year-old Brighton Ditter — with rockfish and First Mate Kevin Farrell of Sandy Point — gives thumbs up to signal his approval of a day of fishing on board Old Yeller with Captain Dan Adams.
Art Comes Out in the Open
by Karolyn Stuver
Remember the Impressionists? You'll see the newest generation out and about Chesapeake Country, painting in plein air and — if you hurry — showing the results at McBride Gallery.
Bay Life:
Celebrate the Solstice by Keeping Track of Old Sol
by Sonia Linebaugh
Whether or not your attentions propitiate the sun, you'll gain new understanding of time.


The Admiral's Last Stand
Navy's NBA star towers over competition for second title and final game
by Louis Llovio

Back to the Future
No happy ending for Chesapeake Bay
by James Clemenko
Marion Warren Turns 83
Governor — and new book — proclaim him a state treasure
by SOM
Wish-A-Fish, Catch-A-Fish, Kiss-A-Fish
30 families of special needs children shared the delights of fishing
by Eric Smith
The House that Hospice Builds
Robbie Miles Memorial 5K covers $8K in race for hospice house
by Lauren Silver
Way Downstream

In Virginia Beach, there's a shipwreck mystery at the Lynnhaven Inlet…
In New Zealand, good Samaritan done in by whale he hoped to rescue…
This week's Creature Feature: In Belgium, Parc Paradisio recreates a tropical bird forest in a cold and rainy land.