N
o
t
J
u
s
t
f
o
r
K
i
d
s
Plant a Butterfly Garden
by April Falcon Doss
Butterfly gardens attract butterflies to your yard, and they give butterflies a safe place to find the nectar they need. Butterflies can't always find the plants they like in the wild anymore — but they'll be able to in your butterfly garden.

The first butterflies will likely come into your yard as soon as the first flowers in your butterfly garden start blooming!

How to Plant a Butterfly Garden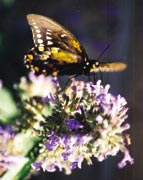 Butterflies love flowers. They love the bright colors that help hide them from birds and lizards that want to eat them. They love the yummy nectar from the flowers.

Adult butterflies have taste buds on their tongues, but females can also tell what kind of plant they're standing on by using sensory structures on their feet. If you plant flowers in your yard that butterflies like, you're guaranteed to get some winged visitors.

Butterflies like two kinds of flowers, though some flowers are both kinds.
Host plants:
Butterflies lay their eggs on plants that caterpillars — remember, caterpillars hatch from butterfly eggs — like to eat. To keep butterflies through all of their life stages, be sure to plant host plants.

Edible host plants include parsley, carrot, dill, celery, alfalfa, pea, buckwheat and wild strawberry.

Flowering host plants include violets, milkweed, pipevines, butterflyweed and Queen Anne's lace.



Nectar plants:
Adult butterflies like to sip nectar from these flowers. If you plant only these, you'll still get butterflies in your garden, but they won't lay their eggs there.

Edible nectar plants include alfalfa, mint, wild strawberry and blueberry.

Flowering nectar plants include buttercup, butterflyweed, goldenrod, dogbane, clover, asters, mountain laurel, purple coneflower, black-eyed susans, milkweed, viburnum, lantana, phlox, thistles, azaleas and petunias.

If you want to attract a particular kind of butterfly, fill your garden with the host and nectar plants that they like the best.

If you want to attract a range of butterflies, then the plant possibilities are nearly endless. (Many caterpillars and butterflies even prefer to eat sap from trees, such as oaks, and don't need garden plants at all.) Find out what butterflies like what kinds of plants by logging onto the U.S. Geological survey's website: www.npsc.nbs.gov/resource/distr/lepid/bflyusa/md/toc.htm.
---
Kids Calendar
Friday, June 20
Spot a Ladybug
Kids ages 3+ listen to a story and create a construction paper garden filled with ladybugs. 10am @ Barnes & Noble, Harbour Center, Solomon's Island Rd., Annapolis. free: 410/573-1115.

Saturday, June 21
Horseshoe Pit
Kids of all ages come with families to talk about and see the arrival of egg-laying horseshoe crabs. Wear shoes and clothes for the beach. 9-11pm @ Flags Pond Nature Park, Solomons Island Rd., off S. Rt. 2 & 4, Lusby. $3 per person; rsvp: 410/535-5327.

Sunday, June 22
Make Music
Kids ages 12+ get help from Park Ranger Brian Hughes in building a bamboo wind chime to take home. 1pm @ Kinder Farm Park, Kinder Farm Park Rd., Millersville. $5; rsvp in person at Park: 410/222-6115 • www.kinderfarmpark.org.

Making Sense of Nature
Kids ages 5-7 use your senses to discover which tree has leaves that smell like cereal. 1-2pm @ National Wildlife Visitor's Center, Powder Mill Rd. off Baltimore-Washington Pkwy. and Rt. 197. free; rsvp: 301/497-5887 • patuxent.fws.gov.

Tuesday, June 24
Brain Benders
Kids of all ages don't do magic but science with the Maryland Science Center's Traveling Science Program. Push a straw through a potato and all other sorts of tricks. Parents bring a camera. 10am @ Southern Community Center, Appeal Lane (off Rt. 765), Lusby. free; rsvp: 410/326-5289.

Wednesday, June 25
Family Read
Kids in grades 4-6 read and discuss Sarah Buckley's Enemy in the Fort. 7pm @ Calvert Public Library, 30 Duke St., Prince Frederick. Books and event free: 410/535-0291 • www.calvert.lib.md.us.