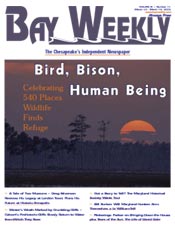 On Our Cover
Celebrating 540 Places Wildlife Finds Refuge: Three eagles watch from high in tall trees as the sun sets at Blackwater Wildlife Refuge, the largest of Maryland's three (or five, depending on how you count them) national wildlife refuges. Photo courtesy of U.S. Fish and Wildlife Service.
Bird, Bison, Human Being Celebrating 540 Places Wildlife Finds Refuge
by Sandra Martin and Martha Blume
One hundred years old this week is our national wildlife refuge system, a national network of lands and waters where fish, wildlife, plants and their habitats are conserved, managed and restored for the benefit of the nation and generations to come.


A Tale of Two Museums
Greg Stiverson reviews his legacy at London Town; plans his future at Historic Annapolis
by Sonia Linebaugh

Winter's Wrath Marked by Crumbling Cliffs
Calvert's prehistoric cliffs slowly return to water from which they rose
by Kathy Reshetiloff

Got a Story to Tell?
The Maryland Historical Society wants you
by Sara Kajs
Way Downstream,

In Virginia, zebra mussels invade Prince William County, alarm wildlife managers…
On the lower Chesapeake, Army Corps of Engineers recruited to save the landmark New Point Comfort Lighthouse…
In Baltimore, EPA refuses to help National Aquarium clean up the Patapsco River's Middle Branch site long planned for its Center for Aquatic Life and Conservation…
This week's Creature Feature: In Virginia, leaping, love-hungry lizards come out to court.