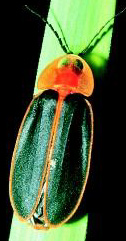 Male firefly.

photo: Tanian Country Government, Taiwan

Silent Thunder for the Lightning Bug

July's Firey Skies: Filled with Fireflies

by Eric Smith
With a clap like thunder, showers of light flush the sky and rain down like shards of exploded planets. Boats honk and people ooh and aah at Fourth of July fireworks.

But another, soundless light show goes on through the evening. Through the trees and bushes, over the fields and beaches, neon flashes flicker by the thousands. Like blinking clouds, lightning bugs rule the night.

On July 4, these small, harmless beetles will nap through the day in bushes and on the undersides of leaves, their flashes invisible, drowned by the sun. As we parade, they rest up for their nighttime celebration.

As night falls, fireflies begin to buzz. Emerging in the dusk, they silently call each other in rhythmic flashes. Females settle on branches or blades of grass and flash the same signal over and over. Males search for the right signal, calling back.

As our sparklers flash and hiss in the darkness, the firefly congregation reaches its fullest. By the time our ritual fireworks are over and evening slides into deep night, the flashy fly show is winding down.

If you missed the lightning bugs, too wrapped up in the much noisier human light displays, do not despair! They don't parade for one day only. Their seasonal celebration lasts the whole season long.
---
What Makes the Fire in a Firefly?

A chemical reaction makes fireflies light up. The insect's abdomen is full of holes through which oxygen travels. This oxygen reacts with a chemical called luciferin. Another chemical called luciferase acts as a catalyst, which means it speeds the reaction up. The reaction releases light, making fireflies glow neon-yellow.
---
A Jar of Fireworks
Enjoy the show.

Let them Go.

Collecting our flashy friends in containers and watching their light show is lots of fun. But make sure they can breathe! If you collect lightning bugs in a glass jar, punch air holes in the top. Also remember the bug-catching experience may not be so enjoyable for those on the other side of the bug-cage walls. After a few minutes, let them go. Let them be free to perform, as you are free to watch!
---
Kids Stuff
Wednesday, July 3
Dig Dug
Become an archaeologist for the day, joining the Jefferson Patterson Park and Museum staff in digging up 18th century artifacts; RSVP: 10am @ Jefferson Patterson Park, St. Leonard:
410/586-8555.

Thursday, July 4
Celebration
See 8 Days a Week for fireworks displays, festivals and parades.
Saturday, July 6

Up Close and Personal with Snakes
What do you really know about snakes? Get up close and personal with some local snakes while learning about their myths. 1–2:30pm @ Battle Creek Cypress Swamp, Prince Frederick; $3 w/discounts: 410/535-5327.

Winged Wonders
Search for butterflies in their native habitat. Catch
them, if you can, to help list them in an annual count. 9-11am @ Patuxent River Park, Gaithersburg. $2 w/age discounts; RSVP: 301/627-6074.

Family Farm Fest
Explore organic farming and enjoy music and food, including ice cream. Ellis Woodward, a children's singer/songwriter, performs. 10am-2pm @ Horizon Organic Farm and Education Center, Davidsonville; Free: 866/343-5802 • www.horizonorganicfarm.com.

Sunday, July 7
The Search for Bugs
Slosh around in the mud while looking for insects. Explore the forest, marsh and meadow in search of these fascinating creatures. 1-3pm @ Jug Bay Wetlands Sanctuary, Lothian; RSVP: $2 w/age discounts: 410/740-9330.
Tuesday, July 9
Whose Clues?
Learn to distinguish the tracks different animals leave behind, in this presentation and wildlife walk for ages 5-7. 1-2pm @ North Tract, on Rt. 198 between the Baltimore-Washington Parkway and Rt. 32, Laurel; RSVP: Free: 301/497-5887.