What's the worst that might happen if foreign tankers laden with liquid natural gas steam up Chesapeake Bay to the refurbished port near the Calvert Cliffs Nuclear Power Plant? Terrorist attack.

So far that worst-case prospect has overshadowed other certain environmental threats, such as added air pollution from expanding the Cove Point import station in Calvert County.

Yet new gas heaters and boilers at the plant will pump an additional 223 tons of pollutants into the local air every year, according to applications filed by the Williams Co. Inc. and tentatively approved by the Maryland Department of the Environment.

Copies of the application were distributed last week at a public hearing in Solomons convened by Department of the Environment so citizens could comment on air pollution issues.

Yet the sparsely attended gathering — about one-third were representatives of the Williams Co. and its consultants — evolved into an exercise in frustration.

At the start, Department of the Environment representatives declared that they had tentatively approved the applications already, leaving citizens wondering why the hearing was held. Then, many complained that the presentation was so larded with technical details and bureaucratic jargon that they understood little of what was said.

The state did little more than confuse people at the hearing with their dense material and unresponsiveness, asserted Calvert County Commissioner Barbara Stinnett. Nor, she added, has either the state or the company adequately responded to worries about terrorism.

"These tankers are going to be buzzing up and down the Bay, and we're all going to be at their mercy," she said.

Others in the audience also challenged company officials about their capacity to repel potential terrorist attacks on arriving ships.

Michael Cathey, Williams' director of business development, brushed aside concerns about terrorist attacks.

Cathey said he anticipates that the ships would be escorted by Coast Guard vessels and that his company is awaiting a Coast Guard plan for protection.

He also said the company is considering middle-of-the-night shipments in order to minimize the disruption along the Bay caused by exclusion zones in which boat traffic is kept far away from the arriving vessels.

When three Department of the Environment representatives declined to respond to audience concerns, frustration climbed like the heat index on a steamy day. The officials said they would mail out responses later.

Bay Weekly analysis of the applications reveal that dirtier air is a price Calvert County will be paying for economic benefits from the plant.

The expanded operation will pump an additional 203.1 tons of nitrogen oxide into the air annually, along with additional yearly 20.1 tons of volatile organic compounds, according to the permit. The pollutants are the main ingredients of smog.

Even now, before shipping begins, the plant's pollution emissions total about 84 tons annually.

For emitting the additional pollution, Williams has arranged with the state to pay more than $2 million to other companies to purchase "emission trading" credits. Buying such credits allows them the right to violate air standards designed to protect peoples' health.

Emission trading is a controversial political tool that lets companies operating within pollution limits sell credits to companies that don't. They were designed to gradually reduce air pollution in a broad geographical area by giving companies financial incentives — the ability to sell their pollution credits to dirtier plants — to clean up their plants.

Critics say that the system often does little more than move pollution from one community to another.

The Williams Co. disclosed in its application that it is negotiating with two companies in Baltimore and one in Prince George's County to buy the credits it needs to exceed air pollution rules. At present, the market rate for the credits in question is $10,000 per ton of pollution — which means that the company will need to buy about $2.3 million worth of pollution credits to operate.

At the hearing, Department of Environment officials either did not take time to explain the details of the permit or did a poor job in making them clear, audience members complained. Those officials offered no explanation during the meeting as to why they are approving the permits.

But people like Muriel Nickerson, of the nearby Asbury-Solomons seniors' community, understood that Calvert Countians will breathe dirtier air if Williams wins approval for its plan. She observed that Asbury will be growing from 300 residents to 500 and that older people are more susceptible to respiratory problems, which are worsened by air pollution.

Department of Environment's Justin Hsu said afterward that his office takes into consideration more than public health. "We have to consider economic growth in the area and balance it," he said.

Construction could begin at Cove Point as early as this month in preparation for the tankers to start arriving in January or February.

Department of Environment says it will accept public comment until July 5 (410/631-3230) and formally announce their decision shortly afterward.

— Bay Weekly

---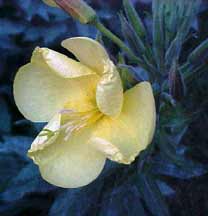 Earth Journal ~ Summer Theater
The evening primrose shuns the day
blooms only to the western star
and loves its solitary ray …
Several years ago, a neighbor introduced us to the primrose — oenothera biennis — the golden one. He described it as a magical flower from the garden of a friend in West Virginia. He said we must come promptly at twilight to see it that very night. I was wary of magic botanicals, having met a few through the years. But our neighbor is a man of impeccable character, and he laughingly assured us we would not be expected to eat it or inhale it. We had only to observe it, and we would be spellbound.

That June night we walked across the lane to the shore of the quiet cove where he lives and we joined a small group already there. The sun had slipped behind the trees, the first fireflies were airborne and a whippoorwill called from the woods. At first glimpse, the primroses were unpromising: simply a clump of tall straggley plants clad in untidy tangles of melted blossoms and spiked crowns of new buds tipped with yellow.

The air was stifling and still. No breeze had come to disperse a cloud of insects that hovered near, yet the plants trembled beside the porch as if stirred by a phantom zephyr. We drew closer to the primroses and watched quietly a burgeoning bud heave with a sudden spasm and burst free of the enfolding calyx, forcing the sepals completely backward. With a graceful pirouette, four silken petals were revealed, and the glorious flower swayed gently before us, its golden stamen aquiver like a fairy wand.

We were spellbound indeed; even the most jaded of us was speechless. Then we began to babble and applaud like first-nighters at a star-studded ballet.

Singly, then simultaneously, new flowers opened into the darkening night and shone with a soft incandescence. Then it was over and a subtle lemony scent hung briefly in the air as big nocturnal moths began to drift in to carry the sticky cobwebs from one to another perfect blossom.

The show plays nightly, well into September. Our neighbor has generously shared seedlings, and primroses bloom now in many gardens about the neighborhood. But his are still the favorites. They have moved to a small plot in his yard at the edge of the lane. It is a common sight to see on a fair weekend, a group of neighbors of all ages, curious children and a couple of dogs, as well, gathered there in the twilight to watch the primroses do their thing.

The flowers' generic name is Onagraceae, which means wine imbiber in Greek. However no stimulants are needed to enhance the senses. The hypnotic effect of the plant has been termed an hallucinatory experience by such as the poet John Keats, who has written:

A tuft of evening primroses, O'er which the mind may hover 'til it dozes; O'er which it well might take a pleasant sleep, But that 'tis ever startled by the leap of buds into ripe flowers.

Good show. No designated driver required.

— Audrey Y. Scharmen
---
Turtle Fear Funds Terrapin Survival
The Fear the Turtle merchandising campaign at the University of Maryland has turned into Save the Turtle.

The university will donate 11&Mac218;2 percent of the royalties from the campaign to the Department of Natural Resources to support terrapin conservation and stewardship, Gov. Parris Glendening announced last week. However, some students say the terrapins could use a little more help.

"We believe establishing a partnership with DNR, and leveraging interest in the university coming from a national championship season for an important conservation program is consistent with the university's statewide role in research and service," said William Destler, university provost.

Jim Diercksen, a sports marketing assistant at College Park, said the school currently gets 10 percent of the profit from any Fear the Turtle merchandise. The near 11&Mac218;2 percent donation will be taken out of that profit. The remaining money from the university's profit goes to the school's athletic department, the College Park Foundation, which benefits the entire school, and to the former student who invented the slogan.

Diercksen said he is proud of the school for taking steps to ensure the survival of the Diamondback Terrapin, but he believes the university can and should donate more to protect its mascot of almost 70 years.

"Personally, I think it should be more, considering how much the university is making off of that slogan," Diercksen said.

University of Maryland senior Melanie Asbury agreed, saying "It's a good cause, but it depends on how much the university is making off of the slogan, combined with how much money is going into saving the turtle already."

Senior Andres Alves agrees: "There are other slogans and other campaigns that the university makes money off of, so why not just give a little bit more to the turtles with this particular campaign?

"If the university was selling T-shirts with a picture of me on them, I'd want to see more profits," Alves said. "I'd say at least five percent is a good amount."

— Katie McLaughlin

---
The Flyin' Blind Bluegrass band at the opening of the Calvert Country Market.

photo by Russ Barnes

A Country Market for Calvert
Home-grown sweet corn, cut flowers, homemade pies, herbs, potpourri, fruit, veggies of all sorts, home-made artifacts.

All these were up for sale June 29 at the grand opening of the new Calvert Country Market at a barnwood-decorated storefront in the middle of the Prince Frederick Shopping Center along Route 2/4.

The market was designed to showcase Calvert County agricultural produce and to provide another retail outlet for working farms, said Herman Schieke, Calvert County's director of tourism. It's envisioned as eventually serving as a magnet for tourist buses from outside the county.

On opening day, that hope seemed not so distant.

"At nine o'clock this morning, people were lined up for 50 yards outside ready to get into the market," said Calvert County's Heidi Rawlings.

Thirteen farmers were on hand to sell their wares on this opening day. Among them, Tim Wallace of Cox Farm sold 400 dozen ears of corn. Mike Michael of Calvert County Nurseries sold herbs, vegetables and fruit. John Prouty and Roxana Whitt of Wise Acre's Farm sold 165 flower bouquets, and Mike Cox of White Oak Point Farm sold preserves.

For the market's future, much more was planned.

"The market obviously can't satisfy all demands on its first day," said Schieke. "We'll keep watching what customers want and then, when we open for its next season in the spring, we should have it down pat."

Calvert Country Market will be open till Christmas, Saturdays 9am to 6pm, Sundays 10am to 6pm, Wednesdays 4-7pm. The market then reopens spring of 2003.

On opening day, it was pickin' time in more ways than one. As customers picked the vegetables, the Flyin' Blind bluegrass band picked banjos and mandolins.

— Russ Barnes

---
Chesapeake Lexicon Soup Served in Galesville
If you haven't lived in Chesapeake Country all your life, there will be times when you wonder what those who have are talking about. So I found at the June dinner meeting of the Galesville Heritage Society, where local author Will Mumford promised to talk on Picker Checks. I made my reservations expecting to learn about crab picking. But before I learned my mistake, I had another lesson to learn.

"If I had taken your reservation I would have asked you to bring a bowl," said Dee Dixon as she greeted us at the door of Galesville Memorial Hall.

"I've been asked to bring a salad, main course or dessert, but you are the first to ask me to bring a bowl."

"We are serving Maryland Crab soup and a salad," she explained. "With a crowd of 75 we are running short of bowls."

That's all the crab I got that night, for Mumford's subject was Strawberries, Peas & Beans, which is also the title of his book, published in 2000 by Ann Arrundell Historical Society, about truck farming in Anne Arundel County.

Sandy loam soil and proximity for shipping by rail or water out of Baltimore combined to make the county a hub for fruit and vegetable farming. By the Civil War, a large agricultural community developed, but without slaves, who would pick the crops for market?

Farmers formed an alliance and hired row bosses to recruit local immigrants from the streets of Baltimore. When the crop was ready for harvest, the farmer sent a wagon with a bed of straw to the area set by the row boss. Immigrants anxious to get out of their city ghettos and earn cash for the winter months packed the bare necessities, along with all able-bodied household members, and headed to the fields for work as pickers.

Payment was not made until the crop was fully harvested, which could take weeks or months. So as pickers delivered the harvest to the tally-keeper, they got tokens for the number of pints, quarts, pecks or bushels.

And that's what picker checks are. Most of the tokens were made of brass, but they could also be aluminum, iron, copper or even pressed cardboard. Token shapes were designed by the farmer — scalloped, round, sawtoothed or octagonal — and were usually embossed with the farmer's initials as well as a value.

Mumford has collected over 1,500 distinct picker checks issued by 400 farmers. The collection is housed in the Ann Arrundell Historical Society at the Benson-Hammond House in Linthicum, in the BWI Airport complex.

My night's lesson in the vocabulary of Chesapeake Country was not yet done. I still had to learn what a gusset is.

The one presented to the Society by Rennie Smith of Annapolis is a 60-pound bronze plate of nuts, bolts and rods that, with many other gussets, connected a ship's hull to deck at each joint of the deck beam.

This gusset supported the steamboat Emma Giles, which traveled the Bay from 1891 to 1932. The ship's wheel now hangs in Galesville Memorial Hall.

After learning the steamboat had been sold in the 1950s to a marine salvage firm on Curtis Creek near Baltimore, Smith searched the many salvage yards that border the creek. With humor, a cajoling smile and pure tenacity, he prevailed. In Dave Hill's Boat Yard, he found the remains of the Emma Giles: a ravaged wreck of rotting wood with little left to salvage except this one gusset. Smith pestered Hill for five years until he agreed to donate the gusset to the Society.

When the Galesville Heritage Museum opens in July, you can see for yourself the object that's entered your Chesapeake lexicon under the name gusset.

— Pat Harder

---
Way Downstream …
In Virginia, two men drowned last week in a bizarre accident when their small boat was crushed by two moored warships, part of the Ghost Fleet of Newport News. The boaters had motored into the restricted area and, before sinking, had become lodged between the huge vessels during a shifting tide, according to a cell phone call from a companion who survived the ordeal…
In Alberta, Canada, the ring of security was impenetrable at the G-8 Summit of World Leaders last week — so impenetrable that a bear who wandered into an off-limits zone was shot and killed. A tranquilizer dart that was aimed at the bear's shoulder missed and lodged in its heart…
In India, authorities last week dispatched another creature — a rogue elephant that had killed 10 people. "We chased it for a while, and then it chased us," a member of the hunting party told Reuters…
Our Creature Feature comes from Nepal, where a ceremony last week shows that parts of the world are far from modern. In the Temple of the Goddess of Strength, priests sacrificed several animals — a buffalo, a sheep, a goat and a duck — on behalf of the royal family.

The animals were beheaded and their blood presented to the goddess as an offering, according to reports. Just before, amid chanting, King Gyanendra offered a red basket of fruit draped in marigold and jasmine garlands.

---