Summer At Its Most Readable
Bay Weekly's 2010 Summer Book Guide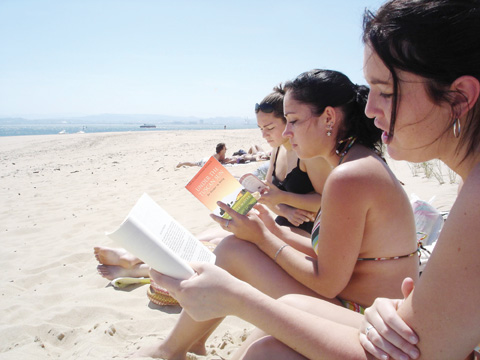 Ahhhh, summer. The season synonymous with vacation: that hard-earned leisure time when we finally give ourselves permission to retreat and, for a short respite, do nothing. Or, at least, do very little.
Wherever your retreat — a sandy beach, a cool blue pool, fresh pine-scented mountains or as far as your backyard hammock in the shade of the big old oak tree — it's better with a good book.
Bay Weekly's 2010 Summer Book Guide helps you pick the right book. To start you in the right direction, we've updated the Dewey Decimal System with 10 highly readable categories.
Add locale of choice, and perhaps a tall, cool beverage and settle in for a nice long read. Enjoy. Call it summer.
–Ariel Martinez Brumbaugh
---
I. Anything-But-Boring Biographies
True stories in the hands of a good storyteller outdo fiction.
Woodswoman series ~ 1991-2003
In not one but four books, gutsy Anne LaBastille tells her story of her life on 20 acres in the Adirondack Mountains. In Woodswoman, LaBastille meets her husband, divorces, finds her own place in the woods and, with a few helping hands, constructs a log home where she builds a new life. The next three books — Beyond Black Bear Lake, Woodswoman III and Woodswoman IV — follow LaBastille's efforts to protect and preserve the wild Adirondack National Park and her lifestyle.
–Margaret Tearman
---
The Tender Bar ~ 2005
J.R. Moehringer was abandoned by his father before birth. The boy knows him only as The Voice on the radio and seeks male nurturing from his bartender uncle and the regulars at the corner tavern. At "a place where everybody knows your name," he learns about baseball and politics, history and sex. As he listens to the jokes and anecdotes, he learns to appreciate words and storytelling.
–Marilyn Recknor
---
Garlic and Sapphires, the Secret Life of a Critic in Disguise ~ 2006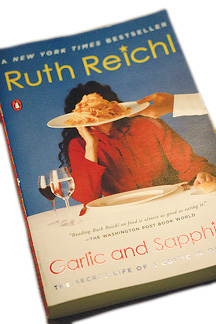 New York Times food critic Ruth Reichl makes wonderful fun of her hilarious ploys to remain anonymous at the restaurants she reviews. Descriptions of meals are sumptuous, but most enjoyable are the insights she gains into herself as she takes on different disguises and personalities.
–Dotty Holcomb Doherty
---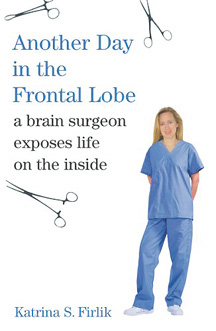 Another Day in the Frontal Lobe ~ 2007
Let's hope brain surgeon Katrina S. Firlik is as good at operating as she is at writing, for she's written an immensely readable book with touches of black humor, delving into the heads of her patients, literally and figuratively.
–Dotty Holcomb Doherty
---
Shakespeare: The World as Stage ~ 2007
Think you know Shakespeare? He was a man of many masks. With infectious humor, author Bill Bryson looks behind the masks and beyond the plays to explore what we really know about the Cal Ripken Jr. of English literature.
–Ariel Martinez Brumbaugh
---
II. Colonel Mustard-in-the-Kitchen-with-a-Candlestick Classic Mysteries
Summer loves the suspense of the search for whodunit. We suggest a pair of classics from that great year for mysteries, 1934: an animal-detective pairing; an historic mystery; and a bestseller with its own slightly mysterious legend.
Murder on the Orient Express ~ 1934
In one of the best-selling mystery novels of all time, Agatha Christie transforms the Orient Express into a sealed chamber of suspicion, terror and guilt for all unfortunate passengers. On the train ride home from a case, detective Hercule Poirot hears several strange bumps in the night and wakes to discover that Mr. Ratchett has been stabbed. His investigation reveals many clues, some that appear to have been planted. The intrepid Poirot deciphers the clues and interviews the suspects to track down the killer.
–Ariel Martinez Brumbaugh
---
The Thin Man ~ 1934
Ah, the good old days of mystery novels, when who's pouring was as important as whodunit. Baltimore boy Dashiell Hammett's last mystery novel, The Thin Man, flaunts mysteries and martinis in the age of Prohibition. The novel follows newly rich retired detective Nick Charles, who gave up the badge for a dame, Nora, his heiress wife. In between drinking binges, Nick is drawn into a missing person search for inventor and industrialist Clyde Wynant. Though the 1930s, Thin Man films captured the bond between Nick and Nora, only Hammett can convey their acid-tongued wit as they drain their glasses and search for clues.
–Diana Beechener
---
The Cat-Who … books ~ 1967-2007
Lillian Jackson Braun has made a series of the partnership of amateur detective James Qwilleran and his two Siamese cats, Koko and Yum Yum, who make solving mysteries their mission. With Koko's sixth sense and Qwill's investigative skills, sharpened through years as a top journalist, the bad guys go into hiding. Wile away a few pleasant hours with any book in this series.
–Ariel Martinez Brumbaugh
---
The Girl with the Dragon Tattoo ~ 2004-2008
Disgraced Swedish journalist Mikael Blomkvist is summoned by a curious offer from one of Sweden's former top CEOs, Hendrik Vanger, who wants him to investigate the disappearance of his great niece Harriet 40 years ago. Accepting reluctantly, Blomkvist unwittingly entangles himself in the family's tortured history, partners with the tattooed savant of the title and finds his way back to his own quest.
If you like this one, you'll have two more to look forward to as journalist-author Stieg Larsson finished three — and delivered them to his publisher as a package — before he was felled by a heart attack in mid-life.
–Katie Dodd
---
People of the Book ~ 2008
Geraldine Brooks' Hanna, a book restorer, finds clues hidden in the pages of an ancient Haggadah linking it to its beginnings and its protectors. Travel from this century's wars to 15th century Spain as she unlocks the mysteries surrounding its survival, then back to the present where she faces the challenges of love and loyalty while uncovering a conspiracy of forgery.
–Dotty Holcomb Doherty
---
III. Documentaries Can Read Like Novels
True stories told with a novelist's craft and cunning include books for lovers of nature, adventure and the behavior of humans and societies.
Thousand Mile Summer ~ 1964
California, long infamous for its love affair with the automobile, revealed its natural side to backpacker-author Colin Fletcher when, in 1958, he set out on foot from Yuma on the Arizona border and walked north for 1,000 miles and six months, all the way to the Oregon border. Fletcher recounts the wilderness, the wildlife and the wild people he encountered on his walk in a narrative that remains timeless.
–Margaret Tearman
---
The Earth Is Enough ~ 1996
"When my friend Norwell, who was just 13, found a grenade in a clear, cool stream deep in an Okinawan jungle valley and pulled the pin, my journey began." Author Harry Middleton, an Army brat, spent his early years moving among army bases until Norwell's untimely death sent young Harry to live in relative safety with his grandfather Emerson, Uncle Albert and the "lunatic Elias Wonder" deep in the Ozark mountains. Middleton's story is how three old men taught the young man about life and fishing.
–Margaret Tearman
---
The Tipping Point: How Little Things Can Make a Big Difference ~ 2000
Malcolm Gladwell's examination of how small ideas become fads, trends and complusions is fascinating.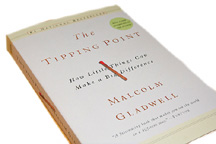 His examples range from the revival of a dying brand of shoes to decreased violence in New York City, from the rise of an obscure politician to a sudden spate of suicides in Micronesia. He compares trends to epidemics, identifying the kinds of people who infect us with ideas and describing how they do it.
–Marilyn Recknor
---
Zoro's Field ~ 2006
After years of wandering North America and Europe, Thomas Rain Crowe returns to his southern roots to spend four years living off the grid in a cabin in the southern Appalachians. There he grows his own food and barters for everything else, bonding with fellow mountain dwellers over homemade honey and brew.
–Margaret Tearman
---
Winter World ~ 2009
Button up your overcoat and join University of Vermont professor Bernd Heinrich on a tramp through the northern New England winter woods where he reveals the secrets of cold-weather survivors, from birds to bears to the tiniest insects.
–Dotty Holcomb Doherty
---
IV. End-of-the-World Dramas
You'll stay up all night reading books that take you to the brink of disaster or to a post-apocalyptic world. Think you're Bear Grylls? These novels will help you study up on survival techniques — even humor.
On the Beach ~ 1957
Want a powerful book? Nevil Shute's terrifying novel may be the reason we're still alive to write and read books. The engineer-novelist described how the nuclear exchange of World War III in the northern hemisphere created a deadly cloud of radiation that traveled inexorably downwind, extinguishing life in its path. Read and you feel it coming, letting go hope by hope, through your identification with the last people to go, the English Shute's beloved Australians all the way down under in Melbourne. On the Beach might give you nightmares, which was the great storyteller's intent in this cautionary novel.
–Sandra Olivetti Martin
---
The Stand ~ 1978
Forget the made-for-TV mini-series. Stephen King's book is oh-so-much better. In a modern-day tale of good versus evil, the survivors of a deadly Superflu — caused by a crack in a bio-weapon test tube — find each other and eventually split into two groups. Guided by dreams and other unseen forces, the good head for Boulder, Colorado, while the not-so-nice end up in Las Vegas. The plot is clichéd, but the characters are compelling, and you will likely find yourself rooting for the guys in white hats — and for the return of electricity.
–Margaret Tearman
---
The Hitchikers' Guide to the Galaxy ~ 1979
In Douglas Adams' blackly humorous Guide, Arthur Dent escapes planet Earth just as it is demolished by aliens, to make way for a hyperspace bypass. Adrift with his alien friend Ford Prefect, Arthur must learn how to navigate the galaxy as the newest intergalactic hitchhiker.
Along the way, Arthur is tortured by the reading of Vogon poetry — the third worst poetry in the world — meets the bubble-headed president of the Galaxy and learns the importance of traveling with a towel.
He must remember not to panic, and that the answer to the ultimate question in life is 42. Now if he only knew what the question was …
–Diana Beechener
---
The Road ~ 2006
In post-apocalyptic America, a father and son travel across the barren landscape in search of the coast. With only a pistol and some scavenged food, they face all the dangers of the road, including roving hostiles. All they have are the love of each other and the hope that something better awaits them. Cormac McCarthy tells his novel in appropriately stark and simple language.
–Ariel Martinez Brumbaugh
---
World War Z ~ 2006
After the dust and blood had settled, writer Max Brooks (son of movie-maker Mel Brooks) sought to record and understand the Zombie War by conducting interviews with the key players. His oral history of the war contains perspectives from …
Okay, obviously there hasn't been a great zombie war — yet. But it is a credit to Brooks' novel that you'll have trouble remembering that. His interviews create perfect portraits of incompetent governments trying to cover up the outbreak; greedy cooperate syndicates attempting to profit from the plague; battle-hardened soldiers trying to expel their bloody memories; officials deciding to sacrifice thousands to save millions; and a glut of other survivors speaking on the battle for humanity.
As an alternative to turning the pages, download or rent the audio book, which unfolds like a brilliant radio drama from the 1930s. Brooks plays himself as he conducts interviews with characters voiced to perfection by Alan Alda, Carl Reiner, Jürgen Prochnow, Rob Reiner, Eamonn Walker, John Turturro and Mark Hamill. With a cast like that, the zombie apocalypse is great entertainment.
–Diana Beechener
---
V. Historical Struggles
Four novels and one chronicle invite you to walk in the shoes of characters forced to conquer history.
April 1865: The Month that Saved America ~ 2001
America's Civil War continues to inspire books. In a new twist, Chevy Chase author Jay Winik focuses on a single pivotal month, April of 1865.
After four years of stalemate, the early months of 1865 marked the beginning of the end of what is still the nation's bloodiest war. With the coming of spring, the bloodbath intensified in a final fit as Sherman blazed south in his devastating march to the sea while Grant pummeled and drove Lee's forces eastward to their eventual surrender at Appomattox.
Through victory and defeat, Winik draws forth the humanity of the combatants, most notably in Grant's generous terms of surrender and Lee's decision to end the bloodshed rather than taking to the hills and launching a guerrilla war. Days later, with the assassination of President Lincoln, peace nearly unraveled, but by then most had lost their thirst for more blood, and the painful process of healing and rebuilding the Union began.
–J. Alex Knoll
---
Guernsey Literary and Potato Peel Pie Society ~ 2008
In the wake of World War II, London journalist Juliet Ashton begins a correspondence and a book after reading a letter from a man on the island of Guernsey. She's so intrigued that she visits this once German-occupied island where she finds more than she imagined. Entirely written in letters, Mary Ann Shaffer and Annie Borrows' novel is a reading treasure.
–Dotty Holcomb Doherty
---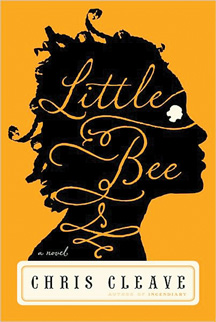 Little Bee ~ 2008
Chris Cleave's is a tale of horror, loss and redemption told in the voices of two women who meet in two very different circumstances but whose lives are forever entwined. Once you read it, do not give away any details. Every reader deserves the full unfolding of this powerful story.
–Dotty Holcomb Doherty
---
The Help ~ 2009
Kathryn Stockett sets her novel of triumph over segregation in 1962 Mississippi, where 22-year-old Skeeter returns after graduation. As she struggles to fit in with a society she's outgrown, she befriends two black maids, Minnie and Aibileen, who together gather stories that push the boundaries of their world.
–Ariel Martinez Brumbaugh
---
The Postmistress ~ 2010
London-based radio announcer Frankie Bard is determined to bring the real story of the Blitz and the plight of the Jews to her fellow Americans. Among them in the Cape Cod town of Franklin are Iris James, the new middle-aged postmistress, and Emma, the doctor's new wife. As Emma's duty-bound husband heads overseas, her life is about to become interwoven with the lives of these two other women. Sarah Blake writes poetically and masterfully in this novel.
–Dotty Holcomb Doherty
---
VI. Poolside Page-Turners
You work hard all year, and you deserve a vacation. To entertain you at the beach, the pool or between naps in the hammock, we season our list with history, exotic destinations and an oddity that will have your neighbors wondering.
Stiff: The Curious Life of Human Cadavers ~ 2003
Did you know that a human head, served to medical students for study, is about the size of a roasted chicken? The history of human cadavers may not seem like poolside reading, but journalist-author Mary Roach makes her subject fascinating, edifying, even hilarious.
One of the book's pleasures is how horrified the author can be at her own subject matter. As she barrels through history, taking you from the early days of science — and body snatching — to how the dead help doctors and scientists in modern studies, Roach discusses how her research unnerved her. "Eye caps were invented by a mortician to help dead people keep their eyes shut. There have been times this morning when I wished that someone had outfitted me with a pair of eye caps," she writes of her time at the University of Tennessee's infamous body farm. To keep her composure — and to keep you from skipping ahead — she takes a break from decomposition studies to tell you about the happy squirrels that scamper at the farm. After the break, it's back to the bodies.
–Diana Beechener
---
The Janissary Tree ~ 2006
Join Yashim, eunuch and private investigator for Turkish Sultan Mahmut II. The gruesome deaths of promising young officers could be the work of the secret society of defeated Janissaries, double-dealing court officials or even the commander of the imperial Ottoman Army. Add the murder of a harem girl the night of the theft of the jewels of the sultan's mother, who is also Yashim's confidant. Novelist Jason Goodwin's Byzantine plot mimics Istanbul's back streets as he brings the guilty to grim justice.
–Sandra Lee Anderson
---
The Book of Air and Shadows ~ 2008
Jake Mishkin is an intellectual property lawyer who discovers, in the pages of an old book, a letter written in 1642 by an English soldier named Richard Bracegirdle. The letter reveals that Bracegirdle had been assigned to spy on a gentleman named Wm. Shakespeare and, through the course of his espionage, had managed to hide a Shakespeare manuscript. Now every shady character in the world wants that Bracegirdle letter as a means to the manuscript. Novelist Michael Gruber has crafted two stories — taking place simultaneously in the 21st and 17th centuries — to keep you riveted.
–Dick Wilson
---
Best Friends Forever ~ 2009
Jennifer Weiner, author of In her Shoes, offers another classy chick-lit book in Best Friends Forever. Addie — once a compulsive eater, now a slender greeting card painter — must weigh her loyalties when childhood friend Val, who betrayed her in high school, appears with the news that she's just killed a sleazy classmate.
–Dotty Holcomb Doherty
---
A Reliable Wife ~ 2009
Ralph Truitt waits at the train station for the woman who answered his advertisement for "a reliable wife." When Catherine Land is beautiful rather than plain, he feels deceived. "This begins in a lie," he tells her tersely. He has no idea how right he is; Catherine plans to marry Truitt, poison him and become a wealthy widow. Emotions seem as frozen as the snowy Wisconsin winter, but beneath the surface of Robert Goolrick's novel, the characters burn with greed, guilt and lust.
–Marilyn Recknor
---
VII. Romance: The Fun's in the Chase
There's no fooling you. You know how these books end — and sometimes it's not happily ever after. But like the sometimes star-crossed lovers, you can't resist the journey.
Framley Parsonage ~ 1860
Not all love stories must be bodice rippers, but the best ones have lovers overcoming adversity. In the fourth of Anthony Trollope's Chronicles of Barsetshire novels, obscure parson's sister Lucy Robarts catches the eye of Lord Lufton. He tracks her like a hunter, including chasing her around a few pieces of furniture to steal a kiss. But Lucy Robarts isn't a typical Victorian girl, and she won't settle for a typical romance. Instead of leaping at the chance to advance her station, she insists that Lord Lufton live up to her standards. She won't even think of marrying him until he gets his snobbish mother Lady Lufton to ask for her hand. With the gauntlet laid by Lucy, the game begins.
–Diana Beechener
---
Cowboys Are My Weakness ~ 1992
In this collection of short stories, Pam Houston introduces us to smart women who go looking for love — and sometimes find it — with men they probably should have avoided. Houston's writing is edgy, smart and touching — as are her heroines.
–Margaret Tearman
---
Under the Tuscan Sun ~ 1996
Best recipe for the divorce blues: Find a new love and together buy a Tuscan villa in need of some tender loving care. Spend many Mediterranean summers in the house together — gardening, cooking and slowly (this is Italy, after all) becoming part of the community. With the help of the local Italian artisans, learn the skill of tiling, painting and plastering to make that villa glow. In between the hard work, whip up delicious, authentic Mediterranean meals to fill your empty stomach. And of course, do it all while falling deeply in amore.
This is just what Frances Mayes did, and it's our luck she wrote about it — those moments of bliss in the bright warm Tuscan sun, the regular visits to the local gastronomia while sparing few details of a tagliere di formaggi shared at the corner tratorria.
She even throws in her favorite recipes for those of us stranded on another shore. It is no wonder the Tuscany villa rental and sales business exploded in the months following the release of this charming story of love of a place and love for a man.
–Margaret Tearman
---
Water for Elephants ~ 2006
When Jacob Jankowski runs away from vet school, he finds work as a veterinarian with The Benzini Brothers' Most Spectacular Show on Earth. Novelist Sarah Gruen tangles the innocent in adversity as circus owner Uncle Al and animal trainer August abuse both the animals and August's beautiful wife Marlena, with whom Jacob falls in love.
–Ariel Martinez Brumbaugh
---
La's Orchestra Saves the World ~ 2009
Perhaps La's Orchestra is a romance; perhaps it isn't. You'll have to read it to decide for yourself.
In a rare-for-him book that will have no sequel, Alexander McCall Smith (of No. One Ladies' Detective Agency fame) distills sweetness from the very domestic life of a woman who always does her best, though life does not do its best for her or for her world. You first glimpse her through the eyes of others, and they give a value to her life it takes you pages to understand. Most of the short novel presents her on her own undemanding terms, leaving you wondering how she can possibly save the world — and whether she will dare save herself from the victimization of circumstances. The story stretches from pre-World War II England through the Cold War, and the latter gets a new look because it's not seen through the American eye.
Clues are subtle; save them carefully.
–Sandra Olivetti Martin
---
VIII. Strange Societies
The what-if category has limitless possibilities. Look here to glimpse worlds you'll be glad exist only in the imagination.
1984 ~ 1948
Englishman George Orwell wrote the classic tale of hopeless rebellion against a totalitarian government. Citizens are kept under the eye of Big Brother, with telescreens and thought police. A lone government worker, Winston, is in quiet disagreement until he meets Julia, who gives him hope for another way of life. But Big Brother is watching. Complex characters and a twisting plot keep your brain working.
–Ariel Martinez Brumbaugh
---
Bring the Jubilee ~ 1953
What would America look like today if the South had won the Civil War? In Ward Moore's novel Bring the Jubilee, we find a brave new world where slavery still exists and the agrarian backwardness of the South rules supreme in a deeply divided police state. The story is told through the troubled eyes of Hodge Backmaker, who lives in a strange New York City where the tallest building is 10 stories and the cobblestone streets are still gas-lit.
–Steve Carr
---
Watership Down ~ 1972
So compelling is British civil servant Richard Adams' strange society of capable rabbits that Watership Down has achieved cult status. After you read the story of their heroic journey to perpetuate their endangered culture — including its language, mythology and poetry — you can continue the trip in a role-playing game. In case you wondered, Watership Down is not a space ship but the name of Adams' hometown.
–Ariel Martinez Brumbaugh
---
The Hotel New Hampshire ~ 1981
John Irving, the author of The World According to Garp and Cider House Rules, offers many novels of strange family dynamics and odd plot twists. Here, Win and Mary and their five children turn an old girl's school into a hotel that becomes a dramatic setting for the family's strange goings-on, including the death and repeated resurrection through taxidermy of Sorrow, the family dog; the rape of daughter Franny by the high school football team; and the daily interaction with the family's circus bear, State o' Maine.
–Ariel Martinez Brumbaugh
---
Spies of the Balkan ~ 2010
Alan Furst specializes in the particular, oppressive strangeness
Adolph Hitler unleashed on Europe between 1938 and 1945. Country by country, the painstaking researcher and elegant storyteller introduces you to the way Hitler's onslaught devastated nations you might have trouble putting on the map — both historically and geographically. You'll keep turning back to the map each novel includes. This one, his 11th and newest, takes you to Greece, where the war is delivered not by Hitler but by his envious ally Mussolini — though you can bet Hitler doesn't let himself be one-upped.
Characters carry the ordeal into your heart. Costa Zannis, like all Furst's protagonists, has better things to do, including lovemaking, than resistance, but his principles — and a beautiful woman — draw him in.
–Sandra Olivetti Martin
---
IX. Terrible True Stories
You think you've got it bad? Your life will look better after you read these books.
Homicide: A Year on the Killing Streets ~ 1991
Homicide isn't just a body. It isn't a thrilling car chase and locking away the bad guy. Homicide, for detectives in Baltimore, is hours of paperwork, lying witnesses and procedural tedium. To survive the homicide unit, detectives must persist, thriving on coffee, cigarettes and a pitch-black sense of humor. Baltimore Sun veteran reporter David Simon spent 1988 following homicide squads thru the streets of Charm City. What Simon captures — and made into a terrific read and television series in 1993 — is a group of real men and women who handle horrific violence and liars as part of their daily grind.
–Diana Beechener
---
The Year of Magical Thinking ~ 2005
Joan Didion's daughter is on life-support, stricken with septic shock. While she and her husband struggle to cope, he suffers a fatal heart attack. In the following 12 months, Didion must learn to live without her husband, and, in a heartbreaking turn of events, without her daughter. This is a brittle story without a truly happy ending. But life goes on.
–Margaret Tearman
---

True Story ~ 2005
Michael Finkel's book begins with yet another admission of journalistic fraud, but it soon develops into a tale of stolen identity, crime and a psychological study — or two. Sound a bit heavy for a summer read? Heat and humidity needn't mean brain death, after all, and the 300-some pages go fast. And it's all true. Or so the reader is told.
–Lane Page
---
The Glass Castle ~ 2005
Rex Walls, a dreamer who drinks his paycheck away, and his wife Rose Mary, a would-be painter who disdains work and housework, raise their four children almost as an afterthought. The family does the "skedaddle" to avoid creditors, the children go hungry or rummage through garbage cans, living conditions are squalid. Yet author Jeannette Walls and her siblings learn to fend for themselves and become successful despite their dysfunctional parents in this sad, funny and poignant memoir.
–Marilyn Recknor
---
The Suspicions of Mr. Whicher ~ 2008
In the summer of 1860, Victorian England was rocked by a shocking murder case. The body of a three-year-old boy was found in an outdoor privy, his throat slit and his chest stabbed. After a week of local law enforcement bungling the case and burning key pieces of evidence, Detective Jonathan Whicher is sent to salvage the case and apprehend the murderer. Kate Summerscale's detailed recreation of Whicher's investigation pieces together case files, written accounts and newspaper stories into an involving and layered mystery.
–Diana Beechener
---
X. Way Better than the Movie
Why settle for pale substitutes? Make this your summer to read the classics.
Pride and Prejudice ~ 1813
All right, so this tale of true love tried and tested by class barriers and assumptions is pretty much English 101. Still, you may be one of the many who's seen one of the movies but not read the book.
Don't make this mistake. Both the 1940 and 2005 film adaptations of Jane Austen's most revered work bungled the story horribly.
Instead of a feisty, impetuous woman, Lizzy in film is reduced to a simpering idiot or a pouting waif who roams the fields in a nightgown. Much better to read the story and fall in love with Lizzy as she doggedly fights her mortifying mother for a modicum of freedom. Swoon for the real Mr. Darcy, whose pompous exterior belies a wounded and sensitive soul. When it comes to this tale of true love, only the book will do.
–Diana Beechener
---
The Count of Monte Cristo ~ 1844
In two dozen tries in many languages, neither film nor television has been able to reach the heights of Alexandre Dumas' classic novel, the story of young sailor Edmund Dantes, who is duped by his longtime friend and falsely imprisoned. But 14 years of imprisonment leave a lot of time to plan how to get back at all who wronged him. Discovering a large sum of money on an island doesn't hurt. Nether does genius story telling.
–Ariel Martinez Brumbaugh
---
Jurassic Park ~ 1990
As a doctor, Michael Crichton had a knack for science. As a writer, Crichton had a knack for stringing scientific theories together so that even the most ridiculous idea seemed possible. So is the case in his novel Jurassic Park, a book that convinced all the children of my generation that you too could make a dinosaur if you saved up enough amber-encrusted mosquitoes.
Jurassic Park builds on the plot of Frankenstein. Eccentric billionaire John Hammond decides to build not one monster but a whole amusement park's worth. When he showcases the park to scientists, paleontologists and his grandchildren, he realizes that it isn't nice to fool Mother Nature.
The film adaptation does a great job with the visuals. Dinosaurs look real (or did in a pre-Avatar world), the park is vast and mysterious. But it skimps on mystery and emotion. The book also has a critical element the movie missed — a palpable sense of danger. Without the benevolent hand of Steven Spielberg and no deus-ex-Tyrannosaurus, these characters must kill car-sized beasts to survive.
Pick up the book to find out what it really takes to survive at Jurassic Park.
–Diana Beechener
---
The Bonfires of the Vanities ~ 1987
Sherman McCoy has conquered Wall Street. The Master of the Universe wallows in the spoils of his success, living high and mighty in a luxury apartment with his wife, enjoying the company of the requisite mistress on the side. McCoy is untouched by the racial tensions simmering just miles south in another part of town, where the chasm between the haves and the have-nots grows deeper — until a wrong turn pulls the expensive rug out from under his feet and his life of privilege begins to unravel. McCoy and his Park Avenue persona provoke a feeding frenzy in the Bronx's gritty criminal justice system and for the bottom feeders scrounging for prey.
Documentarian Tom Wolfe's first novel, Bonfire is a darkly humorous satirical look at the excess and greed of the late 20th century. It was a best seller when released in 1987. The 1990 film version, directed by Brian De Palma and starring Tom Hanks, Bruce Willis and Melanie Griffith, was nominated for five Razzie awards: Worst Picture, Worst Actress, Worst Director, Worst Screenplay and Worst Supporting Actress.
–Margaret Tearman
---
Atonement ~ 2001
Forget the awful movie and pick up the book. Novelist Ian McEwan endows bossy 12-year-old Briony as an aspiring writer with a vivid imagination. She misinterprets something she sees, intercepts and reads an obscene note intended for her sister Cecilia and accuses an innocent man of a crime, causing his arrest and imprisonment. As Briony grows up, she realizes that her meddling and confusion have ruined the lives of her sister and the man she loves, and she attempts to atone.
–Marilyn Recknor
---
Can't Get Enough?
Here are 50 more books to put on your list
by Ariel Brumbaugh
1. Moby Dick: Herman Melville
2. One Hundred Years of Solitude: Gabriel Marcia Marquez
3. Animal, Vegetable, Mineral: Barbara Kingsolver
4. The Lacuna: Barbara Kingsolver
5. Rabbit at Rest: John Updike
6. That Old Cape Magic: Richard Russo
7. All Quiet on the Western Front: Erich Maria Remarque
8. The Best Short Stories: O. Henry
9. Sherlock Holmes: Arthur Conan Doyle
10. The Fugitive: Marcel Proust
11. Crime and Punishment: Fyodor Dostoevsky
12. Cry, The Beloved Country: Alan Paton
13. Ethan Frome: Edith Wharton
14. East of Eden: John Steinbeck
15. Heart of Darkness: Joseph Conrad
16. Native Son: Richard Wright
17. The Old Man and the Sea: Ernest Hemmingway
18. The Sound and the Fury: William Faulkner
19. A Separate Peace: John Knowles
20. A Tale of Two Cities: Charles Dickens
21. War and Peace: Leo Tolstoy
22. My Antonia: Willa Cather
23. Jane Eyre: Charlotte Bronte
24. Invisible Man: Ralph Ellison
25. The Fountainhead: Ayn Rand
26. Ulysses: James Joyce
27. Lolita: Vladimir Nabokov
28. Dune: Frank Herbert
29. Darkness at Noon: Arthur Koestler
30. Women in Love: D.H. Lawrence
31. Ragtime: E.L. Doctorow
32. I, Claudius: Robert Graves
33. To the Lighthouse: Virginia Woolf
34. Under the Volcano: Malcom Lowry
35. Tender Is the Night: F. Scott Fitzgerald
36. The Wings of the Dove: Henry James
37. An American Tragedy: Theodore Dreiser
38. Gone with the Wind: Margaret Mitchell
39. A Passage to India: E.M. Forester
40. All the King's Men: Robert Penn Warren
41. Wise Blood: Flannery O'Conner
42. The French Lieutenant's Woman: John Fowles
43. A Handful of Dust: Evelyn Waugh
44. The Moviegoer: Walker Percy
45. The Bridge of San Luis Rey: Thorton Wilder
46. Point Counter Point: Aldous Huxley
47. A Clockwork Orange: Anthony Burgess
48. The Handmaid's Tale: Margaret Atwood
49. Enders Game: Orson Scott Card
50. The Maltese Falcon: Dashiell Hammett
Ariel Martinez Brumbaugh is a student in Johns Hopkins' Creative Writing master's program.