Sky Watch by J. Alex Knoll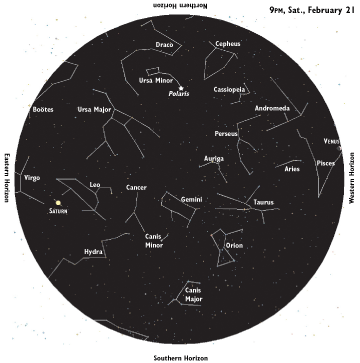 Picking Out the Planets
Put your eyesight to the test
With good eyes, clear conditions, proper timing and a little luck you can see all five naked-eye planets.
Venus is the easiest target, blazing in the west at evening twilight. Venus is now at her most brilliant for this evening apparition, and she even appears in clear skies during daylight. As darkness settles, her intensity grows, and she dominates the heavens until setting around 10pm.
Next up is Saturn, cresting the eastern horizon about 90 minutes after sunset and high in the east by 9pm. Around 1am, the ringed planet shines high in the south. As daybreak approaches, look for Saturn above the western horizon. Appearing as a steady, pale, yellow light, Saturn outshines its two nearest rivals, Regulus 20 degrees to the west and Spica 20 degrees to the east. Unlike the stars, Saturn — like all planets — does not produce its own light. Rather, the glow we see is sunlight reflected off the planet's surface back to our eyes. For Saturn, the farthest planet visible to the unaided eye, the light from the sun travels more than 870 million miles before ricocheting off the gaseous planet's surface and then travels another 785 million miles to reach our eyes.
The final three planets appear before dawn. Mercury is first to appear, rising in the southeast at 6am, followed fast by Jupiter and Mars, with the sun fast on their trail. All three planets line up within five degrees of one another, but they are so close to the horizon that binoculars will help you pick them out. Use the waning crescent moon as a guide on the 22nd, as it rises just four degrees ahead of Mercury. On the 24th, Mercury and Jupiter are less than one-half degree apart, fitting within the eyepiece of a telescope.
Illustration: © Copyright 1925 M.C. Escher/Cordon Art-Baarn-Holland; Graphics: © Copyright 2009 Pacific Publishers. Reprinted by permission from the Tidelog graphic almanac. Bound copies of the annual Tidelog for Chesapeake Bay are $14.95 ppd. from Pacific Publishers, Box 480, Bolinas, CA 94924. Phone 415-868-2909. Weather affects tides. This information is believed to be reliable but no guarantee of accuracy is made by Bay Weekly or Pacific Publishers. The actual layout of Tidelog differs from that used in Bay Weekly. Tidelog graphics are repositioned to reflect Bay Weekly's distribution cycle.Tides are based on National Oceanic and Atmospheric Administration and are positioned to coincide with high and low tides of Tidelog.