Black History Is All Our History
Seven books chronicle lives, struggles and triumphs
by Ben Miller
African American history is American history: That's the message of the seven books we introduce to you for Black History Month, all describing the struggles of African Americans in Chesapeake Country to make their lives better.
Work and Community in Calvert County
African Americans of Calvert County, by oral historian William A. Poe, gives voice to generations of African Americans who live and have lived in this once rural county.
Poe drew on people's recollections, photographs and documents to paint a portrait of a community going back generations.
This book features stories. That's its appeal.

People tell their own stories — and the stories of their ancestors. There are no lengthy narratives crammed with facts and dates. Yet a sense of a people's history emerges as you browse the photographs.
Men and women describe working hard on the land and water. They tell of working at home and in the homes of others. They explain how they farmed the fields, logged timber from the forests and harvested fish and shellfish in Chesapeake Bay and the Patuxent River.
Many of these storytellers are descended from slaves who had worked the same fields and forests.
Following slavery, African Americans of Calvert County lived for years with segregation as a way of life. What comes through in these stories, though, is that while segregation diminished opportunities, it didn't diminish pride.
These are proud people — proud of their families, their culture and their accomplishments.
The end of segregation opened opportunities in politics and the professions, yet the values that were part of a different type of life remain.
Poe deserves credit for producing this book. His calling to document the history of Calvert County's African Americans was featured in a Bay Weekly story last summer (www.bayweekly.com/year08/issuexvi30_3.html).
African Americans of Calvert County was published in 2008 in softcover at $19.99 by Arcadia Publishing as part of the Images of America series: www.arcadiapublishing.com; 888-313-2665.
A Chesapeake Bay Beach for African Americans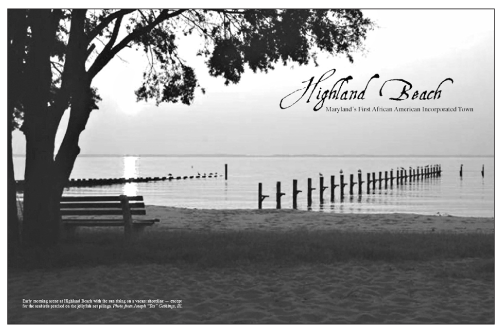 Highland Beach on the Chesapeake Bay, Maryland's First African American Incorporated Town tells a familiar story in Bay Country — of boating, crabbing, swimming and summer breezes from the water. What makes this story different is that Highland Beach, near Annapolis, was created as a vacation retreat by affluent blacks in the midst of the unbending era of Jim Crow segregation.
Charles and Laura Douglass, son and daughter-in-law of the great abolitionist Frederick Douglass, founded Highland Beach in 1893. Their vision was to attract the best and brightest blacks from Washington, D.C., Baltimore and Annapolis to build graceful cottages and create a community where they and their families could have fun.
Their vision came to be. Educator Booker T. Washington visited. Poet Paul Dunbar recited verse on the beach by a bonfire.
Dunbar wrote of Highland Beach that "for the first time there is a general flocking to one place taken up entirely and almost owned by ourselves."
Highland Beach was incorporated as a town in 1922 with Maryland's first African American mayor. Today — like many one-time, summer Bayside resorts — Highland Beach is a year-round residential community.
Jack E. Nelson, Raymond L. Langston and Margo Dean Pinson — all with long and fondly remembered associations with Highland Beach — have written a well-researched book with many photographs of people enjoying life on the Bay.
The large-format hard-cover book, published in 2008, is $50 at Annapolis Community Bank, 1419 Forest Drive, Annapolis, or from the Highland Beach Historical Commission: 410-267-6960.
Burying Jim Crow
Here Lies Jim Crow, Civil Rights in Maryland, by C. Fraser Smith, tells the story of the long life and hard death of racial segregation in the Free State.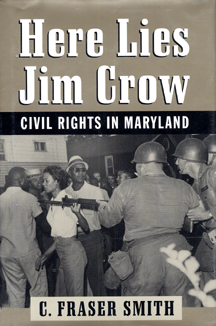 Smith, a columnist for the Baltimore Sun, not only explains the laws and court decisions that sustained and then broke down segregation but also explores the attitudes and lives of the people who brought them about or fought against them.
The book is bolstered by scores of interviews of people who lived with Jim Crow's indignities and worked to put him in his grave.
Here Lies Jim Crow, Civil Rights in Maryland, published in 2008 in hardcover by The Johns Hopkins University Press, is $29.95 through bookstores and online.
Black Life in Segregated Annapolis and Anne Arundel County
The Other Annapolis, 1900-1950 and A Century of "Separate But Equal" Education in Anne Arundel County, by Anne Arundel County educator Philip L. Brown, tell more stories of the long era of segregation many of us — black and white — remember.
The Other Annapolis, 1900-1950, a large-format hardback published in 1994, sought, in Brown's words, "to chronicle and create a picture in the minds of readers of what life was like for the colored segment of the Annapolis population living in racially segregated Annapolis during the first half of the twentieth century."
Brown fulfilled his promise in telling and showing where people lived, how they earned a living, where they worshipped, how they learned, what they did for fun, what clubs they formed, how they served in war and where they were buried — all in a separate community in the midst of Annapolis.
In A Century of "Separate But Equal" Education in Anne Arundel County, published in 1988, Brown presents a scholarly account of Anne Arundel County's segregated schools.
The Annapolis Library on West Street has non-circulating copies. Used copies are available at Amazon.com.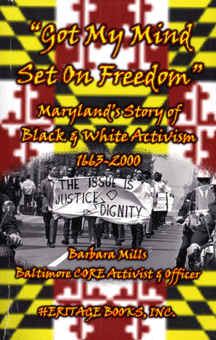 The Civil Rights Movement in Maryland
"Got My Mind Set on Freedom," Maryland's Story of Black & White Activism, 1663-2000, by Barbara Mills, is a detailed and lengthy account of the struggle for racial equality in the state.
Mills' book makes it clear that it was not the passage of one law, the decision of one court case or the work of one charismatic leader that brought change. Change came through the demonstrations, the marching, the political efforts and the courage of people of all races and of all walks of life.
"Got My Mind Set on Freedom," Maryland's Story of Black & White Activism, 1663-2000, published by Heritage Books, 2007, is $44 new and used from Amazon.com.
A Proud People in Prince George's County
Like A Phoenix I'll Rise, An Illustrated History of African Americans in Prince George's County, Maryland, 1696-1996, written by Alvin Thornton and Karen William Gooden, chronicles through words and pictures the struggles and triumphs of a people in this nearby county.
Even obtaining equal education for their children — a right we take for granted today — was a struggle for African Americans in the days of segregation.
Like A Phoenix I'll Rise, An Illustrated History of African Americans in Prince George's County, Maryland, 1696-1996, is available from local libraries and from Amazon.com.
---