Find Your Way to Fall Fun
Southern Maryland at your fingertips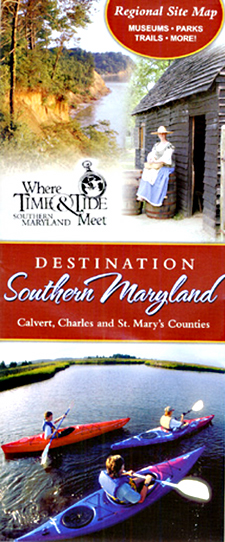 Looking for something new and different to do on a gorgeous fall day?
The Southern Maryland Heritage Area Consortium will help you find your way with a new attraction map of Calvert, Charles and St. Mary's counties.
Destination: Southern Maryland has a full-color map on one side and a directory of places worth visiting on the other. The attractions include public waterfronts, kayak and canoe launches, museums, natural areas, historic sites, sports facilities and wineries.
"A lot of the people who live here tell us they don't know what to do here," says Roz Racanello, the consortium's executive director. "We designed it for visitors, but it's also a handy guide for residents."
The map covers a lot of ground. More than just attractions — 30 sites are described in detail — it also includes detailed inset maps of all the town centers in the three counties.
"It's our most popular product," Racanello says. "Next time we go to press, we'll put in even more places to discover."
Find the map at Calvert, St. Mary's and Charles counties' visitor information centers and tourism offices. Or email your request, including your mailing address to: [email protected].
–Margaret Tearman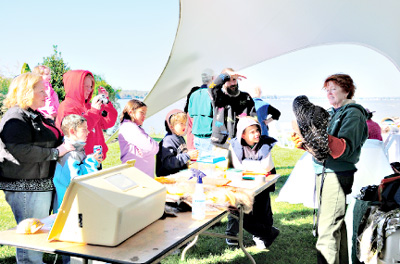 Eco-Day at Herring Bay
Green solutions in a green setting
The green spotlight turns to southern Anne Arundel County on October 11, with the second Herring Bay Eco-Day at Herrington Harbour South.
"It's an opportunity to meet lots of people who offer environmental solutions while spending an afternoon in a lovely Bay environment with beaches and a Bay eco trail," said organizer Anna Chaney Willman of Herrington on the Bay.
Not to mention more boats than the U.S. Sailboat Show, on its fourth of five days in Annapolis the same Sunday.
Six hundred sail- and powerboats dock at each of the two cosponsoring Herrington Harbour marinas, South in Rose Haven and North in Tracey's Landing, both leaders in making boating destinations environmentally friendly.
At Eco-Day, you'll see how the park-like Herrington Harbour South has created habitat, stabilized the shoreline, extended buffers between land and water and kept it protected from sediment and boating byproducts.
Herrington on the Bay is close to earning its third-party certification as a Green Restaurant. Many of the solutions on display are ones Chaney Willman relies on to keep her business — which caters and produces what she calls "eco-lifestyle events" — clean and green. Chaney Willman uses 100 percent recycled paper or vegetable-starch products from plates and napkins to office paper. In addition to composting on site, Chaney Willman is in collaboration with the Waste Neutral Group to recycle "anything from the earth, including food wastes."
The Waste Neutral Group will be on hand, along with experts offering knowledge and products including rain barrels, rain gardens, recycling, composting, stormwater management, remanufactured printer cartridges and more.
New this year is a Wellness Pavilion featuring a variety of holistic healing practitioners, healthy activities and natural supplements and skincare products.
Herrington on the Bay serves about 40 percent local food in season, and local is, along with healthful, the theme of food and drink for sale at Eco- Day, including Sassafras River beef burgers to pumpkin spice cake to hot Harris Orchard cider to local wines.
Kids' fun includes painting planters, sieving for sharks teeth, playing in a corn bin and touring the eco-trail.
1pm-5pm Sunday, October 11: free with $5 parking to benefit the Chesapeake Bay Trust and the Chesapeake Bay Foundation: www.herringtononthebay.com.
This Week's Creature Feature
The Buy-Local Bee-Local Buzz
Dick Lahn, founder of the Annapolis Sustainable Business Alliance, is buzzing around town with the message that people need to buy from local independent businesses to create a sustainable local economy. Last weekend, Lahn buzzed into both the West Annapolis Oktoberfest and West Street's last First Sunday of the year.
For the coming holiday season, Lahn and the Alliance plan a 3/50 campaign urging shoppers to choose three stores they'd hate to lose and commit to spending $50 at these stores.
Next week, who knows where you might see Lahn. "Bees are always working to make honey locally," he says, "but bees don't plan that far in advance. Maybe City Dock . . ."