It Pays to Look Good
Annapolis offers $10K to beautify Arts District

Annapolis is giving away money to people with creative ideas for helping the city's Arts District live up to its name.
Commercial property owners and tenants in the district have until October 16 to apply for a share of $10,000 to create art-related improvements to their buildings. The two to four winners must match their Commercial Facade Improvement Grant.
"In the city's Main Street Program, that $10,000 spurred about $200,000 of new construction," says Mike Miron, the city's economic affairs director. "So we wanted to try the same thing here."
The district stretches down West Street from Calvert to Russell and along Spa Road to Greenfield. It also encompasses Maryland Hall for the Creative Arts, Bates Magnet School and the Boys and Girls Club.
Just what might you artfully do?
First, it's got to be on the outside, for all the world to see.
Then, you're limited only by imagination. Possibilities include artistic signage, lighting, an attached work of art on the facade, a mural or an awning or door with an artistic element.
Fine in general, but what might I do in specific? people are asking, according to Miron. So with two weeks to go, the city is asking artists to provide "pro bono artistic guidance."
For an application, contact Mike Miron: [email protected]; 410-263-7940.
–Sandra Olivetti Martin
---
Calvert Sees Green
First Green Fair Expo draws 500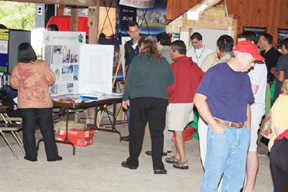 Seventy-six green passage-makers joined Calvert County's first annual Green Fair Expo in introducing 500 residents to sustainable technologies.
Calvert County Master Gardeners demonstrated three-bin composting and gave away native plant seedlings. American Dream Homes introduced green modular construction. Southern Maryland Electric Cooperative answered questions about home energy use. Continental Services demonstrated geothermal heating and cooling systems. Bayside Toyota showed off the latest in energy efficient hybrids.
Speakers described resources ranging from environmentally friendly office products to solar energy to water-efficiency audits.
Visitors could also hitch a ride around Jefferson Patterson Park on a 14-passenger solar-electric hybrid van donated by the Friends of Jefferson Patterson Park, cosponsor of the event with Calvert County Citizens Green Team.
"I didn't think solar panels would work in Maryland," said Ray McKinney of Prince Frederick. "Now I'm seriously considering giving them a try based on what I've learned here today."
That is exactly what organizers hoped.
–Margaret Tearman
---

Calvert County commissioners Jerry Clark, Wilson Parran, Linda Kelley, Barbara Stinnett and Susan Shaw with JoAnn Adams, holding basket, honored for her tireless volunteer work with this year's Calvert You Are Beautiful title.
Who's Most Beautiful of Them All?
In Calvert, that's good deed doer JoAnn Adams
Calvert County has a lot of beautiful people — people who spend countless hours tirelessly helping others in their community. To recognize this group of givers, the county holds an annual Calvert You Are Beautiful contest. This year's field was crowded with 26 individuals or groups nominated for their good work. In an awards ceremony at Calvert Pines Senior Center, good Samaritan JoAnn Adams was crowned the most beautiful of all.
"I can't believe it," said the very surprised Adams. "I just can't believe it."
A Calvert resident for 24 years, Adams began her volunteering in 1967 when she and her husband started the Twin Beach Youth Group. In the years that followed, Adams' list of volunteer credits grew: American Legionettes Majorettes and Drum Corp, Abused Person Program advocate, Southern Maryland's Association of Retarded Citizens and Calvert County On Our Own.
"I'm exhausted just hearing all the things JoAnn does," said Calvert Commissioner Linda Kelley. "When does she sleep?"
Adams was chosen by a panel of judges including Bay Weekly editor Sandra Olivetti Martin, Carrie Lovejoy of the Calvert Recorder, Marty Madden from the Calvert Independent, Rich Romer of the Voice of Southern Maryland and Judi Coyle, the 2008 Calvert You Are Beautiful winner.
–Margaret Tearman
---
Our Hapless Neighbors
Dateline Annapolis: Temper, temper!
Three women kicked, scratched and jumped on the car of a fourth woman (College Creek Terrace: 10:30pm Sept. 20);
A fight between roommates over loud music became violent and led to the arrest of both roommates on charges of first- and second-degree assault and reckless endangerment.
(Spa Road: 10:21pm Sept. 22);
Three men left their car to shout at, hit and kick a third man, taking money from his pockets after he had fallen to the ground. (Duke of Gloucester at Green Street: 3:43am Sept. 29).
–from recent police reports
---
This Week's Creature Feature
Recycling Goes to the Pups
At Bay Weekly we're serious about recycling, and we urge you to recycle your weekly edition. Less than one percent of the papers distributed throughout two counties are left on the stands the following week to join Anne Arundel or Calvert's recycling load.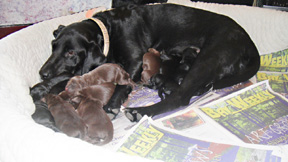 Reader Debbie Powell had another use for some of deliveryman Tom Tearman's September 17 returns.
On September 24, as Tearman dropped off his usual bundle of papers at Total Fitness for Women gym in Prince Frederick, Powell was waiting for him at the front desk. Her black lab, Bella, was about to give birth to a litter, and Debbie wanted newsprint for Bella's bed.
"What do you do with any leftover papers from the week before?" she asked Tearman. "Do you have any I can use?"
Tom gave Debbie the week-old papers he had accumulated, asking in return that she keep him updated on Bella's pending motherhood.
Those leftover papers were put to good use. The next night, Bella delivered 11 healthy Lab puppies: three black males, three black females and five brown females.
Those puppies will grow up with Bay Weekly, as Tearman will provide Debbie and Bella with old papers to keep the canine family's bed warm and dry.
–Margaret Tearman