Keeping Up with the Tred Avon
Now everybody wants to grow oysters
Oyster gardens have become the new environmental status symbol. After oyster gardens thrived on 177 piers on the Tred Avon River last year, everybody wants to get in the game.
And they can.
This month, 11 more Chesapeake tributaries are competing to break the Tred Avon's record.
In July, the Coastal Conservation Association began its effort to raise 1.5 million oysters on the Patuxent, one of five western shore rivers enrolled this year (http://www.bayweekly.com/old-site/year09/issue_29/lead_1.html).
Late last month, Severn River waterfront dwellers organized by The Severn River Association make their piers home to 250 cages of infant oysters bred at the University of Maryland Center for Environmental Sciences.

Work is under way on the South River, too. Mary Miller was solicited by a kayaker (and dog) from the South River Federation as she stood on her pier on Glebe Bay. Miller now hosts an underwater oyster garden of four cages.
"I'm supposed to make sure they're underwater but not resting on the bottom," Miller says. "That means I have to do a bit of fiddling, as our water is shallow."
All 11 rivers and 12 programs are part of Marylanders Grow Oysters, which works with the Maryland Department of Natural Resources and the Oyster Recovery Partnership to unite citizens and oysters.
If you've got a pier, you can keep up with the Tred Avon, too: www.oysters.maryland.gov/.
But remember, you can't eat even one. All these oysters are earmarked for sanctuaries, where they'll live, it is hoped, long lives restoring the Bay.
–Sandra Olivetti Martin
---
Gaming Goes Outdoors
A new videogame brings the great outdoors online
To get your kids off the couch, you may have to resort to video games. The U.S. Fish and Wildlife Service has developed a video game geared toward getting ages eight to 11 out of the house.
The Fish and Wildlife Service is banking on an online community to get kids hooked on outdoor activities. Children join the Neighborhood Explorers Club — that's NX Club for the cool kids — and make virtual friends with eco-kids Mia, Lucy and Steve, who lead a conservation journey.
Neighborhood Explorers takes kids on a trip thru their own backyards. Players plant virtual gardens using native plants, watch for wildlife and explore the Neighborhood Explorers tree house. Kids who've graduated to Conservation Hero test their skills with a Jeopardy-style trivia game and post best scores. Committed conservationists get patches documenting their virtual environmental projects. Five patches grow into a real tree sent by the Arbor Day Foundation (while supplies last).
Computer screens don't host mosquitoes, radiate heat or sit in mud. But getting kids interested in the world around them might just convince them to turn off the computer, or at least put it in sleep mode for a few hours, and get outside.
To take a virtual trip out of your front door: www.fws.gov/letsgooutside/.
–Diana Beechener
---
Elmo and Gordon Fight Swine Flu
Catch their advice — not flu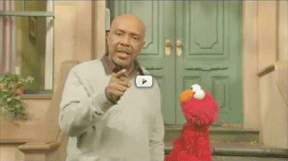 It's all fun and games this week, as three federal agencies not known for their humor lighten up, partnering with Sesame Workshop on a deadly issue: helping kids avoid Swine Flu. Sesame Workshop, the people behind Sesame Street, enlisted Elmo and Gordon as the talent in four television public service announcements to teach kids basic health habits: wash your hands; sneeze into the bend of your arm; and avoid touching your eyes, nose and mouth.
After the muppet-and-man pair make their points, viewers are directed to www.flu.gov, the federal government's one-stop website on both the new H1N1 virus and the seasonal flu. The federal partners are the Departments of Health and Human Services, Homeland Security and Education.
"Sesame Street's Elmo can be a powerful messenger," said Gary E. Knell, Sesame Workshop's president and CEO.
His muppet cousins of Plaza Sésamo have already been at work making PSAs to respond to the flu outbreak in Mexico.
Look for the new series on stations nationwide — now.
Batter Up at Under Armour
Three baseball pros take a swing at gaming
Three big leaguers — the Orioles' left fielder Nick Markakis, the Nationals' Ryan Zimmerman and the Marlin's Jeremy Hermida — will see if their talents translate to the big screen at the Under Armour Home Run Derby.
The three athletes — all Under Armour-sponsored ballplayers — support their athletic wear and their love of Playstation 3 games.
The players pick up virtual bats to compete in a virtual home-run derby, playing MLB The Show 2009 and competing only for bragging rights.
You'll get to meet with the athletes, but don't bring the ball you caught — or anything else — for them to sign. Major League Baseball memorabilia rules allow players to leave their signatures only on pre-printed cards on hand at the store. If you're set on a more personal memento, bring a camera and catch them in pictures.
Meet the players and watch them play 11am-1pm @ Under Armour Store in Westfield Annapolis Mall (410-571-9331).
–Diana Beechener
---
Our Hapless Neighbors
Coke seized in bust bust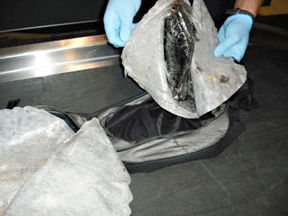 Eighty percent of women are wearing the wrong size brassier, proclaims the sign in the window of an Annapolis specialty store.
And no woman more than Sophia Williams. Which may have been what brought the 35-year-old Washingtonian to the attention of the Customs and Border Protection officers who represent the Department of Homeland Security at Thurgood Marshall Baltimore Washington International Airport.
A more thorough search than most travelers undergo revealed about two pounds nine ounces of cocaine divided into two equal packages padding each cup of Williams' brassier.
"Narcotics smugglers will go to great lengths to conceal their dangerous drugs, and this is another unique concealment method," said James Swanson, CBP Port Director for the Port of Baltimore. "Unfortunately for her, it wasn't so unique that it fooled our highly trained officers even for a second."
Williams was arrested and jailed.
–from U.S. Customs and Border Protection reports
---
Our Creature Feature
A rare catch on the Choptank
Shady Sider Frank Bright caught and released a 40-inch, 35-pound red drum while fishing aboard Les Sorensen's Escapade. Bright, Charlie Ziegler and Patrick Buford were trolling near the mouth of the Choptank in 20 feet of water.
The red drum, or channel bass, is a migratory, coastal fish, much as our striped bass, but with a more southerly range. Preferring saltier water, drum seldom venture above Point Lookout. Puppy drum might break the rule, but a fish as large as Bright's is a pretty rare catch in the mid-Bay.
The Maryland state record was caught in 1977 in Tangier Sound and weighed 74 pounds six ounces.
Good thing Bright released his: Red drum over 27 inches are not legal to keep.
---