Cuddle Up To an Oyster
Many are the rewards of raising bivalves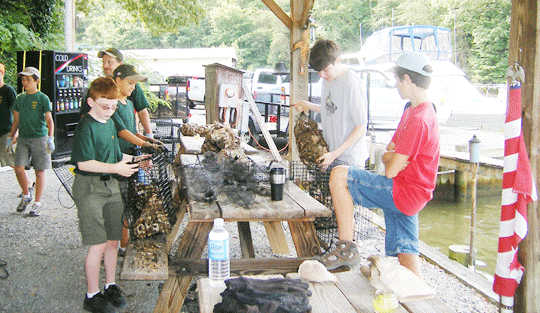 photos by Sara Newman
Eleven Scouts from Troop 427 filled 250 cages with shells and spat hoping to grow 1.5 million oysters.
by Sandra Olivetti Martin and Sara Newman
As pets go, oysters are not as cuddly as puppies or kittens.
But oysters bring their human companions other rewards. By bringing home a colony of oysters, you're helping create protected sanctuaries of living oyster reefs, thereby restoring not only this iconic species but also the Chesapeake ecosystem, including the many species that depend on oyster reefs.
If you live on one of 11 select Bay tributaries on both shores, you're likely to be hearing that pitch. That's because the Marylanders Grow Oysters Program is working with grassroots organizations on all those rivers and creeks to raise up to four million oysters in 2009.
On the Patuxent, one of five Western Shore rivers enrolled this year, the Coastal Conservation Association promises to raise a whopping 1.5 million oysters. To reach that goal, the association and program need lots of oyster lovers to become, in their vernacular, oyster growers or gardeners.
To join up, waterfront dwellers commit to care for their oysters for at least a year. The commitment begins with filling a cage — the young oysters' home for their first year — with up to 800 tiny oysters seeded on old shell. Then the caged oysters are carried home, submerged and suspended from a pier and fortnightly shaken and rinsed free of accumulating muck.
After their first, vulnerable year, the oysters are transferred to sanctuaries and released from their cages to grow and prosper. "Growers in tributaries will see the oysters they've tended planted in a sanctuary in their river system," says Chris Judy, Department of Natural Resources's coordinator for the program.
On July 11, 45 people picked up eight cages each at K.B. Derr and Son Marina on Rousby Hall Road. Their oysters will live the next year on Mill Creek, where the density of homes — many with septic systems and green fertilized lawns — give the little water-purification machines the work nature trained them to do.
photos by Sara Newman
Calvin Davies hopes his troop's oyster raising project will help him follow in his father Chris' footsteps to the rank of Eagle Scout.
I
n charge of oyster distribution was 13-year-old Calvin Davies, of Lusby, a rising freshman at Patuxent High School who hopes this project will help him follow in his father's footsteps to the rank of Eagle Scout.
"I've grown up on the water and I'd always wanted to do something to better the environment," said Davies who, with 10 other Scouts from Troop 427, distributed 1.5 million oysters in 250 oyster cages.
The cages were made and the spat grown by John Ferrington. The Coastal Conservation Association paid Johnny Oysterseed about $20 per cage and $20 for its spat under a $25,000 grant from the Dominion Foundation.
"We continue to look for projects that make a difference to the water," said Mike Frederick, director of LNG Operations for Dominion Cove Point.
Other partners get their seed and spat from Marylanders Grow Oysters. Seed is produced at the Oxford Lab of the University of Maryland Center for Environmental Science. Cages are constructed by inmates in Maryland prisons in Hagerstown and Church Hill.
Through mid-September, 1,500 more cages of oysters seek homes with 375 more households on Battle Creek, Coster Cove, Helen Creek and Deers Cove.
"Mill Creek is the first distribution, so we're learning a lot," said Scott McGuire, the association's government relations committee chair.
Adopt Oysters into Your Family
To become a Marylander Growing Oysters on the Patuxent, talk to Lew Armistead at 703-966-3055; [email protected]
Or join the Southern Maryland Oyster Cultivation Society, which is working on the same river with a double goal. First, the society wants to plant 300,000 oysters raised at their docks in 2008. The Oyster Cultivators are working with Department of Natural Resources in hopes of setting up sanctuaries in creeks near the places they were raised. The second goal is starting 500,000 new oysters this year. Contact is Matt Regan: 301-461-0100; [email protected].
In Anne Arundel County, oyster growers are needed on three rivers: the Magothy:www.magothyriver. org/Who_We_Are.html; Severn: www.severnriver.org; and South: www.southriverfederation.net.
In last year's pilot program on the Tred Avon River, 177 growers tended 854 oyster cages distributed throughout the river and its creeks. This summer, the oysters will be collected and planted in a sanctuary near Oxford.
"This is critical to the eco-system, and it's a great way to get involved in the environment," said Coastal Conservation Association volunteer Jim McVay, who has been growing oysters for five years. From the size of his pinkie fingernail, some of his oysters have grown to six inches. Each oyster filters 50 gallons of water a day by feeding on the algae that fouls the water.