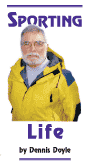 Fish Are Biting
Even in the summer doldrums, a good bite continues on Mid-Bay waters. The chumming action for stripers at the mouth of the Chester remains productive. Nice rockfish are being taken around the Bay Bridge early and late, mostly by live-liners with small spot for bait. Breaking rockfish, some to 30 inches, are being reported in the mouth of the Eastern Bay and the south side of Poplar Island. The Breezy Point area is also experiencing a surface bite with big schools of nice-sized rockfish breaking in the early mornings and late afternoons.
The Bay is teeming with jumbo spot right now, but the little guys are hard to come by. Try farther up in the rivers for the right-sized baitfish. Panfishing overall has been excellent recently with lots of jumbo spot, perch and croaker at Belvedere Shoals, Snake Reef, Podickery, Dolly's Lump and Hackett's.
Crabbing is excellent some days, not so good on others, but no one is complaining about the sizes. There are big crabs to be had this year.
A Bunch of Happy Kids
Fishing, catching and eating restoreth our youth
Launching at Sandy Point and ranging out over calm seas, we ran parallel to the Bay Bridge for about half a mile. Our destination was Dolly's Lump. My two stalwart crew were eager and armed with light-action fishing rods bearing a pair of No. 4 hooks and a one-ounce sinker. We were aiming to provision a fish fry.
We weren't the only boat at the Lump interested in the panfish rumored to be abundant there. Baiting up with grass shrimp and bloodworms, we dropped our rigs into the 18-foot depths.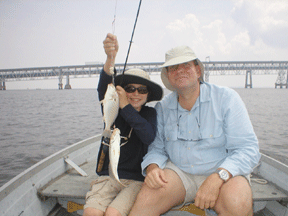 Long Islanders Sandy Sempliner, right, and his 12-year-old nephew, Wyatt, fish for a taste of the Chesapeake's bounty.

The bite was immediate and electric. Within seconds, all of our poles were bent over the gunnels with attacks from hungry fish.
The light tackle we were using made getting the fish to the boat challenging. A chunky nine-inch Norfolk spot can put up quite a scrap, a 10-incher even more so — and two of them at a time can give you an aching wrist fast. We were into non-stop action.
An occasional white perch and hardhead made the game even more interesting as we began to guess the unseen species that was at the end of our straining rods. My two companions were soon grinning big-time from the constant hook-ups, and I found myself having a ball as well.
There is no surer way to relive the earliest joys of fishing than to have an eager kid on board, and we definitely had one of those. A longtime sporting partner of mine, Sandy Sempliner, had brought his 12-year-old nephew, Wyatt, down from Long Island for a taste of the Chesapeake. Wyatt was proving a fanatical fisherman.
When the bite at Dolly's slowed with a slacking tide, we picked up and ran south to Hackett's Point. No sooner had we dropped our lines there than the bite resumed, red-hot again. As a bonus, the spot were even bigger and the croaker more abundant. It was panfishing heaven.
We had started the trip icing only croaker that were at least 11 inches. The spot and perch, at first, had to be over nine inches. We soon raised that bar to 10; then at Hackett's it went to 11 inches. Even then our cooler was soon full.
The action kept up unabated for three more hours. Finally, arms sore and weary, with the wind stiffening and the sun getting low in the sky, we called it quits and headed for home.
Too Tired for Cooking
Washing down the skiff, cleaning our catch and planning the fish fry were next. Worn out from the day's frantic pace, we decided to get some assistance with our meal. Old friends at The Court of Shanghai Chinese restaurant on West Street (410-266-5990) agreed to help us.
Two hours later, showered and refreshed, accompanied by our family and friends, we sat down at the restaurant to platters heaped high with crispy fillets of spot, perch and croaker. Accompanied by tasty sauces and some exquisite vegetables, the meal was delicious.
Pausing from time to time to relate the more exciting moments of our adventure, Wyatt, Sandy and I enjoyed our day of fishing all over again. I mentioned to my wife at how giddy young Wyatt seemed after his day on the water "You and Sandy are, too," she replied. "You're all just like a bunch of happy kids."
That, I believe, is a good thing.
© COPYRIGHT 2009 by New Bay Enterprises, Inc. All rights reserved.