Choptank River Bridge Pier State Park Named for Bill Burton
Maryland's longest pier and second smallest state park
Bill Burton brought a rare ray of good news to brighten last week's State Board of Public Works meeting, where $280 million was cut from the state budget.
Amidst the blood and groans of the cuts, the assemblage stood to applaud the creation of the Bill Burton Choptank River Bridge Pier State Park. Yes, the pier and its 26 surrounding acres were elevated to a state park in Burton's honor. And yes, it's a mouthful, but everybody was glad to say it, especially after wife Lois Burton spoke eloquently of his accomplishments.
Burton was not on hand to silence tributes or applause with his signatory Enough Said. Another hospital confinement made him miss the official act.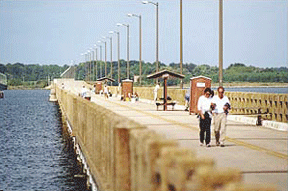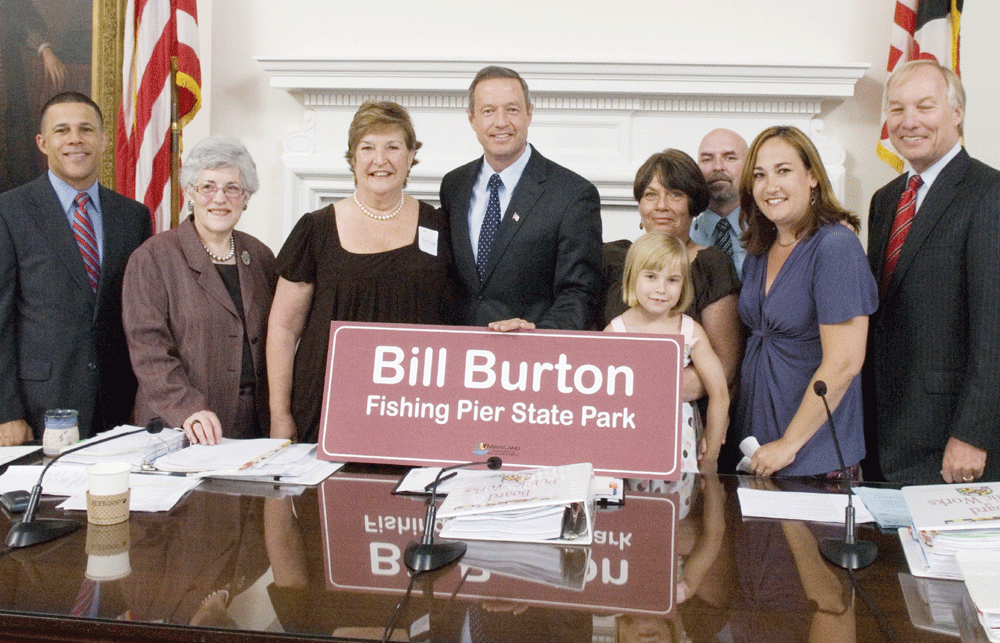 The pier is the old bridge across the Choptank River on Route 50. When that bridge was replaced in 1986, Burton lobbied in his Baltimore Evening Sun outdoors column that it remain to bring fishers to fish. The scarcity of public fishing access is one of Burton's themes over his 62-year career writing about Maryland outdoors life. He prevailed, and a mile and a half of the bridge remain, projecting from either shore (though the center drawbridge section was removed). Thus Burton adds two more superlatives to his legend: Named for him are Maryland's longest pier and second smallest state park.
Burton's Sun successor Candus Thompson lobbied for the naming tribute. She, too, prevailed.
"Bill's commitment to the promotion, sustainability and prosperity of fishing and hunting in Maryland is unquestioned by those that know him, especially during the past two years as he has continued to write professionally while fighting cancer," said Natural Resources Secretary John Griffin.
Still to come are signs at both the Talbot and Dorchester sides of the pier, plus a plaque bearing Burton's image.
–Sandra Olivetti Martin
---
$50k to Get You Up Offa That Thing
Maryland Area Heritage Program supports trails, exhibits, tourism
How much does it cost to get you up off that thing?
James Brown did it with a song when he played Calvert Marine Museum a couple of years back. Cost? About $45 per ticket.
With no more Godfather of Soul, the price has gone up. Fifty thousand dollars is making its way to the American Chestnut Land Trust to encourage visitors to get out of the car and take a walk. That's the sum the Trust will use to link its trails to Prince Frederick as the Prince Frederick to Chesapeake Bay Overlook Trail.
The grant comes from the Maryland Area Heritage Program under its mission to preserve and exhibit historic heritage, including historic buildings and districts, distinctive cultural traditions, natural landscapes, museums parks and traditional ways of life through local food, music and art.
In Solomon's, The Calvert Marine Museum Society gets $10,000 to support a new African Americans in Southern Maryland exhibit.
The Southern Maryland Heritage Area Consortium, the middle man in the granting, gets $50,000 more to support its own mission: to enhance economic activity by combining quality heritage tourism and small business development with preservation, cultural and natural resource conservation and education.
Consortium director Roz Racanello rejoiced. "We'll continue to be a source of funding support for historic and recreational programs in Southern Maryland," she said.
–Margaret Tearman
---
Hapless Neighbors
Recent installments from local police
2:50am Friday, July 24–Annapolis police were called to a yacht basin on the first block of Compromise Street for a burglary that had just happened on a boat docked in the basin. The victims reported that they were awakened by the sound of someone moving around on the boat. One of the victims chased the suspect off the boat and was able to give police a description of a thin Caucasian male, about 5'8" to 5'10" tall, wearing a black V-neck shirt and dark jeans.
While checking the area surrounding the boat, officers located a suspect in the bushes. The suspect was naked when he emerged, but officers found wet clothes in the bushes matching the description given by the victim. The suspect was arrested and charged with 1st, 3rd and 4th degree burglary and theft.
---
Hunt Mor Der
Last but not least, our Creature Feature comes to us from Western Maryland
It's about that time of year when Maryland's black bears wish they'd organized like the cows behind Chic-fil-A's Eat Mor Chikin campaign. If they had, we'd be seeing bears wearing signboards that read Hunt Mor Der.
On August 1, Maryland Department of Natural Resources begins accepting applications from hunters who hope to shoot a bear in the season opening October 26.
Two-hundred-forty hunters will be picked from the applicants by lottery. Western Maryland will have 60 to 85 fewer bears when the season ends.
The $15 application fee funds the Black Bear Damage Reimbursement Fund, which has, since 1996, paid farmers nearly $100,000 for crop damage inflicted by bears: http://www.dnr.state.md.us/
huntersguide/blackbearhunt.asp.
–Sandra Olivetti Martin
---