Red, White, Blue and Green
Not all ticker-tape parades are a waste of paper
by Diana Beechener
Seventeen-year-old Harbour Schooler Paul Florent had two hours to build the Sears Tower — all without creating any waste. Using photo references and dozens of Legos borrowed from his teachers, Florent made a scale-model skyscraper to join Lego versions of the Smithsonian, the U.S. Capitol, the Empire State Building and Victorian homes on his homeroom's American Architecture float at his school's Patriotic Parade and Float Contest.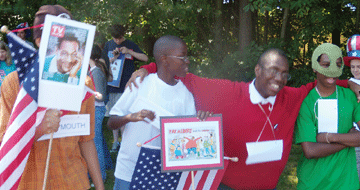 "We were planning on dressing up as artists of different centuries, but then we decided it would be a little bit easier just to be architects ourselves," says Florent of his class float. "The teachers brought in quite a few Legos, and we decided that we would try to reconstruct famous buildings."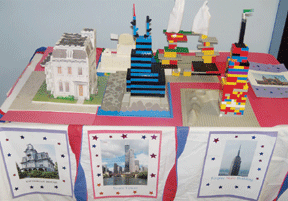 The parade, now in its seventh year, is a highlight of Harbour School's 11-month academic year. The first-through-12th-grade special- and individual-needs school thrives under the Maryland Voluntary State Curriculum, encouraging students to demonstrate learning through performance application.
"The parade started so that the kids could learn to work together," says performing arts teacher Michelle Davy. "Because we have a lot of new students in July, the goal is for them to get to know each other and get together to create a project. Sometimes it's a float that actually moves. Other times they do a presentation."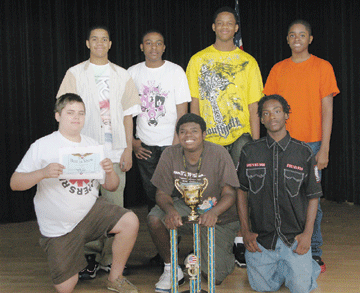 A
dds performing arts teacher Noel Butler: "So they not only have to work together, but they have to present what they found in an informative way."
This year, Davy and Butler decided to teach their students that sometimes freedom is free, by decreeing that all work must be made of recycled material.
"We're a green school, so any projects that we do, we don't want to be throwing stuff away, wasting a lot of stuff," says Butler. "We try our best to use recyclable materials. All of the items that the students use have to be borrowed or in their class supplies. They can't just go out and buy a bunch of new stuff."
With no budget and four half-hour homeroom classes to complete their floats, students had to quickly create a three-minute presentation on American artists.
"What's interesting is that even though they only have a few days to work on it, they actually do research and find out about the people they're working on and work together to create something," says Davy.
Work they did. A team of boys, who won the Best in Show honors, celebrated Billie Holiday and Gregory Hines by learning to tap dance in two days. Other groups honored artists from Bill Cosby's Fat Albert to American musical genres to Michael Jackson. The students discovered that parade floats take the drudgery out of schoolwork.
"It was basically just a fun activity, not much learning involved," claims Florent, before reassessing: "I guess I did learn about the buildings."
Davy and Butler were pleased that learning could be fun and eco-friendly.
"We even recycle our Best in Show trophy," Butler says. "We pass it around from year to year."