National Gallery's Stainless Steel Tree Grows at Annmarie
Good thing it's not deciduous
A new tree is growing, or seems to be, in Annmarie Garden. With a stem of stainless steel leafing out in four giant stainless steel cubes, it's a little different from the trees in the forest that surround it. But oddity — call it creative dissonance — comes with the territory at Calvert County's art and sculpture garden. So at 17 feet, Cluster of Four Cubes is only the tallest of the two dozen world-class sculptures you'll bump into in the garden's 30 acres.
Most of the companions to American artist George Rickey's mobile sculpture come to the garden through the Smithsonian Institution's lending program. That partnership brought Annmarie Garden its first George Rickey, Three Red Lines. The long, throbbing needles visited for five or six years before traveling on to Tennessee. Four Cubes — the first loan to Annmarie from the National Gallery of Art — salved Three Red Lines' nostalgic curators and fans with, in the words of director Stacy Hann-Ruff, "this wonderful kinetic piece, also by Rickey but very different."
Like much of Rickey's work, Hann-Ruff explains, "Four Cubes is an elegantly balanced and constructed work of art that moves with the lightest of breezes. The four shiny cubes that sprout from the main truck rotate constantly. The stainless steel surface throws bright reflective spots."
Cluster of Four Cubes greets you as you walk up the sidewalk to the main building.
–Sandra Olivetti Martin
---
Annapolis: A Playful City USA
Making play a priority for the health and well-being of kids
When we got the news, we planned a party. Then we learned we'd have to have our party in the playground.
The playfulness Annapolis shares with Indianapolis (yes, our suspicions are rising, too), Ankeny, Iowa, and Dothan, Alabama, is not the toot-your-horn-while-wearing-paper-hats-and-drinking-champagne-from-a-slipper sort.
It's a designation awarded by not-for-profit KaBOOM! for creative commitments to the cause of children's play in the areas of quantity, quality and access. "Quality relates to the number of usable, open playspaces," KaBOOM! spokesman Mike Vietti explains.
"Quality involves subjective factors that encourage repeated use and make playspaces engaging, exciting, interesting and fun. Access entails the ability to get to a playspace (roads, trails) and a lack of barriers to the playspace (cost, safety, traffic, locked gates, equity)."
Among 93 Playful Cities, Annapolis joins two other Maryland cities — Laurel and Takoma Park — as first timers, as Indianapolis and San Antonio. Most return to the list for their second or, like Greenbelt, third years.
Annapolis earned its place on the playful list for "working to improve opportunities throughout the community. The city will construct an indoor playground as part of the new recreation center. This indoor playspace will add unstructured opportunities for play year-round. Additionally, Spa Creek and Poplar Trails will be connected so that citizens can reach the Bates Complex and other city parks."
–SOM
---
First Diamond Jim Imposter Caught
And last but not least, our Creature Feature comes to us from Bill Burton.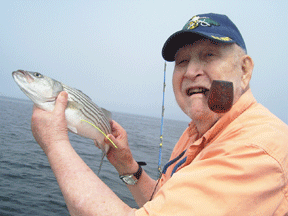 Our Old Man of the Chesapeake has retired from writing, or so he says, but not from fishing. On July 1, Burton helped catch and release 50 more rockfish to improve your chances of hooking Diamond Jim, who this month bears a tag entitling its lucky catcher to $20,000. There's only one Diamond Jim a month for the three months of summer. But now there are 99 imposters, each carrying a reward of $500, with drawing for more prizes come Labor Day.
Last week the first of the imposters got caught. David Short of Fishing Creek in Dorchester County hooked his $500 fish, an 18-incher, under the Hoopers Island Bridge.
"I couldn't believe it when I caught him," Short said. "I usually go for hardhead, not rockfish. I never expected to see the Diamond Jim tag."
---