Getting Well
In our back yard, a model for health care reform flourishes

The Many Faces of Community Health Care
Owensville Primary Care is one of about 1,200 community health centers in the U.S. serving over 18 million people. These centers provide preventive and primary care to underserved populations, along with social and support services. They all charge uninsured patients on an income-related fee scale and are governed by consumer majority boards. They get cost-related payments from Medicaid (federal/state insurance for low income people) and Medicare (federal insurance for the elderly and disabled). The vast majority also receive federal grant funding to subsidize services. Owensville does not, although it must meet the same requirements as grantees for the advantageous reimbursement.
Community health centers are popular with both Republicans and Democrats, having experienced major expansion under President George W. Bush and receiving one of the first jolts of stimulus money under President Barack Obama. Supporters argue that they're an integral part of health reform.
"Even if everyone had insurance," Dan Hawkins of the National Association of Community Health Centers says, "our centers would still be needed to provide full-time medical staff in areas lacking doctors, management of the chronic diseases that now account for 75 percent of all medical expenditures, and services like transportation, outreach, translation, health education and social support that make access to care a reality. These things contribute to proven reductions in the cost of expensive specialty and hospital services."
Maryland has 16 health centers serving roughly 220,000 patients. Besides Owensville, other centers in or near Chesapeake Country include a satellite of Baltimore-based Peoples' Community Health Centers in northern Anne Arundel County and the Greater Baden Health Center with eight sites, most in Prince Georges County.
On average, health centers see significant numbers of uninsured patients, and most of those with coverage have public insurance. At Owensville, however, 54 percent are commercially insured, another 36 percent have public insurance, and less than 10 percent are uninsured. The other extreme might be represented by one Greater Baden site, the Nanjemoy clinic in southern Charles County. Recently threatened with closure because it lacks the critical mass to support a medical staff, Nanjemoy has half its patients uninsured and only 10 percent with private coverage.
Besides community health centers, care for uninsured and underserved people in the area is provided by hospital clinics and other organizations. For example, in North Beach there is a satellite of Calvert Memorial Hospital. In Annapolis a nurse practitioner comes to a public housing site to see uninsured children, and Anne Arundel Medical Center operates the Stanton clinic. These organizations offer some of the same basic care as the centers but are frequently staffed by rotating doctors and nurses and don't always have the same continuity or support services.
In addition, the Anne Arundel County Health Department and Calvert Memorial Hospital coordinate programs where needy patients are referred to physicians who agree to discount their services.
–Bonnie Lefkowitz

by Bonnie Lefkowitz
All the king's horses and all the king's men couldn't put Humpty-Dumpty together again.
For America's broken health care system, President Barack Obama and his high-powered team of specialists are predicting a fuller recovery — once they find the right medicine.
We'd like to direct their search to the southeast corner of Anne Arundel County. There one formulation of the prescription they're seeking is working quietly and successfully as the Owensville Primary Care center and its never-say-die director, Sylvia Jennings, provide health services to 3,300 Chesapeake Country citizens.
Successful reform, all the experts agree, depends as much on assuring access and reducing costs as on expanding insurance coverage. Access and affordability is the mission of America's 1,200 community health centers, aimed at people who might not otherwise get the services they need. [See sidebar.]
In that way, the Owensville center — whose motto is No neighbor shall go without needed health care — resembles other health centers. What's unusual is that Owensville has also managed to attract and keep a majority of people who can afford to go elsewhere. That helps subsidize people who can pay very little.
Rising to the Challenge
Sylvia Jennings holds this unique coalition together. At 73, she resembles the grandmother she is — if your grandmother were as tenacious as the unsinkable Molly Brown. Told that she's been called "a force of nature," Jennings muses about that epithet. "I hope they don't mean strident. But it's true I don't take no for an answer."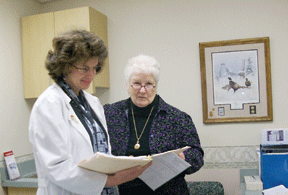 Physician Leslie Brooks and director Sylvia Jennings confer at the Owensville Primary Care center.
Having helped rescue the Owensville center from financial chaos and set it on its present course in 1981, she's still going strong in this unexpected second career.
Jennings trained as a nurse, took time out to raise a family and returned to work as chief political aide to Virginia Clagett, who served on the Anne Arundel County Council and has been a state delegate since 1994. "I loved my job," she says. "Then someone said there was this health program in trouble in our district, and I was sent to investigate."
What Jennings found was a mess: the result of an overreaching community program with multiple sites that had tried to operate as an HMO, then the fashionable model for all health care. Debts had climbed, and loss of federal grant funding threatened the entire structure. With Jennings as a board member, Owensville Primary Care reorganized, retrenched and began the slow climb back to solvency. She rose with it. In 1997, she was appointed director, the position she still holds.
"Some years we didn't know whether we would finish in the black or in the red," Jennings recalls. "Some years we still don't."
Compounding the Prescription
Dedication is a key ingredient in Owensville's formula for success. "Many of our employees have been with us for years and are willing to work for far less than they could command in the private sector," Jennings says. "For example, we have a medical director who's a good-old country doctor at heart. We don't spread it around, but he's been known to make house calls to truly homebound patients."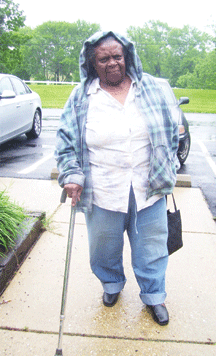 Patient Priscilla Thompson leaves Owensville Primary Care one rainy day.
Recently the physician she's talking about, Wayne Bierbaum, drove down to Owings, across the Calvert County line, to visit a woman who is bed-bound due to a stroke and a brain tumor. "We're trying to help manage her medications and other issues. It's hard to tell what's working unless you see and talk with her, see the conditions she's living in," he says.
In the bigger picture, Bierbaum explains, "My patients are aging, and there are often issues around how much assistance they need. Our goal is to keep them out of the hospital and living in their own comfortable circumstances. For that you need a supportive family." When Owensville patients do need assisted living or nursing home care, Bierbaum visits them there as well.
The bigger picture is always in view in this model of health care. Doctors, nurse practitioners, physician assistants and support staff pay attention to the need for medical care and also to what makes people sick in the first place.
For example, a smoking-cessation program seems to be succeeding despite the tobacco-friendly heritage of Southern Maryland. As is typical in such efforts, some patients take several courses before they are smoke-free. One who made it on the first go-round is Tom Imms, who moved to Shady Side with his wife nine years ago. "I had a strong incentive because I had two grandfathers who had cancer of the larynx," Imms says. He praises the approach of Owensville's classes and the fact that they provide nicotine gum, lozenges or patches to help.
Some of what goes on in the beige stucco building overlooking Owensville Road, linking Route 2 and Galesville, harks back to the days when health centers prescribed food for hungry patients, visited their homes and even helped dig wells and privies.
Billie Meadows is technically Owensville's office manager. But with Jennings' blessing, Meadows has built her own social services practice, keeping track of frequent patients, giving them coffee in the morning, reading mail for some who can't read and checking on them in their homes when she doesn't hear from them.
"One gentleman lived in Glenwood Senior Housing in Annapolis," Meadows relates. "He wasn't feeling well, so he drove his rickety truck all the way down here. He was waiting on a bench when I arrived at 7:30. It turned out he was having a heart attack. He should have called 911, but this is where he wanted to come, and fortunately we were able to help him."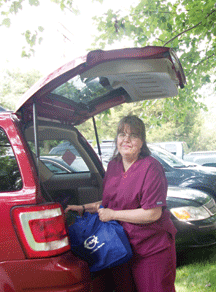 In addition to her role as office manager at the Owensville Primary Care center, Billie Meadows makes runs to the food bank and an emergency baby pantry for needy patients.
Meadows makes runs to the county's central food bank in Crownsville and to the emergency baby pantry at nearby Christ Church. Most needy patients pick up their food and supplies at the center, but sometimes she'll take things like formula, diapers and blankets to new mothers who can't get out.
In turn, the staff's loyalty is boosted because their own needs are usually met. Operations director Sharon Widmann remembers toddlers sleeping on an air mattress in the center's back room and mothers filling in for each other if older children needed emergency pickups from school.
Independent and Able
Externally, Jennings has worked at keeping good relationships with local and state political leaders. At every turning point, she found herself making midnight phone calls and knocking on doors that might have been shut to anyone else. She was able to get a $400,000 bond issue to renovate the original building, doubling the number of exam rooms in the same space, and a state-recommended but federally approved designation as a medically underserved area, bringing advantageous treatment from Medicare and Medicaid.
To this day, the idea of dependence on grant funding seems to stick in the craw of Owensville's staff and board of directors, a majority of whom are also patients at the center. They want to survive as a business, albeit a business that garners other kinds of help from federal, state, county and private community sources. Their history has made them cautious of expansion, but they do rent space to a psychologist, a professional counselor and a podiatrist — on the condition that discounts are offered to needy patients.
One way that taking outside support did make sense was participating in a plan to convert to electronic medical records. Owensville is part of a network of Maryland centers that obtained federal money and purchased the hardware, scheduled for installation this summer. That step, which places them in the mainstream of modern medicine, means lots of training and a major transition for caregivers used to scribbling notes by hand on a paper chart. If things go as planned, the result can be major strides in internal communication and coordination with other health providers.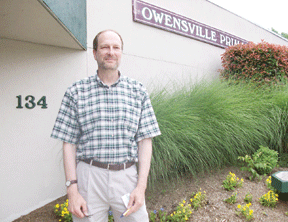 "My patients are aging, and there are often issues around how much assistance they need," says Dr. Wayne Bierbaum. "Our goal is to keep them out of the hospital and living in their own comfortable circumstances. For that you need a supportive family."
Bottle and Sell It
Amid all the news about health and social services overwhelmed by the economic downturn and vying for federal stimulus relief, Owensville Primary Care hasn't seen much recent change in its registered patients. The proportion lacking any health insurance did increase, but the increase started small. Jennings thinks there may be an uptick over the next year, as people who have lost their jobs run out of extended COBRA coverage. The insurance some people have may also deteriorate, as more employers switch to plans that threaten preventive and primary care with large initial deductibles.
Resilience in the face of change to meet the needs of the community it serves is nothing new for Owensville Primary Care, set as it is in a diverse rural landscape that is gentrifiying but still includes pockets of poverty.
"People are always saying we should apply the community health center model to the general population," says Salliann Alborn, who manages the networks for managed care, information technology and quality improvement that Owensville is part of. "In that regard, Owensville is a beacon. If only we could bottle a little bit of what they are doing and spread it around."
Bonnie Lefkowitz, of Holland Point, is the author of Community Health Centers: A Movement and the People Who Made It Happen, published by Rutgers University Press. For 24 years, she worked with the federal government on health reform and care for underserved populations.