The Art of Discovery
At Annmarie Garden, a potty break becomes an artful experience
by Margaret Tearman
Stumbling upon unexpected beauty is always a pleasant surprise. Especially when you discover it in a place where you would least expect it.
Like in a public restroom.
At Annmarie Garden and Sculpture Park, a potty break becomes an artful experience. As Gayle Shane, a visitor from Boston, found when she opened the door to the women's bathroom.
"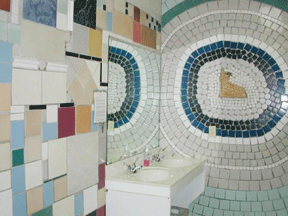 Oh," said Shane. "Oh my. I've never seen a bathroom like this. It is, well, just beautiful. Stunning."
Beautiful and stunning are not words usually associated with public restrooms. But the creative forces behind Annmarie Garden knew art had no limits.
The bathrooms were built and decorated in 1994 when Asbury Solomons donated the building to the still-fledgling sculpture park. Originally used as Asbury's sales office, the building had to be moved across Route 2/4 to its site off Dowell Road. The first and only building on the garden's grounds needed restrooms.
Volunteer decorators followed the movers and remodelers. The only stipulation was that walls had to be covered from floor to ceiling with tiles. No design was established beforehand, and the volunteers were told "to show their mood and let their creative energy flow."
Former Annmarie Garden board member Sue Apple was one of the volunteers.
"We had no budget, so we needed to have as much as possible donated," Apple told Bay Weekly." "So the garden's former director Jennifer Draxton called around to get the tiles donated and volunteers to lay the tiles. Pat Buehler, who was a county commissioner at the time, created the tree in the women's bathroom.
"I had never laid tile before, but Jennifer got a tile pro who fixed our mistakes. We got the tile on the wall, and the tile pro made it look good."
The tiling took about two weeks, with the dozen or so novice tile layers working on the project whenever they had the time. Mismatched, broken tiles meander around sinks, toilets and urinals. Minature tile models of the Garden's main gates — being built at the same time — are embedded in the walls. The result is such a work of art that the bathrooms are part of Annmarie Garden's permanent art collection.
Even after a new building opened last spring, the old tiled bathrooms get special interest.
"We frequently get groups that ask permission for the men to look in the women's restroom and vice versa," says Stacy Hann-Ruff, garden director. "We only allow that if they have asked permission, and they have to have a lookout person. We don't want to scare anybody. And people do tend to spend a lot of time in our bathrooms. There is a joke that when people disappear around here to go to the bathroom, don't hold your breath waiting for them."
The tiled bathrooms inspired other art at the Garden.
"Several of our youth public art projects involved tiling park benches and stepping stones," Hann-Ruff says.
There are plans to bring the new public facilities up to par.
"We do get requests to do something funky in our new bathrooms," says Hann-Ruff. "We haven't decided what to do, but we will eventually do something. We have to live up to our expectations."
Find the bathrooms, and the rest of Annmarie Garden, at 13480 Dowell Rd., above Solomons: 410-326-4640; www.annmariegarden.org