Diamond Jim Gets Richer
Catch the big fish in July and claim $20,000
The bad news: Diamond Jim, the rockfish with the $10,000 pay tag, eluded your hook for 33 days. Catch him if you can now that July's come, but he's worth only $500, the same as any other would-be Diamond Jim.
The good news: Diamond Jim's replacement — caught, tagged and freed July 1 by students in Baltimore's Living Classrooms — is worth $20,000 for the next 29 days.
More good news: 99 rockfish tagged for $500 are now yours for the catching.
If Diamond Jim remains free in August, his bounty rises to $25,000, and 149 imposters will be swimming around the Bay and its tributary waters, each one waiting for you to catch it and claim $500 — and the chance to win other big prizes in the Diamond Jim Labor Day Sweepstakes.
---
Calvert County Flush Fund Grows
Funds to stimulate new nitrogen-removing septics
Calvert County has received $1,582,000 from the Bay Restoration Fund to be used for grants upgrading residential septic systems. This new money is in addition to $932,467 the county received in 2006. To date, the county has awarded 102 grants for septic upgrades, 93 of those in the Critical Area – sensitive areas within 1,000 feet of tidal waters.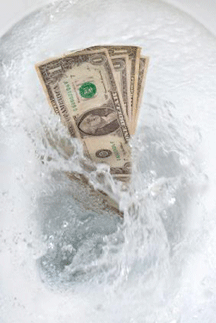 "Under the new grant, we will have 32 new systems in by the end of July, have bids out for another 30, and will still have enough funding for another 35 systems," says Steve Kullen, Calvert's grant manager. "We have 142 interested property owners on the list right now."
And that list grows by the day. Legislation passed in the 2009 General Assembly session requires that beginning October 1, all replacement and new septic systems in the Critical Areas must remove nitrogen.
Conventional septic tanks and drain fields were not designed to reduce nitrogen or phosphates. New technology has been developed that allows air into the system thereby removing nitrogen gas.
The cost to a homeowner for the new septic system would be at least $7,000. Under Calvert's grant program, the cost is less than $100.
"We pay for everything except permits," Kullen says. "And we don't choose the cheapest system. We choose the best system for the property."
Properties with systems that have failed or are failing get top priority.
"Grants are given to properties that will have the greatest benefit to the environment," Kullen says.
How can you tell if your system is failing?
"There are warning signs," Kullen explains. "An unpleasant odor, abnormal dampness in the soil around the existing septic system and an extraordinary green area. The worst-case scenario is a backup into your shower, tub or toilet."
Statewide, Maryland has approximately 420,000 septic systems, 52,000 located in the Critical Areas. It is estimated that 7 percent (3.6 million pounds per year) of Maryland's total nitrogen load comes from septic systems. Installing a septic system with nitrogen removal technology cuts a system's nitrogen load in half. Maryland's new Bay milestone goal is to upgrade at least 3,000 septic systems by 2011.
"Maryland's new, ambitious 2-year milestones to clean up the Bay and our waterways will more than double our nitrogen reduction efforts," said Governor Martin O'Malley. "Septic upgrades are a key component of our on-the-ground clean-up work to restore the Bay and local waterways and to protect our drinking water."
For information: Steve Kullen in Calvert County Environmental Planning office: 410-535-1600, ext. 2336.
---
Last but not least, this week's Creature Feature
After more than a decade of scarcity, Tom and his brood are abundant in Chesapeake Country.
A native bird, the wild turkey was once on the brink of extinction in the eastern United States. During the 1930s there were less than 30,000 birds in the U.S. In 2008 the population was estimated to be more than 7 million.
"Wild turkey restoration is one of the greatest conservation success stories in Maryland," says Maryland Department of Natural Resources Upland Gamebird Project Leader Bob Long. Today Maryland alone is home to some 30,000 turkeys.
At least 15 of those are alive and well in Northern Calvert.
A big gobbler, his hen and their flock of 13 tiny, bumbling turklings — properly referred to as poults — have made themselves at home in the woods along Sheckells Road in Huntingtown. All to the delight of their human neighbors who enjoy regular sightings of the brood parading across driveways. To date, the turkey family all appear to be thriving. Don't tell the fox.