Can the Power of Television Save the Chesapeake?
Local documentarians Bob and Daphne Ferrier Seize the Bay
by Margaret Tearman
Expensive high-definition video camera zooming in on calloused hands hard at work. Sound boom hovering overhead catching every slurp and pop. Passers-by gawking, questioning.
Are you from MTV? CNN? Discovery Channel? What are you doing?
It's just another ordinary day on the job for Severna Park television producer and filmmaker Bob Ferrier and company.
Or is it?
As Bob Ferrier mans the camera, Jeff Holland and Kevin Brooks — Them Eastport Oyster Boys — get a lesson on oyster shucking from Sam Fisher, Crisfield Oyster Shucking Champion.
No Place Like Home
Bob Ferrier — together with his wife and partner in Backfin Media Group, Daphne Glover-Ferrier — spend a good part of their working life on the road, traveling many miles away from their beloved Chesapeake Bay to produce television documentaries. From Europe to Southeast Asia to Africa. Any place but home.
Until now.
They're filming the documentary Seize the Bay in their own backyard — around, on and about Chesapeake Bay.
"Both my wife and I have traveled around the world producing programs for Discovery Channel, National Geographic, Smithsonian and PBS,'' Ferrier tells Bay Weekly. "Yet we have this fantastic resource in our backyard. We live on the Bay, we play on the Bay. Now we want to show our viewers all the great things the Bay has to offer, like crabs, oysters, boating."
Born and raised in Baltimore County, Ferrier worries we take these things for granted.
"We need to take care of the Bay or these things we love may disappear," he says.
Seize the Bay is not the first documentary about the Chesapeake Bay or its declining health. But Ferrier hopes this one will be different.
"So many documentaries about the Bay are gloom and doom," he says. "While needing those kinds of documentaries and investigative reporting, viewers also want to be entertained while learning. We want them to come away with You know what, I love crabs, I love oysters and if we don't take care of the Bay, we won't have any of it."
From There to Here
Ferrier has lived a charmed life.
"When I was a teenager I was watching The Tonight Show with Carson," he tells Bay Weekly. "In the opening montage, they showed the guys behind the scenes, pushing buttons, and I was like Wow, that's what I want to do."
And he did.
For a quarter-century, he's produced television documentaries, starting out as a cameraman and editor. For 15 years, he's written, produced and directed, while still doing some shooting.
Daphne Glover-Ferrier has lived a jet-setting life.
Born in Indiana, she spent most of her childhood in Europe. It might have been in Austria that the film bug first bit her.
"Her father ran an international conference center out of a famous Austrian house and it was where they lived," Ferrier says. "It was the house where The Sound of Music was filmed. As a kid, Daphne played in that famous glass house."
A Masters degree from American University in International Development kept Glover-Ferrier globetrotting. On contract for the World Bank, she traveled to Africa to produce educational videos on Aids awareness.
Work brought Bob and Daphne together. Soon they were collaborating, personally and professionally. Collectively, the Ferriers have a diverse list of production credits, ranging from The Brady Bunch Cast in Hawaii to The Secrets of Alaska's National Parks for the Travel Channel to World War II stories for the Smithsonian's high-definition cable show. Producing these programs takes them all over the globe. Glamorous? Hardly.
Their job has its perks, but most of their time is spent in the less-appealing parts of the job description: Long hours in front of a computer screen writing scripts and researching, weeks away from home and family, grueling flights and airport layovers — and sometimes dangerous conditions.
"In Africa, filming a series for National Geographic about animal behavior and human interaction, we were chased by water buffalo and rhinoceros, both very large and sometimes dangerous wild animals," says Ferrier.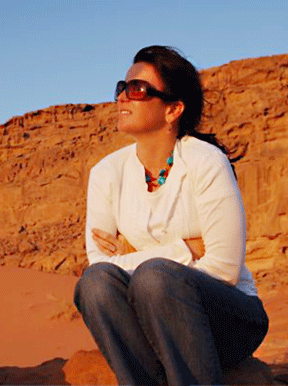 Daphne Glover-Ferrier in Africa.
Such experiences made them realize there's no place like home.
Five years ago, over steamed crabs and a pitcher of beer, they got the inspiration for Backfin Media Group.
Under Backfin Media, the Ferriers are working on original productions. The first out of the gate is Seize the Bay, bringing their combined talents home to tell the story nearest and dearest to their hearts: the story of the Chesapeake.
It's love, but it' also a big jump into deep water. As successful producers, they've made their living working for others with deep pockets.
Now they're on their own payroll.
Seizing the Bay
Seize the Bay: The Ultimate Survival Guide to the Land of Pleasant Living is a work in progress. There are many miles of shoreline to discover, water to cross and people to meet.
To help tell the story, Ferrier enlisted the help of locals Jeff Holland and Kevin Brooks, together known as the folk music duo Them Eastport Oyster Boys.
"Kevin and Jeff met with us at their favorite watering hole, the Boatyard Grill," Ferrier says. "We told them we'd love to have you host the show and use your music in the program."
The Boys signed on.
"Bob and Daphne have some great ideas," Holland says. "And it's really fun doing stuff around the Bay and interpreting what makes this place so special."
While making their documentary, they're also making favorite moments.
"My favorite had to be the St. Mary's Oyster Festival," Holland says. "I love oysters." When he's not singing with Kevin Brooks or hosting documentaries, Holland is the director of the Annapolis Maritime Museum, in a building that was the last oyster packing plant in Annapolis.
"I was tickled about learning so much about oysters," he tells Bay Weekly. "We filmed these amazing oyster shuckers and got to sample some of the prize-winning oyster recipes."
Holland shares the Ferriers' hope that by bringing the spirit of fun to the program, they will help people better appreciate the treasure at home.
"You have to care for a place to take care of it," Holland says. "I hope we can get people to go out on the Bay and have fun. If people do that, they'll get it."
The Ferriers and their crew have crisscrossed Chesapeake Country with cameras rolling and microphones recording.
David Hawxhurst shoots the Great Chesapeake Bay Schooner Race.
They've been to Crisfield, where they learned to steam and pick crabs from blue crab guru, Whitey Schmidt. They've spent a morning on the Bay with watermen, learning how to crab and discussing the Bay's health and what waterman are doing, and still can do, to help the ecosystem. They've searched Calvert Cliffs for sharks' teeth while learning the Bay's ancient history from Stephen Godfrey, curator of paleontology at Calvert Marine Museum. In Mayo they talked with Denise Brietburg, a senior scientist at the Smithsonian's Environmental Research Center, about sea nettles.
"But not just to get these things are nasty," explains Ferrier. "But to learn about their interdependency with the Bay. These nasty critters serve a purpose."
And to answer the age-old question: Does peeing on a sting really work? Tune in to learn the answer.
All in a day's work.
"We're having fun," says Ferrier, "but most important, we're telling the Bay's story."
The Ending is Unwritten
There is still much more story to tell.
The Bay is too big to fit into a one-hour program. Ultimately, Ferrier hopes to turn the program into a series. But first things first.
Having so much fun costs big bucks. And this one is coming right out of the Ferrier's own pockets. Fundraising is uncharted territory for the filmmakers.
"We're working hard to secure funding so we can shoot additional material," Ferrier says. "Up to this point, we've paid for the project out of pocket, but we need help to finish. We have enough footage to put together an hour show. But it's not the show we want."
So now the Ferriers are doing the hardest part of the job, especially in this economy: fundraising. They're seeking a corporate sponsor who, he says, "sees how television can help shape opinions, change minds."
How will this story turn out? See for yourself during Maryland Public Television 2010 Chesapeake Bay Week next April. If luck holds and money flows, that's when Seize the Bay will premier.