Meet the Warrens at Acton Cove Park …
and Tour Green Annapolis by Environmental Waypoint Signs
Annapolis, a city notoriously easy to get lost in, has been making strides in helping amblers discover where they've arrived in the big picture.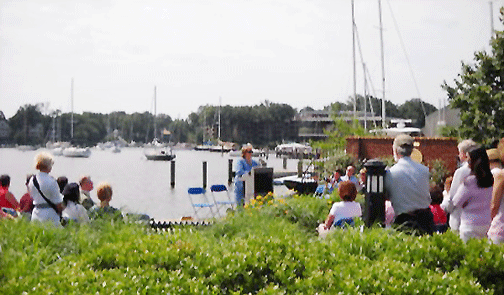 As of last week, you can see a slice of Chesapeake Country as Marion Warren — the region's signature photographer — and his wife Mary saw it every day.
In their later years, Marion, who died in 2006, and Mary, who died in 2003, would walk hand-in-hand down to Acton Cove Park at the edge of Spa Creek, sit and take in the sights. It was their connection to Chesapeake Bay, and it gave them peace and perspective.
On June 13, the Warren family and old friends gathered at the small park at the foot of Shaw Street adjacent to the old Anne Arundel Medical Center site near a memorial bench honoring the Warrens.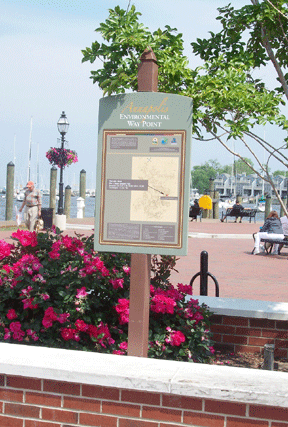 The park was the brainchild of Warren children and Marion's business partner, artist Joanie Surette, who approached Alderman Richard Israel about having the city dedicate the newly renovated park to the Warrens, who lived at City Gate Lane not far from Acton's Landing.
Sit there, and you may see with new eyes.
You'll get other angles at the big picture when you come upon Annapolis Environmental Waypoint Signs. The signs identify ways and places the city is making itself greener. You'll find green roofs, rain barrels and environmentally very friend LEED buildings.
The main sign at City Dock on the Harbor Master's building shows the individual sites, GPS coordinates for each, a brief description of the best practice-technologies and a legend. Carry the list with you in a brochure you pick up at the Annapolis Visitors kiosk at City Dock.
Smaller signs mark each of the 11 locations.
–Steve Carr and Sara Newman
---
Royal Purple Traps for Emerald Ash Borers
No, those aren't kites you're seeing — or stranded miniature UFOs
Buzzzz!
If you think Woody Woodpecker is the champion driller of forests into sawdust, you haven't met the emerald ash borer.
Given its way, baseball would be a game played with metal bats only, and the American ash tree would be trash.
The borer lays its eggs beneath the bark of susceptible ash trees, where the larvae feed, disrupting the tree's ability to transport water and nutrients. It's blamed for killing millions of trees. More are lost to a prevention strategy that, so far, has depended on cutting down ash trees before the borer can get to them.
Most Marylanders will never meet the illegal Chinese alien, if Maryland Department of Agriculture has success with its newest scheme: Suspending royal purple traps in roadside trees to lure roaming ash borers to a sticky death.
You've likely seen evidence of the ambition of this year's campaign to stop the relentless progress of the bug that's made its way from Michigan, where it jumped ship in 2002, now infesting at least 13 states and two Canadian provinces. In Maryland, the half-inch-long bug was first found in Prince George's County, on young trees shipped from Michigan. It jumped quarantine to colonize the Clinton-Brandywine-northern Waldorf area of Charles County.
To prevent further advance, citizens have been urged to buy and keep firewood close to where it will be burned.
To monitor the bug's progress, 4,000 purple traps now hang like tangled kites in trees across Maryland, field operations supervisor Dick Bean told Bay Weekly. Only the lower Eastern Shore, Harford and Cecil counties are deemed safe. Trap density ranges from 16 per square mile, in the most vulnerable areas, to one in less vulnerable areas, including Anne Arundel and Calvert counties.
They're purple because the emerald-green bug is attracted to that color. They're baited with a perfume of two essential oils — manuka and phoebe — mimicing the scent of a distressed ash.
The traps are hung high, Bean says, to get borers in and keep you out. There's nothing toxic, in them, he assures "but if you handle them, you'll get sticky goo all over."
–Sandra Olivetti Martin
---
In Calvert, Lessening the Headache of Hard Times
Free prescription drug discount cards coming July 1
Tough economic times are giving many of us headaches. To alleviate some of the pain, citizens of Calvert County are getting help from county government.
Starting July 1, Calvert County offers a free prescription drug discount card. Sponsored by the National Association of Counties, the card will save users an average of 22 percent off retail price of commonly prescribed drugs.
The savings card will be available to all county residents, regardless of age, income or health insurance plans and will be accepted at 17 participating pharmacies, including CVS.
Calvert Countians looking for some relief from the high cost of prescription drugs can pick up the savings card at any county library or senior center and the Health Department and Community Resources building at 30 Duke Street in Prince Frederick.
Info: 877-321-2652; www.caremark.com/naco.
–Margaret Tearman
---
New Boat in Port
Fortune, designed by Howard Chapelle, is an American classic
Are the Pirates of the Caribbean in town? No, but the looks of the Fortune may provoke you to abandon ship.
Fortune, a replica of a traditional Chesapeake bugeye, came by way of City Dock — where she promenaded for admirers — to Sarles Boatyard in Eastport last week for survey and maintenance. Sarles is the oldest boatyard in Maryland, and Fortune, at 52 feet long, is the biggest boat ever lifted at the boatyard.
Finished in 1979, Fortune is in the hands of its third owner, Paul Becker, a professor of occupational safety and health at West Virginia University. Becker lives in Morgantown and makes the trek across two states to see his boat. Boating is Becker's passion, but he manages to find time to play a little accordion as well.
"I try to do most of the work on the boat myself, but I live 200 miles away, so that's a challenge," Becker said.
Fortune, also known as a two-masted bateau, was designed by Howard Chapelle, "arguably the most well-known naval historian in America," Becker said.
Chapelle, who died in 1975, was a curator of maritime history at the Smithsonian Institution. During World War II, Chapelle served in the U.S. Army Transportation Corps ship and boatbuilding program, and later ventured to England where he researched colonial ship design on a Guggenheim fellowship. His 1951 book, American Small Sailing Craft, is the classic among small-boat builders and historians.
Each year, Fortune needs 80 hours of basic maintenance, including sanding and painting.
"Wooden boats are great, but they're not cheap," Becker said.
Which may be why he, too, is preparing to abandon ship. Here's a Fortune that could come into your hands.
–Sara Newman
---
Creature Feature
Bay Weekly goes to the dogs … again
Can hopping strides and pudgy puppy bellies sell advertising? Bay Weekly plans to find out with its newest addition: Kiwi King. The 10-week-old miniature Shi-Tzu-Pomeranian mix pup is the newest addition to the paper's ad sales department. So far her selling strategies include flinging empty food bowls, hopping jaunts thru the office and bopping editor-at-very-large Moe on the nose when he gets out of line. For a sales meeting with Kiwi, contact her supervisor, Karis King: [email protected]
–Diana Beechener