These fish are too delicious
to lose, especially to ham-handed tactics, so finesse is mandatory.
My Yellow Perch Fiesta
Once these tasty fish started biting, they couldn't stop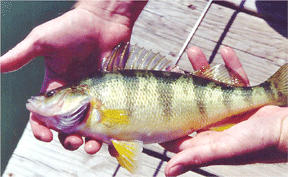 The first day of a predicted warm and sunny spell didn't turn out so well. On the Upper Choptank, it wasn't warm, it wasn't sunny and the yellow perch wanted nothing to do with the weather or with us.
Refusing to take no for an answer, we returned the next day, had warmer weather and found that the neds had finally decided to come out and play.
My partner Mike and I had started out casting tandem rigs with a small spoon on a nine-inch leader and a one-eighth-ounce shad dart on a six-inch dropper, both connected with the main line by a three-way swivel. A lip-hooked minnow decorated the spoon. Just in case the perch were fickle, we put a grass shrimp on the shad dart.
We've learned over the years that a rig like this more than doubles the chances of getting a hit.
Right away we found out that the smaller perch liked the shrimp, and the bigger ones preferred the minnow. So we switched to a minnow on both lures. Nicer fish began to come into the boat with regularity; some of the beefier rascals put a bend in our ultra-light rods. These spring-run fish were strong.
Later in the afternoon, we discovered a school of nice-sized fish that turned the day into a yellow perch fiesta.
Oddly, we hooked most of the bigger yellows out of one zone under an old tree leaning off of a short point. Any cast into a four-by-four-foot area directly under the tree resulted in an almost immediate hookup. Outside that zone, few fish seemed interested. We got at least a dozen and a half neds out of that one small spot within 20 minutes. Over half were keeper size.
Even with the soft actions of our light tackle, we quickly discovered that you couldn't pressure the big ones. They had to be played out gently, or we risked a pulled hook. Since these fish are too delicious to lose, especially to ham-handed tactics, finesse is mandatory.
When our hot spot eventually went cold, we moseyed down the river, picking up a fish or two around downed trees and areas of deeper water close to the banks. But there weren't many bigger ones. We guessed it might be early in the yellow perch run on the Choptank. All of the fish we caught that day, save one, were males.
The Reason for the Bonanza
Yellow perch start ascending Tidewater tributaries to spawn in February and continue on into late March. But it's difficult to predict when you'll encounter the surges of the larger fish. Small males are the first to arrive in the headwater spawning grounds, the bigger bucks arriving later. All of them remain until the spawn is over.
The females, which are generally larger than the males, school up in small pods and arrive in waves, only spawning when water temperatures reach about 50 degrees. The eggs are ejected in long gelatinous strands that adhere to downed trees, brush and other submerged debris. Any number of males then fertilize the eggs by broadcasting their milt over the strands.
Eating Well
I had an appointment to keep that evening, so Mike ended up with our cooler of fish. The next day I called to see how his dinner went. "More delicious than ever," was his reply. The next bunch we get will be mine, and I can't wait.
Fish Are Biting
The yellow perch run is on full blast. Greensboro and Red bridges on the Upper Choptank, all along the Tuckahoe and hot spots such as Millington and Wye Mills are producing fish on the Eastern Shore. Black Walnut near the Chesapeake Bay Foundation, Wayson's Corner and Allen's Fresh are the spots to try on the Western Shore. Minnows, grass shrimp and worms are the best baits. It helps increase the attraction if they are on shad darts or spoons.
More Poaching News
Commercial watermen from Rock Hall are on the hook in two more cases of suspected poaching. Illegal gill nets, illegal-sized rockfish, failing to obey a lawful order by Natural Resources Police and numerous other charges involving five individuals have been filed.
Considering the meager and overextended resources of the Natural Resources Police, one can only wonder what goes on undetected. Now the Maryland legislature is planning on cutting the state Natural Resources budget by a $1.5 million. Perhaps commercial licensing fees should be increased to begin covering the cost of the industry.