This Week's Features:
---
Cultural, religious or unique to our families, honored for generations or innovated, our cherished traditions herald the holiday spirit. As that special feeling fills our hearts, we are reminded that it doesn't come from the decorations at the mall, from holiday commercials or even from opening presents — even the perfect ones.
---
Since the early 1940s, we've been stringing our Christmas trees with tiny incandescent bulbs much like the one that Thomas Edison lit up in 1879. Now, technology will illuminate our homes and towns with energy-efficient LED — that's light emitting diode — lights that burn greener, brighter, longer and more safely.
by Carrie Madren
---
I procrastinate, but only once did I come up short at Christmas
Louisa May Alcott's words gave merchandising its biggest boost ever. You'd think every shop everywhere would have a statue of her at its entrance.
---
Chemicals can't replace good old TLC
Now is the time of year when advertisements urge you to spray plants with anti-desiccants or anti-transpirants to protect foliage during the winter months. The theory is that these materials seal the surface of the leaves to keep in moisture. The concept may seem sound, but repeated testing has clearly demonstrated that it doesn't work.
---
Analysts at the nonprofit Earth Policy Institute estimate that the United States could close 80 coal-fired power plants if Americans switched over en masse to compact fluorescent light bulbs. A global shift, says the Institute, could close some 270 power plants worldwide. Compact fluorescent lights use less than a third of the energy required to power a traditional incandescent light bulb to produce the same amount of light.
---
The Geminids light up the night
The waxing crescent moon sets early at week's end, leaving a dark backdrop for this year's Geminid meteor shower, which peaks between nightfall Thursday the 13th and daybreak the following morning.
Illustration: © Copyright 1925 M.C. Escher/Cordon Art-Baarn-Holland; Graphics: © Copyright 2007 Pacific Publishers. Reprinted by permission from the Tidelog graphic almanac. Bound copies of the annual Tidelog for Chesapeake Bay are $14.95 ppd. from Pacific Publishers, Box 480, Bolinas, CA 94924. Phone 415-868-2909. Weather affects tides. This information is believed to be reliable but no guarantee of accuracy is made by Bay Weekly or Pacific Publishers. The actual layout of Tidelog differs from that used in Bay Weekly. Tidelog graphics are repositioned to reflect Bay Weekly's distribution cycle.Tides are based on National Oceanic and Atmospheric Administration and are positioned to coincide with high and low tides of Tidelog.
---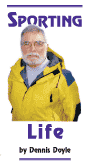 Live-lining eels for big rock at Cape Charles
The orange fishing floats bobbed like a row of ducks swimming to our starboard. They marked a half-dozen live eels that hovered at various depths, each with a sharp, 7/0 hook inserted lightly under the skin behind their heads.
---
Earth Journal
by Gary Pendleton
Our winter's just right for juncos
The great migration begins in October. From the mountains of Oregon to the hills of Pennsylvania, snowbirds begin the seasonal shift from their summer territories to warmer climes. Human snowbirds might load up their cars to drive from Maryland to Florida, with occasional stops at the Cracker Barrel. Avian snowbirds don't pack anything; they simply gather in small flocks and fly away.
---
Baby Jacob illuminates Calvert Hospice's 19th annual Festival of Trees … Area band's musical try out for documentary movie I.O.U.S.A. … Have your say: Should Maryland ridges be leased for wind turbines? … A handful or reasons why sailboats sink … Sen. Ben Cardin says put brakes on the ethanol bandwagon … Fairfax asks Virginia to save Potomac River fish from androgyny … plus, this week's Creature Feature: From Kenya, a whole new breed of spitting cobra.
---
Silent Night and LED Light
---
We welcome your opinions and letters – with name and address. We will edit when necessary. Include your name, address and phone number for verification. Mail them to Bay Weekly, P.O. Box 358, Deale, MD 20751 • E-mail them to [email protected]. or submit your letters on line, click here
Please Help Make a Merry Christmas for the Gray Family
"Happy Whatever"? How about Happy Holydays?s
---
Dressing Down
These days, only Santa bothers to dress up
By Allen Delaney
---
---