This Week's Features:
---
As carolers harmonize with glad tidings and families merrily trim the tree, four Chesapeake men master their meanest bah humbug. It's in the spirit of the season — to share the message of Charles Dickens' A Christmas Carol — that each has transformed himself into the stingy, cold-hearted Ebenezer Scrooge. by Carrie Madren
---
Ah, the holidays. With them inevitably comes familiar holiday music and sometimes, it's just a little too familiar. In the season to make a joyful noise, Bay Weekly went hunting through Chesapeake Country for songs to refresh your collection, maybe reunite the family. We're even dreaming of coming across a song so right for the mood of the season that we'll have another White Christmas. by Rob Goskowski
---
December 7, 1941
It was late morning when FDR spoke those words, and they weren't news to Americans who had been glued to their radios since the Sunday afternoon before when word first reached the continental U.S. of the attack at Pearl Harbor. Initial reaction was shock, utter shock. It couldn't be.
---
Risky firs could place your home in danger
Frazier fir trees are popular for their rich piney aroma and shapely branches that angle upward. But I will never grow a Frazier fir in my Christmas tree orchard. This evergreen is the most combustible Christmas tree species on the market, and I do not want to feel guilty for having sold a Christmas tree that contributed to the loss of a home with all of its possessions.
---
Green-friendly goods are starting to show up just about everywhere, but finding all the right products is still not as simple as a one-stop trip to the mall or a major grocer. However, several reputable websites, mail order catalogs and storefront retailers cater to the eco-motivated consumer.
---
Our sunsets are waxing, but we've another month of waning mornings
If the darkness is already dimming your spirits, take heart, as Friday the 7th marks the earliest sunset of the year at 4:45:52. Yes, the shortest day comes with solstice, December 21, and you might expect that to be both earliest sunset and latest sunrise. But physics are not so simple.
Illustration: © Copyright 1925 M.C. Escher/Cordon Art-Baarn-Holland; Graphics: © Copyright 2007 Pacific Publishers. Reprinted by permission from the Tidelog graphic almanac. Bound copies of the annual Tidelog for Chesapeake Bay are $14.95 ppd. from Pacific Publishers, Box 480, Bolinas, CA 94924. Phone 415-868-2909. Weather affects tides. This information is believed to be reliable but no guarantee of accuracy is made by Bay Weekly or Pacific Publishers. The actual layout of Tidelog differs from that used in Bay Weekly. Tidelog graphics are repositioned to reflect Bay Weekly's distribution cycle.Tides are based on National Oceanic and Atmospheric Administration and are positioned to coincide with high and low tides of Tidelog.
---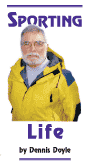 In the water and on it, we're hearty breeds
My breath was creating small, frosty clouds in the mid-day December air as my skiff quietly drifted along an edge on the upper Magothy. I flicked a Mepps spinner close to the rickety remains of an aged dock. Though it obviously hadn't been used for its intended purpose in many years, I hoped the structure proved of use for at least one of the river's denizens.
---
Where We Live
by Steve Carr
Making Annapolis Safe for the Peacemakers
How cool was it that the Middle East peace conference was held in Annapolis?
The camera crews started showing up almost a week in advance. Once Thanksgiving was over, the circus was in full swing, starting with a guy in a tweed suit from something called Village Video Communications, doing a live feed from under a tent with klieg lights on the beach by the Severn Inn, using the Naval Academy as his backdrop.
---
The first week of hunting season left 802 fewer deer in Anne Arundel and Calvert woods … The Annapolis Board of Public Works grants Christmas wishes for the reflecting pool and skating rink at Quiet Waters Park and facilities at Bay Head Park … In North Beach, a neighborhood backyard shines in the national television spotlight of Home and Garden Television's Landscaper's Challenge … Drenching storms in our part of the nation are now 15 percent more frequent than 60 years ago … In Virginia, they've also begun worrying about the effects of global warming flooding Virginia Beach, Norfolk and other low-lying communities. Our Creature Feature comes from Maine, where a moose on the loose joined holiday shoppers.
---
Bay Report Card a Failing Exercise?
---
We welcome your opinions and letters – with name and address. We will edit when necessary. Include your name, address and phone number for verification. Mail them to Bay Weekly, P.O. Box 358, Deale, MD 20751 • E-mail them to [email protected]. or submit your letters on line, click here
Santa Needs Your Help
Maryland's Wide-Open Definition of Open Space
Getting to Know Osprey and Snowbirds
The Sweet Music of Swan Song
---
Happy Whatever
Before attempting Christmukkah, do your homework
by Diana Beechener
---
---