This Week's Features
---
My head went spinning faster than my single station watt-hour meter when I opened my last BGE bill of summer 2007. That fateful day, I joined thousands of customers who felt the jolt of an enormous rate increase. Electric bills are like taxes: You pay them. But could I find a way to pay less? Or at least feel better about paying more?
by Michelle Steel
---
Growing Annapolis will soon need to figure out how its citizens will get around to stores, work and errands. In the third in a series of Community Conversations for Change — sponsored by enVISIONing Annapolis Foundation — Jane Holtz Kay "challenges us to explore ways to make Annapolis a place where people, rather than cars, come first," explains Greg Stiverson, founder of enVISIONing Annapolis.
by Carrie Madren
---
Here's my first honest story on the trees of December
It was one of the greatest assignments I got, 55 years ago, as a reporter for the Springfield (Mass.) Union; no action, no research, no headlines, just imagination.
---
By the time you pick your tree, it's already a hearty survivor raised to bring life to your winter
It takes years to grow a tree big enough to be your Christmas tree. Before they are even planted in a Christmas tree orchard, seedlings are already three to five years old.
---
The history of paving dates back to Roman times if not earlier, but our modern society has taken the practice to the extreme. Originally conceived as a way to make dirt- and mud-covered thoroughfares passable, roads (and parking lots) now cover the majority of urban and suburban areas around the world. In the U.S. alone, pavement covers some 60,000 square miles, or about two percent of the nation's total surface area. One out of every 10 acres of arable land is paved over.
---
The waning moon keeps good company this week
The moon wanes through late-evening and pre-dawn skies this week, rising just before midnight at week's end and then almost an hour later each night.
Illustration: © Copyright 1925 M.C. Escher/Cordon Art-Baarn-Holland; Graphics: © Copyright 2007 Pacific Publishers. Reprinted by permission from the Tidelog graphic almanac. Bound copies of the annual Tidelog for Chesapeake Bay are $14.95 ppd. from Pacific Publishers, Box 480, Bolinas, CA 94924. Phone 415-868-2909. Weather affects tides. This information is believed to be reliable but no guarantee of accuracy is made by Bay Weekly or Pacific Publishers. The actual layout of Tidelog differs from that used in Bay Weekly. Tidelog graphics are repositioned to reflect Bay Weekly's distribution cycle.Tides are based on National Oceanic and Atmospheric Administration and are positioned to coincide with high and low tides of Tidelog.
---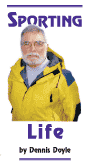 A lovely day keeps the ducks away
The Upper Corsica River is breathtaking this time of year. The riot of autumn colors in the leaves of the big hardwoods lining its banks creates a palette any artist would envy.
---

Aswim in complementary worlds
A mother and a daughter, pursuing separate passions for painting and plankton, find inspiration in Chesapeake Bay and in each other.
Gail Hillow Watkins, the artist, lives and paints in a secluded aerie overlooking the Severn River. Her daughter, Elizabeth North, works across the Bay as a marine biologist at the Horn Point Laboratory. Though they work in different worlds, each uses the other as a flint to spark her creativity.
---
Nigerian scammers stole Lee Travers' identity …We feel your pain: Legislative Special Session passed a fat property tax increase on power plants … Anne Arundel County sends a welcome message to Middle East negotiators and the season of good will: Smooth Sailing to Peace … Give your old cell phone a patriotic new life … Organic and centennial farmers get a boost … plus, this week's Creature Feature: From Germany, the sea scorpions of yore were giant creepy-crawlies.
---
That Dog Head Menace on Our Roads
Driving in rural Calvert County this morning, we heard a plaintive grunt and felt a cold nose on our necks.
---
We welcome your opinions and letters – with name and address. We will edit when necessary. Include your name, address and phone number for verification. Mail them to Bay Weekly, P.O. Box 358, Deale, MD 20751 • E-mail them to [email protected]. or submit your letters on line, click here
Carr's Right: Protect Our Headwaters

Global Warming Chicken Littles
Cooking up a Good Story

More Dispatches from Our Global Village

---
Summer's Last Stand
Getting to know my uninvited guests
by Vicki Marsh
---
---