This Week's Features:
---
Both osprey and snowbirds are in vacation mode, resting and relaxing, in their southern digs. Their northern residence is truly home, with months full of responsibilities and work.
by Maureen Miller
---
As the season of giving begins, Bay Weekly offers a primer on volunteering beyond the copier. From helping construct a dream home to reading stories to cats, here's a starter on odd and interesting avenues to your volunteer vocation.
by Diana Beechener
continue reading...
---
There's no gender bias among deer hunters
Thanks to Walt Disney, hunters refer to it as the Bambi Syndrome. Ever since the popular flick featuring the hardships of a motherless fawn, the big sorrowful eyes of Hollywood's Bambi are fixed in the minds of non-hunters.
---
The mystery of the African violets' burned leaves
At a recent garden club lecture, a member of the club showed me a large African violet growing in a five-inch clay pot. The top edge of the pot was heavily encrusted with a white powder, several large bottom leaves were wilting and the stems appeared scorched. What was causing the white powder to accumulate on the rim of the pot, she wondered. Was whatever it was killing the leaves?
---
Many plastics aren't as harmless as they look
Recent concerns surrounding toxic chemicals in children's toys have focused on phthalates (pronounced THA-lates), a group of chemical compounds typically added to plastics to increase their softness and flexibility, and bisphenol A (BPA), a building block for polycarbonate plastic that is used primarily in shatter-resistant baby bottles.
---
Planets and the moon brighten these dark nights
Darkness descends before 4:48 this week, revealing the last visage of Jupiter clinging to the west-southwest horizon. Within a week, the gaseous giant slips from view, not to return to view until the new year, when it emerges before the sun in pre-dawn skies.
Illustration: © Copyright 1925 M.C. Escher/Cordon Art-Baarn-Holland; Graphics: © Copyright 2007 Pacific Publishers. Reprinted by permission from the Tidelog graphic almanac. Bound copies of the annual Tidelog for Chesapeake Bay are $14.95 ppd. from Pacific Publishers, Box 480, Bolinas, CA 94924. Phone 415-868-2909. Weather affects tides. This information is believed to be reliable but no guarantee of accuracy is made by Bay Weekly or Pacific Publishers. The actual layout of Tidelog differs from that used in Bay Weekly. Tidelog graphics are repositioned to reflect Bay Weekly's distribution cycle.Tides are based on National Oceanic and Atmospheric Administration and are positioned to coincide with high and low tides of Tidelog.
---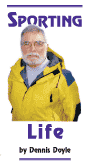 Last chances for food fishing and eating
I picked up a small but plump golden-brown fillet from the heaping platter and dipped it in my favorite sauce, fresh, homemade tartar. Biting off half of the crispy delight, I was reminded of why I love to catch white perch. The rascals are simply delicious.
---
| | |
| --- | --- |
| | Earth Journal by Gary Pendleton |
This time of year, it's good to look at and good to eat
The kale patch is really coming into its own now. Planted in the early spring, it complimented the other spring greens but went largely unused because we had plenty of lettuce and spinach. continue reading...
---
Tom Horton follows John Smith's path … Two Anne Arundel County parks – the Washington, Baltimore & Annapolis Trail and Kinder Farm Park – share $2 million worth of Open Space improvements … Project Open Space also buys Calvert County place for its first indoors swimming pool … Know your firewood — for your dollars' and your forests' sake … a new knucklehead in the news … plus, this week's Creature Feature: Hard times for our own Bay blue crabs.
---
Bay Fund Sweetens Bitter Pill of New Taxes
---
We welcome your opinions and letters – with name and address. We will edit when necessary. Include your name, address and phone number for verification. Mail them to Bay Weekly, P.O. Box 358, Deale, MD 20751 • E-mail them to [email protected]. or submit your letters on line, click here
Help Save Patapsco State Park
Another Dispatch from Our Global Village
---
What Do We Do When Our Hearts Are Broken?
Steps to saving our children's lives
by Albert 'Abby' Ybarra
---
2nd Star Productions' Pirates is a solid gold treasure.
reviewed by Jane Elkin
---
---
---
---