This Week's Features:
---
We are a family of food lovers. So why must we limit ourselves to the same old same old on the mother of all food holidays? In my quest for another way, I will ban more than turkey; I will can all the fuss and muss. We will dine out.
by Margarett Tearman
---
Traditional Thanksgiving fare calls for turkey, stuffing and cranberries, but thumb through The Junior League of Annapolis' new cookbook, and you may find new traditions to serve at holiday meals.
reviewed by Carrie Madren
---
Kids in Shady Side Elementary's garden club are returning to Thanksgiving's roots, learning how to set their tables with nature's bounty.
by Carrie Madren
---
Lisa Grant's culinary artistry won her the grand prize and $1,300 in this year's 28th National Oyster Cook-off.
by Sandra Olivetti Martin
---
What's Thanksgiving without turkey, calf's head or eel?
Drinking was limited, it must be remembered, by the sobriety which Society exacted of its gentlemen. Eating in Maryland was a continuous feast, not alone because of the prodigality of its table, but because of the warmth of its ever welcoming hospitality.
–Emily Post: 1932.
---
Bay Gardener gives thanks for the harvests of life
As the harvesting of the vegetable garden comes to a close, let us give thanks for the bounty of friends that surrounds us with an essay shared by Max Coots, associate professor of social sciences at New Hampshire Technical College in Manchester, New Hampshire:
---
Learning the limits of our resilient planet
It is true that Mother Nature has amazing powers to restore her ecosystems, and most scientists agree that it would be nearly impossible for humans to destroy Earth itself, despite our success at wreaking environmental havoc. Short of a catastrophic meteor strike or some other unforeseen galactic trauma, Earth will likely continue to spin in the solar system, perhaps as long as there is a solar system.
---
The Leonids may be small and rather dim, but they move fast
This weekend marks the annual Leonid meteor shower. With the waxing moon setting before midnight, all you need are clear, dark skies and a little luck to spot these shooting stars.
Illustration: © Copyright 1925 M.C. Escher/Cordon Art-Baarn-Holland; Graphics: © Copyright 2007 Pacific Publishers. Reprinted by permission from the Tidelog graphic almanac. Bound copies of the annual Tidelog for Chesapeake Bay are $14.95 ppd. from Pacific Publishers, Box 480, Bolinas, CA 94924. Phone 415-868-2909. Weather affects tides. This information is believed to be reliable but no guarantee of accuracy is made by Bay Weekly or Pacific Publishers. The actual layout of Tidelog differs from that used in Bay Weekly. Tidelog graphics are repositioned to reflect Bay Weekly's distribution cycle.Tides are based on National Oceanic and Atmospheric Administration and are positioned to coincide with high and low tides of Tidelog.
---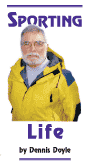 The pheasant capital of the world
The lush field stretched almost as far as I could see as we paused for our hunting party to re-gather the line abreast. Held back by the thigh-high switchgrass and rye, those in the denser areas took a few moments to catch up, their blaze-orange hats and shoulder patches in stark contrast with the milder hues of the expansive South Dakota prairie.
---
Getting closer to clean cars … Congress votes $50,000 to Historic London Town and Gardens … Local turkey for your Thanksgiving table … In doubt about Thanksgiving entertaining? Call Turning Leaf Vineyard's toll-free hotline … In Mason, Michigan, Christmas will be green as well as merry … plus, this week's Creature Feature: In Australia, eavesdropping on humpback whales.
---
Let the Holidays Begin!
---
We welcome your opinions and letters – with name and address. We will edit when necessary. Include your name, address and phone number for verification. Mail them to Bay Weekly, P.O. Box 358, Deale, MD 20751 • E-mail them to [email protected]. or submit your letters on line, click here
Girl Scouts Earn Community Badges at Humane Society
Maritime Republic of Eastport Sends Thanks
Department of Corrections
---
The Taste of Thanksgiving
Turkey's fine, but ravioli gives this Italian family reason for thanks
by Michelle Steel
---
Our Country's Good: The Masqueraders win a decisive victory for the arts.
reviewed by Diana Beechener
Gallagher without his Sledge-O-Matic
reviewed by Diana Beechener
---
---
---
---