This Week's Features:
---
Journalist and author Denis Collins was used to writing other people's stories. His novel, Nora's Army, tells the tale of the thousands of desperate U.S. veterans that invaded Washington in In 1932. But as Juror Number Nine in the high-profile case of White House Aide Scooter Libby, Collins was part of the story.
by Margarett Tearman
---
Our imminently arriving tundra swans whistle their way through life.
by Dotty Holcomb Doherty
---
Lay your hands on 16 machines made from the master's sketches.
reviewed by Ben Miller
---
Veterans like Dick Johnson are the lucky ones
Read your history.
–Richard Riley Johnson, Deale
To my way of thinking, at Veterans Day — or Armistice Day, as Nov. 11 was once called — everyone should take Dick Johnson's advice.
---
Put those leaf piles to work in your yard and garden
Think again before cursing leaves as they fall to the ground. Leaf litter works to your advantage. First, leaves are nature's perfect mulch, yours for free. Second, leaves lure us outside for quality exercise in raking and moving them from place to place. To get the most out of your free annual supply of leaves, follow the Bay Gardener's advice:
---
Glossy magazines look good but add to the gunk-stream
It's no secret that glossy coatings on magazine covers make pictures pop and attract the eye, helping publications compete for attention on ever more crowded newsstands. Publishers are increasingly putting the emphasis on graphics and photography, and glossy papers have become the industry norm for both covers and interior pages, according to Jerry Stranahan of Lane Press, a Vermont-based printer that produces some 350 magazines. Yes, this includes many outdoors and nature titles.
---
Those giants lighting our night skies are a curious bunch
Jupiter greets the darkness from low in the southwest, still a dazzling sight but setting by 7pm.
Illustration: © Copyright 1925 M.C. Escher/Cordon Art-Baarn-Holland; Graphics: © Copyright 2007 Pacific Publishers. Reprinted by permission from the Tidelog graphic almanac. Bound copies of the annual Tidelog for Chesapeake Bay are $14.95 ppd. from Pacific Publishers, Box 480, Bolinas, CA 94924. Phone 415-868-2909. Weather affects tides. This information is believed to be reliable but no guarantee of accuracy is made by Bay Weekly or Pacific Publishers. The actual layout of Tidelog differs from that used in Bay Weekly. Tidelog graphics are repositioned to reflect Bay Weekly's distribution cycle.Tides are based on National Oceanic and Atmospheric Administration and are positioned to coincide with high and low tides of Tidelog.
---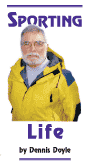 Dramatic new lures add to the top-water thrill
Topwater-lure fishing is the most sensory-intense of all the shallow-water angling techniques on the Chesapeake. You see and hear the fierce explosion of the strike, feel the immediate surge of the fish's power when you hook up and marvel when a big striper throws a shallow-water tantrum.
---
Where We Live
by Steve Carr
Rivers and streams connect Garrett's mountains to Chesapeake Bay
I think we forget how diverse the state of Maryland is, with its expansive tidal reaches, bustling metropolitan areas and, of course, the ancient Appalachian Mountains. Those of us who live near the Chesapeake often ignore the treasures a few hours to the west. Places like Frostburg and Cumberland get lumped together with Pennsylvania, and in many ways Western Maryland is another world. But almost all of that distant world drains into the Chesapeake Bay.
continue reading...
---
Growth and taxes on the minds of your Anne Arundel neighbors … Climate Action draws a line on Annapolis sidewalks … Leagues of Conservation Voters say Gilchrest's the greenest of them all … Knuckleheads in the great outdoors … plus, this week's Creature Feature: Bottled water for the "canine connoisseur."…
---
Bigger and Better? Managing Growth Spurts
---
We welcome your opinions and letters – with name and address. We will edit when necessary. Include your name, address and phone number for verification. Mail them to Bay Weekly, P.O. Box 358, Deale, MD 20751 • E-mail them to [email protected]. or submit your letters on line, click here
Of Books and Icebergs
North Beach, Save That Tree
Help Save the Bay with PooDooty
---
I'll Take the Rake
Leave me to peace, quiet and millions of leaves
by Eileen Slovak
---
---
---
---
---