This Week's Features:
---
At 71, Maryland's dynamo Barbara Mikulski celebrates 21 years in the Senate
by Helena Mann-Melnitchenko
She burst through the doors of the Jones New York outlet on the Eastern Shore like a small whirlwind. "Hi, Barbara," said the saleswoman to the woman, dressed in slacks and a shirt, a baseball cap low on her head. "How you been?"
---
by Carrie Madren
Bay Weekly Writer
When Annapolis Bookstore wrapped up its book group on the whale tale Moby Dick, general manager Bob Williams had just returned from his own adventure on the high seas. Like the fictional Pequod and its crew, Williams set sail in search of a giant of the sea. His ship, Sylph sought icebergs, not whales.
---
Deanna Dove's born by the Bay, recorded in Nashville and singing the gospel
by Rob Goskowski
If the Bay had a soundtrack, Deanna Dove would be at the top of the playlist.
---
How the Bay Gardener rescued Gramp and Grumpy's Halloween
Boo Hoo!
Tradition has it that Halloween is a time for boo! as in ghost talk, not boo-hoos as in crying — unless the tears come from one frightened by a costume on the scariest night of the year.
---
Fall's first frosts form at first light
Most first frosts of the fall season occur within a few minutes before sunrise. At 7am on October 29, 2007, the lawn at Upakrik Farm was a lush green from the previous week's rain. The blades of grass were laden with a heavy dew. The sky was clear and the air was quiet.
---
Rise in temperatures could mean trouble for your nose
Is it true that global warming can exacerbate allergies?
–Alex Tibbetts, Seattle, Wash.
Global warming can make allergies worse simply because the major pollen producers that trigger allergic reactions thrive and flourish in warmer air. Ragweed, one of the most common allergens in the U.S., grows faster and for longer periods as air temperatures rise due to climate change, according to a recent report from the nonprofit Natural Resources Defense Council called Sneezing and Wheezing: How Global Warming Could Increase Ragweed Allergies, Air Pollution and Asthma.
---
These dark autumn nights are about to get a little darker a little earlier as Daylight Saving Time leaves us at 2am Sunday morning. If you've not paid attention, this is a week later than years' past, a change orchestrated by the president and Congress in the Energy Policy Act of 2005.
Illustration: © Copyright 1925 M.C. Escher/Cordon Art-Baarn-Holland; Graphics: © Copyright 2007 Pacific Publishers. Reprinted by permission from the Tidelog graphic almanac. Bound copies of the annual Tidelog for Chesapeake Bay are $14.95 ppd. from Pacific Publishers, Box 480, Bolinas, CA 94924. Phone 415-868-2909. Weather affects tides. This information is believed to be reliable but no guarantee of accuracy is made by Bay Weekly or Pacific Publishers. The actual layout of Tidelog differs from that used in Bay Weekly. Tidelog graphics are repositioned to reflect Bay Weekly's distribution cycle.Tides are based on National Oceanic and Atmospheric Administration and are positioned to coincide with high and low tides of Tidelog.
---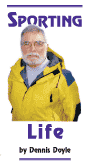 Even wet weather has its rewards
The weather report for the evening was not pleasant. Uncomfortable winds were forecast, as well as a good chance of rain, and the tides were going to be poor. What was more disheartening was that the weather would worsen the rest of the week.
---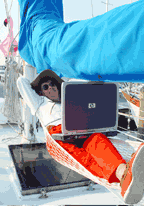 Gunk- Holin'
by Alice Snively
Stop and Shop at Oxford on Tred Avon, Latitude: 38.69; Longitude: 76.17
Ah, my cruising friends, fall has fallen, there are fewer boats about, yet some days it feels like summer. It's time for one final fall adventure on the Bay.
Bending the rules a bit, this trek has a couple of objectives. Some of you are already thinking about holiday shopping, so here's a way to take a short weekend cruise and get some gifty goodies as well.
---
In Calvert County, the buzz is about old cell phones. The Calvert County Commission for Women and Verizon Wireless Hope Line Program are partnering to collect used cell phones and accessories to benefit victims of domestic abuse. Donations will be repaired and resold by Verizon, with the proceeds donated to the Calvert County abused victim fund.
---
Getting Our Campaign '08 Groove On
There's politics in the air, with the presidential election a year away this week. You can smell it — and you can begin to read more about it in Bay Weekly.
There are two kinds of politics. One's electoral politics, which will engulf us shortly with campaigns leading up to Maryland's Feb. 12 primary.
---
We welcome your opinions and letters – with name and address. We will edit when necessary. Include your name, address and phone number for verification. Mail them to Bay Weekly, P.O. Box 358, Deale, MD 20751 • E-mail them to [email protected]. or submit your letters on line, click here
Use RICO to Clean up the Bay
How Our Taxes Are Spent
---
At political clubs, ordinary people morph into political activists
by Bill Wohlfeld
There are only four months to go until Maryland's February presidential election primary, and the stakes are high. In the 2008 elections — for the first time since 1928 — no sitting president or vice-president is seeking re-election. The void is attracting a huge flock of presidential wannabes: eight Democrats and eight Republicans. Closer to home, the first Congressional District is just as contentious, with Rep. Wayne Gilchrest well challenged in his own party and by Democrats.
---
---
---
---
---