This Week's Features:
---
Don Foley loves a race. As the executive director of the Automotive X PRIZE, Foley is raising millions of dollars to put the cars of the future on the road in this decade. More than $10 million rewards the winner, but that's peanuts compared to the size, scope and value of a victory that will break our gasoline addiction.
A Bay Weekly conversation with Donald Foley and editor Sandra Olivetti Martin
---
To "shift away from arguing over problems to talking about solutions," Patuxent Riverkeeper Fred Tutman is calling for a compact between the Patuxent's seven counties, four cities, the state of Maryland and the EPA.
by Carrie Madren
---
O farmers pray that your summers be wet and your winters clear.
–Publius Vergilius Maro: 70-19bc
I don't know about clear winters, but I only wish granddaughter Grumpy (aka Mackenzie Noelle Boughey) and I had prayed more the past six months for warm weather wetness.
---
Don't prune away blossoms or mound on mulch
I know you're feeling eager to clean up your garden. But don't let your eagerness lead you into trouble.
---
Change your driving habits, get more miles for your buck
LChoice of vehicle may well be the biggest factor in determining the environmental impact of your automobile-based travels. But a considerable amount of energy is used — and pollutants emitted — in the production of any new vehicle, including hybrids and other more fuel-efficient options. As a result, many environmentalists believe that practicing good driving habits and performing adequate maintenance on an older car are probably better options for the environment than causing the production of a new vehicle.
---
This year's Orionids could be an early-morning delight
The waxing moon reaches first-quarter phase Oct. 18, when it appears due south at dusk and sets around 11:30pm. As the moon fills night by night, it appears 10 degrees to the east and sets a little more than a half-hour later each evening.
Illustration: © Copyright 1925 M.C. Escher/Cordon Art-Baarn-Holland; Graphics: © Copyright 2007 Pacific Publishers. Reprinted by permission from the Tidelog graphic almanac. Bound copies of the annual Tidelog for Chesapeake Bay are $14.95 ppd. from Pacific Publishers, Box 480, Bolinas, CA 94924. Phone 415-868-2909. Weather affects tides. This information is believed to be reliable but no guarantee of accuracy is made by Bay Weekly or Pacific Publishers. The actual layout of Tidelog differs from that used in Bay Weekly. Tidelog graphics are repositioned to reflect Bay Weekly's distribution cycle.Tides are based on National Oceanic and Atmospheric Administration and are positioned to coincide with high and low tides of Tidelog.
---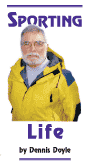 Look what happened when I washed my fishing hats
It all started two weeks ago when I washed my fishing hats. That's two identical hats, both my luckiest. My finest hours on the water had coincided with the wearing of one or the other. I couldn't tell them apart, and one of them was generally misplaced at any given time, but they were interchangeable in the luck department. They were my mojo bonnets anywhere on the Chesapeake.
---
| | |
| --- | --- |
| | Earth Journal by Gary Pendleton |
The little snail that climbed out of history to fame
When visitors come from out of town, I like to take them to the beach for a few hours of fossil hunting. No matter what season, we always have a good time, and everyone goes home with free souvenirs from the world-famous Calvert Cliffs.
---
Walking from California to Delaware, you can't miss Annapolis … Clean Water Law scofflaws abound … Can Chesapeake Bay guide Mississippi River recovery? … Atlantic blue crabs travel the world … plus, last but not least, this week's Creature Feature: In Uganda, the world's last mountain gorillas are accepting visitors.
---
Don't Chicken Out on Poultry Policing
To bring back the Bay, we conjure up vast spending programs and embark on new studies.
---
We welcome your opinions and letters – with name and address. We will edit when necessary. Include your name, address and phone number for verification. Mail them to Bay Weekly, P.O. Box 358, Deale, MD 20751 • E-mail them to [email protected] or submit your letters on line, click here
Bay Weekly at Sea
Why I Support No Child Left Inside
---
A' Haunting We Shall Go
Touring the shrines of the season
by Mark Burns
---
I Do! I Do!
This Bay Theatre Company production is a diversion that will speak to most everyone on some level. Do I recommend this show? I do … until something better comes along.
reviewed by Jane Elkin
---
---
---
---