This Week's Features:
---
When the Mystic sails into your ken, she'll set you dreaming — and wondering. She's a new ship on the horizon, a 2007 hybrid of her traditional class, an authentic sailboat combining modern comforts with historic looks.
by Maureen Miller
---
I was a first-time triathlete among a hundred women, novices to veterans. Some of these athletes would finish over 20 minutes before me. Many were competing for cash and trophies. What was I doing here?
by Kat Burke
---
When the Highland Beach town council wanted a new place to host its movie night, they never dreamed of a state-of-the-art green building. Yet their new 2,200-square-foot community center is ranked as one of the greenest buildings in Maryland.
by Carrie Madren
---
Kathy and Greg Reshetiloff took off for a journey of a lifetime to hike the 2,175 miles of the Appalachian Trail. They made it as far as Vermont, when an injury forced Kathy to abandon her hike. She vowed to return and pick up where she left off. But this time, Greg's health threatened her second chance at making it all the way.
by Margaret Tearman
---
Politics as usual leaves us with fewer voices and fewer choices
Had I still been at the Sun and covered the Republicans' presidential debate at of Maryland's predominately black Morgan State University in Baltimore on Sept. 9, I would have written: Republicans shoot themselves in the foot once again.
---
Give new flora a breath of fresh air
Early fall is a good time to plant trees and shrubs. The plants have time to establish new roots before the ground freezes in winter, and come spring, the plant is ready to grow. The trick to adopting new plants into your home or landscape is to water consistently but with restraint.
---
Heavy, gas-guzzling 18-wheelers don't have to put out tons of pollutants
Large trucks account for just six percent of total highway miles driven in the U.S., but they are responsible for a host of environmental threats, according to the Union of Concerned Scientists. These include over half the soot and a quarter of the smog-causing pollution generated by highway vehicles, six percent of the nation's global warming pollution and more than one-tenth of the country's oil consumption.
---
Venus and Saturn dance with hot Regulus in the early morn
The nascent crescent moon provides a test of your eyes Saturday above the west-southwest horizon between 6:30 and 7:30. Even more fleeting is Mercury, which you may see as a bright, steady light glimmering at the skyline.
Illustration: © Copyright 1925 M.C. Escher/Cordon Art-Baarn-Holland; Graphics: © Copyright 2007 Pacific Publishers. Reprinted by permission from the Tidelog graphic almanac. Bound copies of the annual Tidelog for Chesapeake Bay are $14.95 ppd. from Pacific Publishers, Box 480, Bolinas, CA 94924. Phone 415-868-2909. Weather affects tides. This information is believed to be reliable but no guarantee of accuracy is made by Bay Weekly or Pacific Publishers. The actual layout of Tidelog differs from that used in Bay Weekly. Tidelog graphics are repositioned to reflect Bay Weekly's distribution cycle.Tides are based on National Oceanic and Atmospheric Administration and are positioned to coincide with high and low tides of Tidelog.
---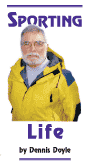 Six species in a day
There was a brutal hit on my yellow-over-white clouser fly, and as I struck firmly and set the hook, the fly line was torn through my fingers. With little hope of getting the fish under control with just hand tension, I reluctantly surrendered line as the fish ran as it pleased.
---
Where We Live
by Steve Carr
What nobody knows can't hurt you
First, we start with tons and tons of Prozac, along with all of the other jim-dandy anti-depressants on the market today. Then we mix in an unhealthy dose of Ritalin, birth control and antibiotics. To this noxious brew, we add copious amounts of Viagra, the little purple pill, pain relievers, muscle relaxers, and laxatives. Flush this toxic mix down the toilet, along with all of the outdated prescription drugs in our bathrooms, and what do we have? Our drinking water.
---
Hungry for Congressional action on global warming … On roadside signs, Anne Arundel goes Calvert one better … Anne Arundel parks add their recyclables to the county's campaign to half its waste … How dry it is in Central and Eastern Maryland … Change a light bulb and brighten Earth's future … plus, last but not least, this week's Creature Feature: Jug Bay Wetlands Sanctuary teems with life.
---
Franchot to O'Malley: You're My Green Governor
---
We welcome your opinions and letters – with name and address. We will edit when necessary. Include your name, address and phone number for verification. Mail them to Bay Weekly, P.O. Box 358, Deale, MD 20751 • E-mail them to [email protected] or submit your letters on line, click here
We're Banking on the Wrong Oyster
Seeking Low-Lying Cemeteries
---
The Argument of Simple Living
In the complex choices we make, can life ever be simple?
by Cindy Ross, distributed by Bay Journal News Service
---
Annapolis artist Claudine Intner stages a global fundraiser.
review by Carrie Madren
---
The verdict is in: Don't miss Dignity Players' Gross Indecency.
review by Jane Elkin
---
---
---
---