This Week's Features:
---
You don't step into the ring without training. You hone your skills, quicken your mind and study your opponent long before the first bell rings. That's how Brooklyn Park resident Bruce Thomas prepared to take on the role of Muhammad Ali in his one-man play.
by Diana Beechener
---
While winterizing isn't a dream, it's not a nightmare, either. It's the process of assuring that come next year, your vessel will be as ready as you are for that first warm, sunny cruise.
by Alice Snively
---
An early autumn lesson in barbeque.
by Ricky Rood
---
Farewell to the wind — but not to the water.
by Saul Friedman
---
A eulogy for my big toe
Alas, I can no longer recite this old baby rhyme using my left foot as the stage. There'd be one piggy too few to match the lines.
I took the first piggy to market — and it never came home.
---
Find more than fresh produce at your farmers' market
Through the last week of October, Anne Arundel and Calvert counties host six weekly farmers' markets, where you'll find more than fresh local produce and baked goods. I'm a regular at The Deale Farmer's Market, held on Thursday afternoons from 3-6pm, where I sell peaches and nectarines into August, followed by figs.
---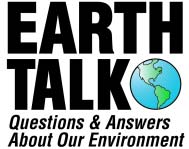 Compost those food scraps
Kitchen sink garbage disposals are not necessarily Earth-friendly in and of themselves, but they do play a valuable role in grinding up food scraps into small enough bits for local sewer or on-site septic systems to handle. In the U.S. overall, about half of all homes have a garbage disposal in the kitchen. New York did outlaw the devices for many years, thinking a ban would alleviate the strain on the city's aging sewer system. But a study later conducted in the mid-1990s found benefits to lifting the ban, including a likely reduction in rat and cockroach problems and a reduced flow of solid waste to landfills already bursting at the seams. So in 1997, the Big Apple began allowing the devices again.
---
The thin crescent visits the stars and more
The waning moon drifts through pre-dawn skies this week before Wednesday's new phase.
Friday's crescent moon rises around 1:30am in the constellation Cancer, and as dawn approaches, both are midway above the eastern horizon. The crab's outline is dim, but a couple degrees below the moon is a distinct albeit blurry light. Train a pair of binoculars or a small telescope on this light, and into focus come many of the hundreds of stars making up the Beehive Cluster.
Illustration: © Copyright 1925 M.C. Escher/Cordon Art-Baarn-Holland; Graphics: © Copyright 2007 Pacific Publishers. Reprinted by permission from the Tidelog graphic almanac. Bound copies of the annual Tidelog for Chesapeake Bay are $14.95 ppd. from Pacific Publishers, Box 480, Bolinas, CA 94924. Phone 415-868-2909. Weather affects tides. This information is believed to be reliable but no guarantee of accuracy is made by Bay Weekly or Pacific Publishers. The actual layout of Tidelog differs from that used in Bay Weekly. Tidelog graphics are repositioned to reflect Bay Weekly's distribution cycle.Tides are based on National Oceanic and Atmospheric Administration and are positioned to coincide with high and low tides of Tidelog.
---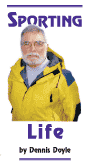 Cast your lure and roll the dice
We had launched in the dark and when the first glimmer of dawn appeared, Mike and I were already set up and throwing top-water plugs. We were working the first of a series of rock erosion jetties projecting out into the Chesapeake just south of Bodkin Point.
---
Away from the dock is a world apart
Chuck it. Move aboard. The cliché occurs to many. Some actually do it.
Having owned the 40-foot trawler Bright Pleiades for three years and lived aboard half that time, we decided to weigh in on what it's like.
---
It's a good year for baby rockfish … Lender bikes off to a slow start in Annapolis … Is Calvert County promoting 'litter on a stick'? … South County Connection reprieved … Maryland's black bears may be hungry this year … Catch too many rockfish and you pay a fine: what's true for fishermen is also true for fishing states … and this week's Creature Feature: in Florida, this sturgeon caught a fisherman.
---
Hunting Hope for Oysters on Troubled Reefs
---
We welcome your opinions and letters – with name and address. We will edit when necessary. Include your name, address and phone number for verification. Mail them to Bay Weekly, P.O. Box 358, Deale, MD 20751 • E-mail them to [email protected] or submit your letters on line, click here
One Less Death by Plastic
Maryland Seafood Depends on Guest Workers
Department of Corrections
---
For the Love of a Dog
There's nothing some of us humans wouldn't do for the pets they adore
by M.L. Faunce
---
Bowie Community Theatre's Nerd: If you can get through the play, you'll love the production.
review by Davina Grace Hill
---
---
---
---