This Week's Features:
---
Chipping and Dipping for Davidsonville Wildlife Sanctuary.
by Kat Burke
---
Hunting and gathering clues to piece together the history of Chesapeake Bay Indians.
by Dotty Holcomb Doherty
---
Amid the dust and chaos, there's royalty in our county fairs.
by Michelle Steel
---
Azalea afficianados Charles and Wanda Hanners are closing shop but not giving up on their passion.
by Margaret Tearman
---
Alan Doelp on Teaching an Old Dog New Tricks
Editor's note: While in the hospital for surgery on a troubled toe, Bill Burton cannot write his column because he hasn't yet learned to use his portable computer.
---
rew a rich soil as you get rid of dead plants
Fall is a great time for starting a compost pile. A compost pile gives you a place to dispose of weeds and dead plants, fallen leaves and other debris that accumulates in your landscape.
---
Global coasts fare ill in climate change predictions
Sea-level rise, and the accompanying loss of shoreline, promises to be one of the most devastating results of global warming. Global sea-level rise of between seven and 23 inches by 2100 is predicted in a recent report by the Intergovernmental Panel on Climate Change, a group of leading atmospheric scientists. This they foresee — even if we start cutting back now — due to the greenhouse gases we have already pumped into the atmosphere. Such dire but realistic predictions are based on computer models that factor in the heating and expansion of the ocean, the melting of polar ice sheets and storm surges that can affect tides by a foot or more.
---
Despite her vanity, this queen sits in the heavens year round
Although the start of autumn was last week, the equinox is no switch that instantly changes our weather from hot to mild. So it is with the constellations, where those of summer slowly give way to those of fall and winter.
Illustration: © Copyright 1925 M.C. Escher/Cordon Art-Baarn-Holland; Graphics: © Copyright 2007 Pacific Publishers. Reprinted by permission from the Tidelog graphic almanac. Bound copies of the annual Tidelog for Chesapeake Bay are $14.95 ppd. from Pacific Publishers, Box 480, Bolinas, CA 94924. Phone 415-868-2909. Weather affects tides. This information is believed to be reliable but no guarantee of accuracy is made by Bay Weekly or Pacific Publishers. The actual layout of Tidelog differs from that used in Bay Weekly. Tidelog graphics are repositioned to reflect Bay Weekly's distribution cycle.Tides are based on National Oceanic and Atmospheric Administration and are positioned to coincide with high and low tides of Tidelog.
---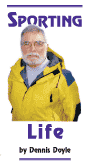 In 20 September minutes, anything can happen
The afternoon sun was already low in the sky as we launched my small skiff on a day I hadn't planned to fish. Not an hour before, I was finishing a long, tiring shift at the sport store where I work part time. I was thinking of a nice cold beer and a relaxing dinner at home.
---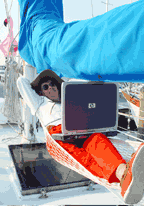 Gunk- Holin'
by Alice Snively
Broad Creek on the Magothy River
Latitude 39 degrees, 05 minutes;
Longitude 76 degrees, 26 minutes
This week's gunkhole quiz: How many streams named Broad Creek feed into the Chesapeake Bay watershed?
---
Mosquito-borne West Nile virus and eastern equine encephalitis put Marylanders between the devil and the deep blue sea … Blue crab crisis: juvenile count second lowest in two decades … No Boathenge for Ocean City … and last but not least, this week's Creature Feature: in Australia, it was hush-hush over the return of a rare white koala to the wild.
---
For Our Transportation Future, Take a Clue from the Past
---
We welcome your opinions and letters – with name and address. We will edit when necessary. Include your name, address and phone number for verification. Mail them to Bay Weekly, P.O. Box 358, Deale, MD 20751 • E-mail them to [email protected] or submit your letters on line, click here
Beware the Crocs
Annapolis Cruised for Animal Legal Defense Fund
Pet Day 5K Raises $12K
---
The End of the Line
Stopping the bus severs the link between Anne Arundel's south and north
by Carrie Madren
---
Historic Heroine to Guard Annapolis Gateway: For ArtWalk's latest installation, a revolutionary mural
preview by Carrie Madren
---
Pasadena Theatre Company's Quest for Camelot
review by Diana Beechener
---
---
---
---